Here at Devolutions, we work very hard — because nothing is more important to us than helping the members of our community secure and control the IT chaos. But every now and then, we like to take a break and have some fun. And when that time arrives, you can find many of us heading towards our favorite room at Devolutions HQ: the Pinball Arcade.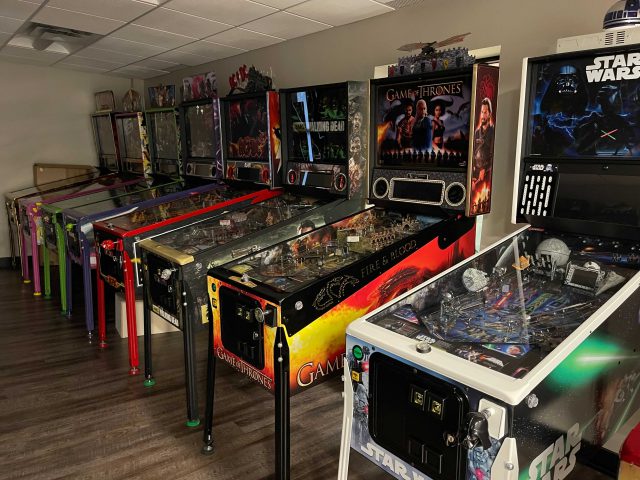 Anyone who knows our CEO David shouldn't be surprised that we have a glorious — and growing — pinball empire. David LOVES pinball. He's basically our very own "Pinball Wizard" He's not just a player, he's a true collector. And it's really generous of him to put all of his pinball machines here so that we can play them!
Oldies But Goodies
Here's a look at some of our older pinball machines that we still love and treasure (for more information on these machines, click here:
Wizard of Oz
Bram Stocker's Dracula
Twilight Zone
Fish Tale
Indiana Jones
The Hobbit
The Lord of the Rings
The Simpsons Pinball Party
A Salute to the Departed
Here are the machines that are no longer in our pinball arcade because David has traded them — see, we told you he was a true collector (for more information on these machines, click here):
Star Wars Episode 1
Street Fighter
Bally Fireball
Star Trek: The Next Generation
Judge Dredd
No Fear
New Additions
And now, let's take a closer look at the amazing new pinball machines that have been added since we last posted an update: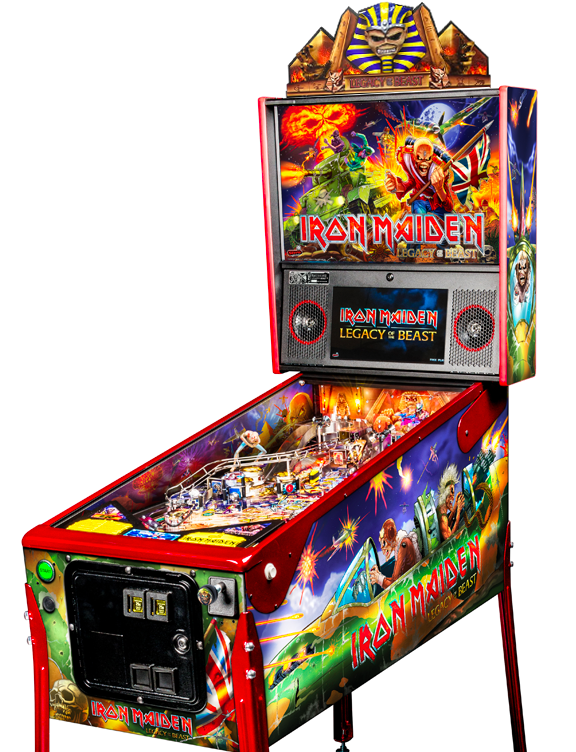 Some cool features:
Captures the same excitement, energy, and experience of a live Iron Maiden concert.
Soundtrack features twelve selectable Iron Maiden hits played on a speaker sound system with 3-channel amplifier.
Players embark on a quest to defeat the Beast and his minions across the Legacy of the Beast mobile game and comic book world.
Intensively interactive play field including four flippers, three bank trooper drop targets, and a Clairvoyant mystery orb stand-up target.
Features original hand drawn art by Zombie Yeti.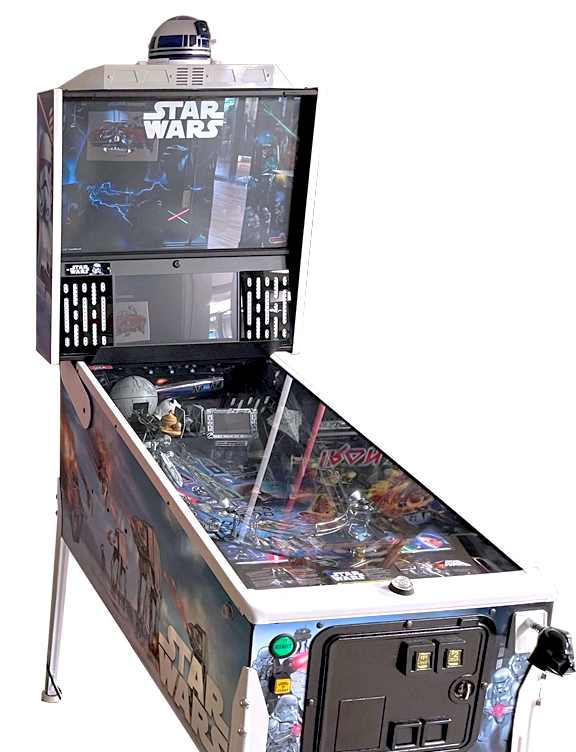 Some cool features:
Original John Williams Star Wars music
4.25" color HD center mounted playfield LCD display
Color-changing LED illuminated inserts
SPIKE-2 electronic system
Some cool features:
Custom speech narration by GoT actor Rory McCann as Sandor "The Hound" Clegane
GoT theme song and several original songs
Players strive to rile the seven kingdoms of Westeros
Features a motorized animated interactive dragon
7-Color Changing RGB LEDs
2 drop off lanes and Moon Door
Iron Throne with flasher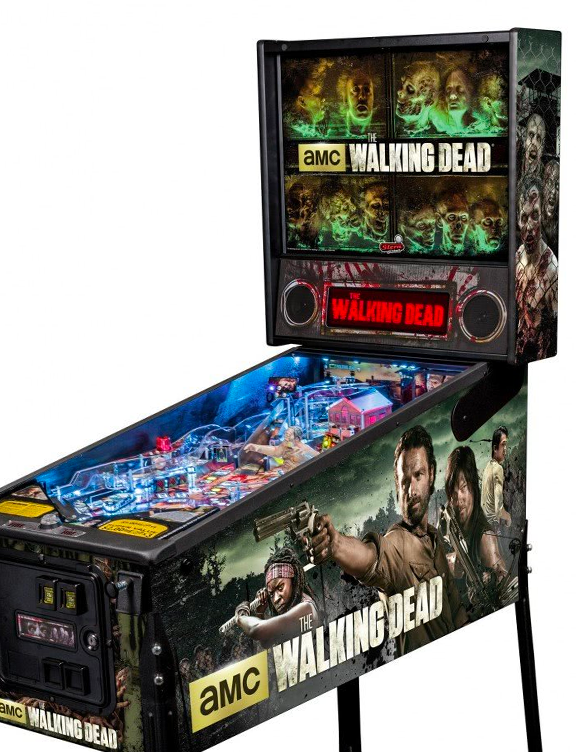 Some cool features:
AMC's The Walking Dead score and music
Battle zombies and complete in-game missions
"Cell Block C" interactive prison building with mechanically actuated target doors
A counter accumulates killed Walkers and collects bonus when ball drains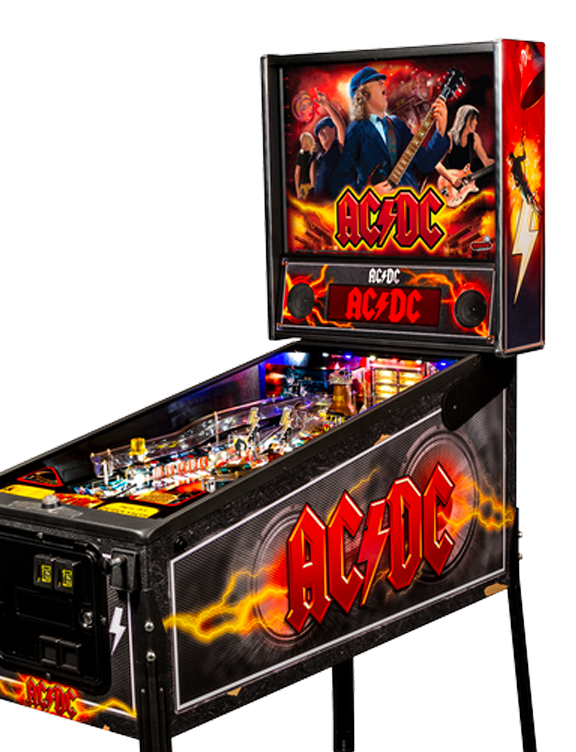 Some cool features:
12 full AC/DC performed classic songs, such as "Highway to Hell" and many more hits from their albums
Outstanding art package from John Youssi
LED lighting that enhances the experience with designed targets and ramps
Unique back glass translite in addition to LEDs and swinging bell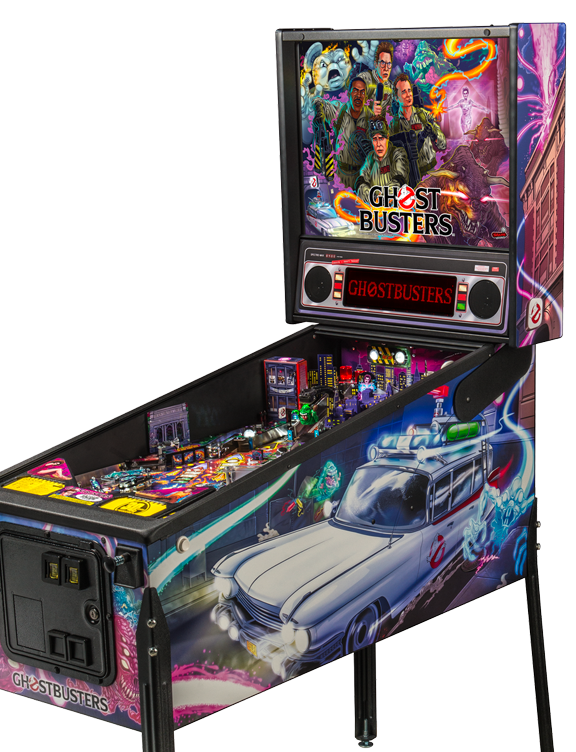 Some cool features:
Highlights the humor of the film as the player progresses through the game.
Includes custom speech by original Ghostbusters' cast member, Ernie Hudson, who guides players into becoming the newest member of the Ghostbusters' team.
Features a moving interactive "slimer" toy target and a fresh distinctive layout that integrates traditional pinball devices with unique and modern devices and scoring options.
Includes a modern take on a ball transfer target, combative open field drop targets, a ball eject target, a captive ball target, and custom molded toys.
All models feature beautiful and unique hand drawn art by renowned illustrator Zombie Yeti.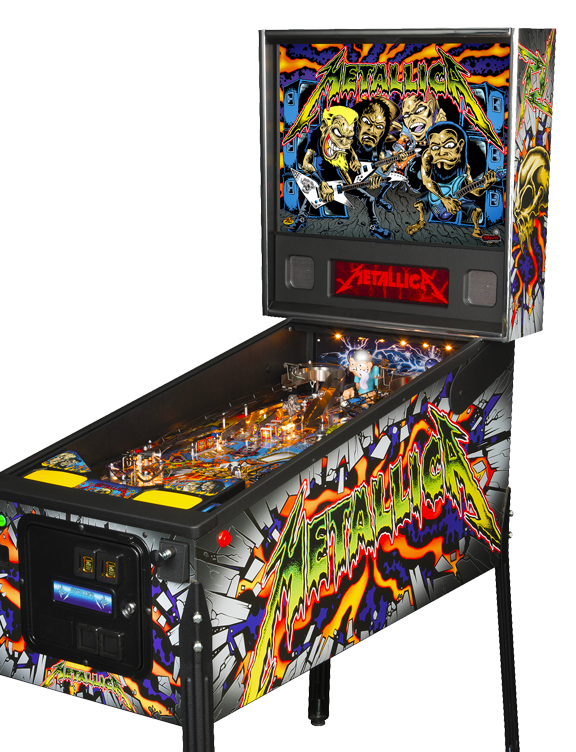 Some cool features:
Inspired by the band Metallica, Metallica Pro brings pinball to another level with twelve classic music tracks.
Featuring toys that Stern-Pinball created along with Metallica and were custom-molded for Stern's Metallica Pinball.
Stainless steel ramps to highlight the band's heavy metal image along with fast pinball action.
The machine features band member custom speech tracks, illuminated grave markers, Metallica logos, and more.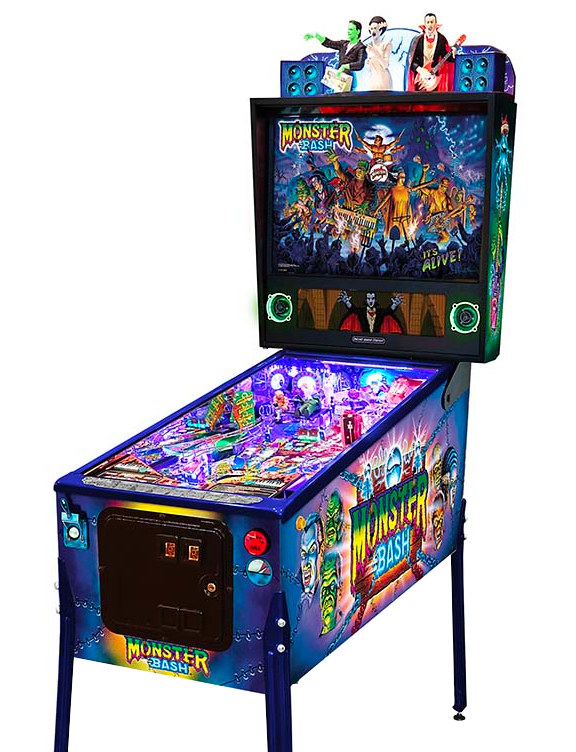 Some cool features:
Features many Universal Monsters, including the Creature from the Black Lagoon, The Wolfman, Frankenstein's Monster, the Bride of Frankenstein, Dracula, and The Mummy.
The main goal of the game is to collect the instruments of the iconic horror characters and form the Monsters of Rock band.
Table includes a Phantom Flip: players can let go of the flippers with this auto-play feature and watch the game complete the shots.
Some cool features:
The centerpiece of the playfield is an animated castle with a solenoid-controlled portcullis and motorized drawbridge.
Features two trolls: animated targets that are normally concealed below the playfield but can pop up during certain gameplay modes.
The game's ramps introduce a patented feature that prevent a failed ramp shot from draining straight down the middle between the flippers.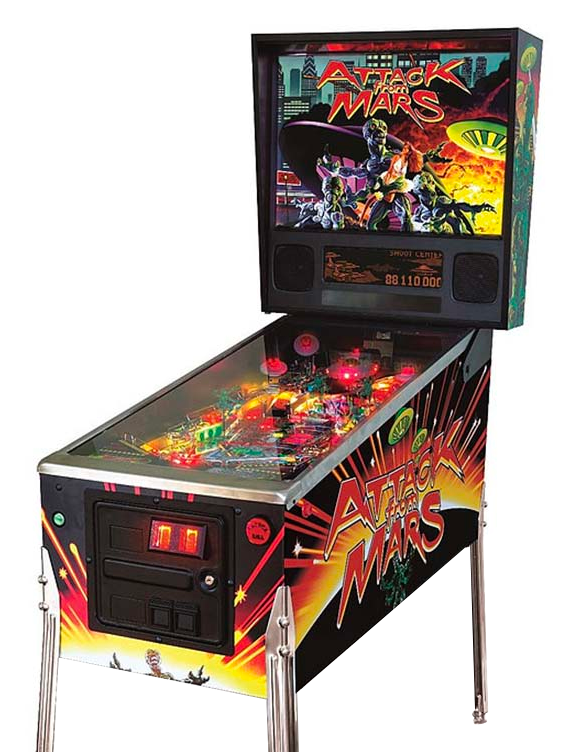 Some cool features:
23.8" LCD Playfield
7.5" LCD Score Screen
Haptic touch flippers with real-feel flipper feedback
Real-feel tile and nudge
Light up black glass
Dual speakers with metal grills
Real working plunger
"Hey There…Wanna Play Some Pinball?"
If you ever find yourself in our part of the world, then you're very welcome to visit us and play some pinball. You can battle zombies, fight ghosts, defeat Martians, rock with AC/DC or Metallica…it's up to you!
And if you happen to be a pinball wizard like David, please share some of your experiences. Did you (or do you still) have an all-time favorite machine? Is there a machine that you've always wanted to experience? Let us know in the comment section below.