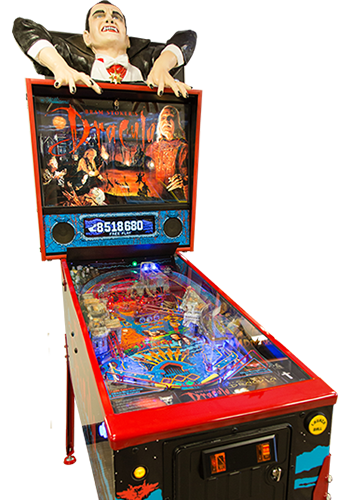 You may recall that about a year ago, I bragged about the awesome collection of pinball machines here at Devolutions HQ. Well guess what? We've almost doubled the level of awesome by going from 7 to 14 machines. We've also added an arcade game emulator!
First, I'll recap the machines that were part of our original line-up by briefly describing what's unique and fun about each one. I'll also give each game a degree of difficulty rating out of 10. Here we go, in order from oldest to newest:
Star Wars Episode 1
I'm a proud Star Wars fanatic, and so it's my honor to begin with this amazing machine. It came out in 2000, so it's a bit of an oldie — but don't let that stop you from checking it out. It's actually a "hybrid" pinball + video game, which some people find more exciting and challenging. Frankly, even though I've played this one a lot over the last year, I've abandoned it lately (I guess I've been seduced by the dark side of the force). I'm going to give this machine a revised degree of difficulty of 7.5/10, up from 7/10.
---
Wizard of Oz
This machine was launched in 2013. What's cool is that it combines old-school pinball play with some advanced gaming technologies. It actually has 5 flippers (yes, 5!) and plenty of bumpers, magnets, slingshots, and animated gadgets. There's also a 26-inch screen to complement the experience. Aesthetically, this used to be the most beautiful machine we had, but since the collection has grown, it has some stiff competition. But it's still certainly one of the toughest! On the difficulty scale, I'd give it a 9/10. But don't let that stop you from adding this gem to your collection if you're in the market for great machine.
---
Street Fighter II
Way back in 1987, when cell phones were about as big as laptops, Capcom released the original Street Fighter pinball machine – AND IT WAS GOOD! Then, in 1993, they revamped their masterpiece with the Street Fighter II edition – AND IT WAS EVEN BETTER! The goal here is to defeat all 12 fighters by hitting the right target at the right time (i.e. when certain lights are flashing). I'd say it's the easiest machine we have, but it's also one of my favorites. I recommend this one to any new pinball optimist who doesn't want to be discouraged too soon.
Just so you know, I've never managed to get the high score on this, despite playing for over a year (sorry for the disappointment Sensei, I have brought shame on you and will now wander off in the forest). But seriously, I love playing this game, and it will always have a special place in my heart. I'm also going to revise my degree of difficulty rating from 6/10 to 4.5/10.
---
Bram Stoker's Dracula
Like Street Fighter II, this machine was released in 1993. It's based on (believe it or not) Bram Stoker's legendary book. There are tons of details and I found the gameplay really hard – but still fun. Everything happens fast, so you need to pay attention. In my opinion, the most interesting aspects are the sound and music – they're both really catchy. I'd say this is still one of the toughest games, both because it's super-fast and because the pinball can go straight between the flippers when they're extended. On the other hand, it's easy to get additional balls, so it balances out. I'd score it 8.5/10 on the degree of difficulty scale.
---
Twilight Zone
"Imagine, if you will, a pinball machine. But not just any ordinary pinball machine. Instead of flashing lights, there are crashing dreams. Instead of gutter balls, there are broken hearts. Instead of flippers, stoppers and kick-out holes, there are only shadows, silences, and slam tilts. If you ever find yourself playing a pinball machine such as this, I urge you not to run out of quarters. Because when you play pinball in the Twilight Zone, you soon discover that the only captive ball is you." (That was my tribute to the great Rod Serling!).
OK, back to our dimension: Twilight Zone is the most beloved pinball machine ever made – and I wholeheartedly agree! The gameplay is complicated, but it's also fun and exciting. Each piece has a special meaning and needs to be hit strategically and in a certain order to get the highest scores possible. Max, our VP of Sales and Marketing, says this is his favorite. I'd put the difficulty level at 7.5/10 (even though Max thinks it's pretty easy!)
---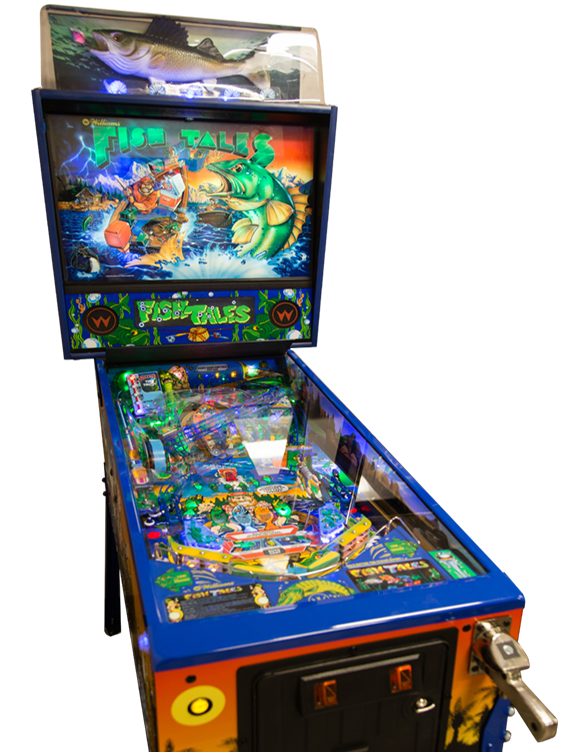 Fish Tales
Fish Tales is a little older than our other machines, having been launched in 1992. The game is based on (you guessed it) a fishing theme, and features items like a fishing rod, rotary fishing reel, ball lock, and a moving fish topper. We've revamped this one a little, and it's even more beautiful. Last year, I felt that you had to be a fishing enthusiast to really enjoy it, but I'm revising my opinion; I think anyone can enjoy Fish Tales, and the fishing terms and sound effects are great. It's not too dynamic though, because really, there's not a whole lot of variety. You kind of do the same thing over and over to get more (and more) points. I'd give it a difficulty rating of 6/10.
---

Indiana Jones: The Pinball Adventure
This is our CEO David's favorite machine, and it's been completely restored. I think every pinball machine connoisseur would agree that it's a chef d'oeuvre! With that being said, if you try it, you're doomed, because you won't see the sun till you set a new high score. Everything's great about this machine from the animation on the board to the sound. It's not that tough, either. I'd give it a difficulty rating of 6.5/10.
---
THE NEXT GENERATION
Now we can move on to the sweet machines that are part of Devolutions Pinball: TNG. Here we go!
Bally Fireball
Bally Fireball is a true classic. Released in 1972, it's an electro-mechanical pinball machine, which means that it's neither electronic nor digital. It works with circuits, relays, motors, switches, etc. This machine is also different because there's a constantly spinning disc in the middle of the game area, which makes it much harder. I must admit that my experience with the Bally Fireball hasn't been great so far. It's SO different than what I'm used to that it's taking me a while to get the hang of it. Plus, there's a short delay between clicking the flippers and when they actually move, so you need to be VERY fast – and even think ahead a little. To me, the difficulty rating is 7/10. If you want to learn more about this machine, make sure to read my full article about this very special addition to our collection.
---
Star Trek: The Next Generation
In the interest of full disclosure, I need to admit that despite making a lot of Star Trek references in my blog posts (in fact, I made one a few seconds ago with "TNG"), I'm not actually a huge Star Trek fan. At least, I wasn't until this glorious machine arrived!
Honestly, this machine is so awesome that I want to binge watch every Star Trek: TNG episode in one week (and then go to the hospital to recover). And I'm not the only person who has fallen in love with this machine; on the Internet Pinball Database, it's the third highest-rated pinball game of all time. What's so great about it? The sound effects and the various references to the show are so creative and on-point. Plus, there's nothing more badass than the two gun turrets that literally throw new balls into the game.
In fact, although this may get me kicked out of the Rebel Alliance, I must say that I have more fun playing this than our Star Wars Episode 1 machine. Plus, it's easier to play than it looks. On the toughness meter, I'd give it a 5/10 (which means you could play and drink some tea, Earl Grey, hot at the same time).
---
The Hobbit
A year ago, my favorite machine was Street Fighter II, and I still think it's great. But now that I've played The Hobbit, my opinion has changed. This fantastic machine is the reason pinball machines are still among the coolest things to play in a world full of game systems. In a way, The Hobbit is a combination of everything that is fun and great about pinball machines. First of all, the tie-in to Tolkien's universe is extremely well-done and faithful. The sounds are amazing, the popping creatures are great, and most of all, the videos and images on the display are beautiful. However, the ball moves FAST, which means it's not for newbies (unless they want to have a Smeagol-style tantrum). I'd give it a 10/10 for fun and 7/10 for difficulty.
---
Judge Dredd
I must admit that before playing this pinball machine, I had no idea who Judge Dredd was. But now that I've increased my JD-IQ, I can't wait for the upcoming movie! This machine has 4 flippers and 6 multi-balls, which means the hyper post-apocalyptic action is fast and non-stop. I haven't played it a whole lot (yet), but so far I'd give it a degree of difficulty rating of 8/10.
---
The Lord of the Rings
Allow me to get emotional for a moment: THIS MACHINE IS A MASTERPIECE. The huge LOTR fan in me wants to say that it's the best machine ever created, but that wouldn't be true. As I mentioned, The Hobbit is at the top of my list, but this comes a very close second (we're talking like 5, maybe 10 minutes as the Nazgul flies). I'd LOVE to take this home with me, but I have a feeling David would like it to remain where it is ?? The play area is beautiful, the sounds are amazing, and going on a quest to get a ring and save the world is inspiring. Like The Hobbit machine, I give this a difficultly rating of 7/10.
---
No Fear
I must admit that the No Fear pinball machine is great! Frankly, the first time I saw it, I could not help thinking that it looks like a huge hot wheel racetrack. When it first arrived, I left it there, waiting for the right moment to try it. Honestly, it looked weird and a little too much to me. Then, what should have happened, happened. I tried it and ended up playing with it for a whole week. In my opinion, the most interesting aspects are the sound and music – they're really catchy. Plus, to quote the machine: "Extra Ball is lit--NO FEAR". I'd give it a degree of difficulty rating of 5/10.
---
The Simpsons
Last but not least: behold The Simpsons' pinball machine! The Simpsons is the longest-running animated TV series in history, and who could forget Frank "Grimey" Grimes? The Simpsons is now on my top 3 list of favorite pinball machines. There's just so much to love about this one, including its incredible detail. For example, if you hit the Kwik-E-Mart, you'll hear Apu say, "Thank you, come again". Or Homer will say "D'oh" if you hit him.
One of my favorite features is the second floor. When you enter the garage, the ball goes up where you'll find two more flippers and an extra door that lets you unlock the multi-ball or special modes. There are so many modes to explore and enjoy. It's fairly tough too. I'd give it an 8/10 on the difficulty scale.
---
We Have to Find More Space…
With 14 amazing machines and our cool arcade emulator, our pinball machine room is getting full. We definitely need to find more space because there will be more. So which game should we add next? What do you think of our collection? Please comment in the section below to let us know!