SUMMARY

Devolutions Server 2023.2 offers several improvements and additions across the core product, the PAM module, as well as tools and services. We take a closer look at them here, and provide some screenshots and animations so you can glimpse what's waiting for you in the new version!
Table of Contents
As we all know, when it comes to IT solutions, there are updates… and then there are UPDATES. The 2023.2 version of Devolutions Server is definitely the latter, because we have made several significant enhancements to it. In fact, there is so much to cover, that we are breaking things down into three main sections:
New and Improved Features in Devolutions Server
New and Improved Features in the Privileged Access Management Module
New and Improved Features Related to Tools & Services
In just a moment, we'll dive into these exciting new changes, including many suggested by our global user community. But first, let's quickly summarize the solution for those who are new.
About Devolutions Server
Devolutions Server (DVLS) is our globally popular, self-hosted data source solution for Remote Desktop Manager with full-featured account and password management as well as Privileged Access Management (PAM) components. DVLS deploys rapidly, implements easily, and delivers the core features of a comprehensive and scalable PAM solution — but at a price that is sensible and affordable for IT Professionals. Request a free trial here.
So, without further ado, let's look at the MANY improvements and additions in version 2023.2!
New & Improved Features in Devolutions Server 2023.2
IMPROVED: Temporary Access Functionality
We have made two significant improvements to how the Temporary Access function works in version 2023.2 (note that we have also made similar improvements to the latest versions of Remote Desktop Manager and Devolutions Hub Business. Here is what's new:
Now when users make an access request, they will automatically be granted access to all associated dependencies such as VPNs and credentials. Previously, users had to make each request separately. This makes the process more efficient and seamless for both users and Administrators.
Also, users can now request temporary access for a future date and time. When that timeframe is reached, access will be automatically granted and then expire accordingly.
IMPROVED: System Dashboard with Syslog and Email Services
The System Dashboard now displays the status of both the Syslog and Email modules. If an issue is detected and one of the modules is no longer responsive, a notification email will be automatically sent to the Administrator(s).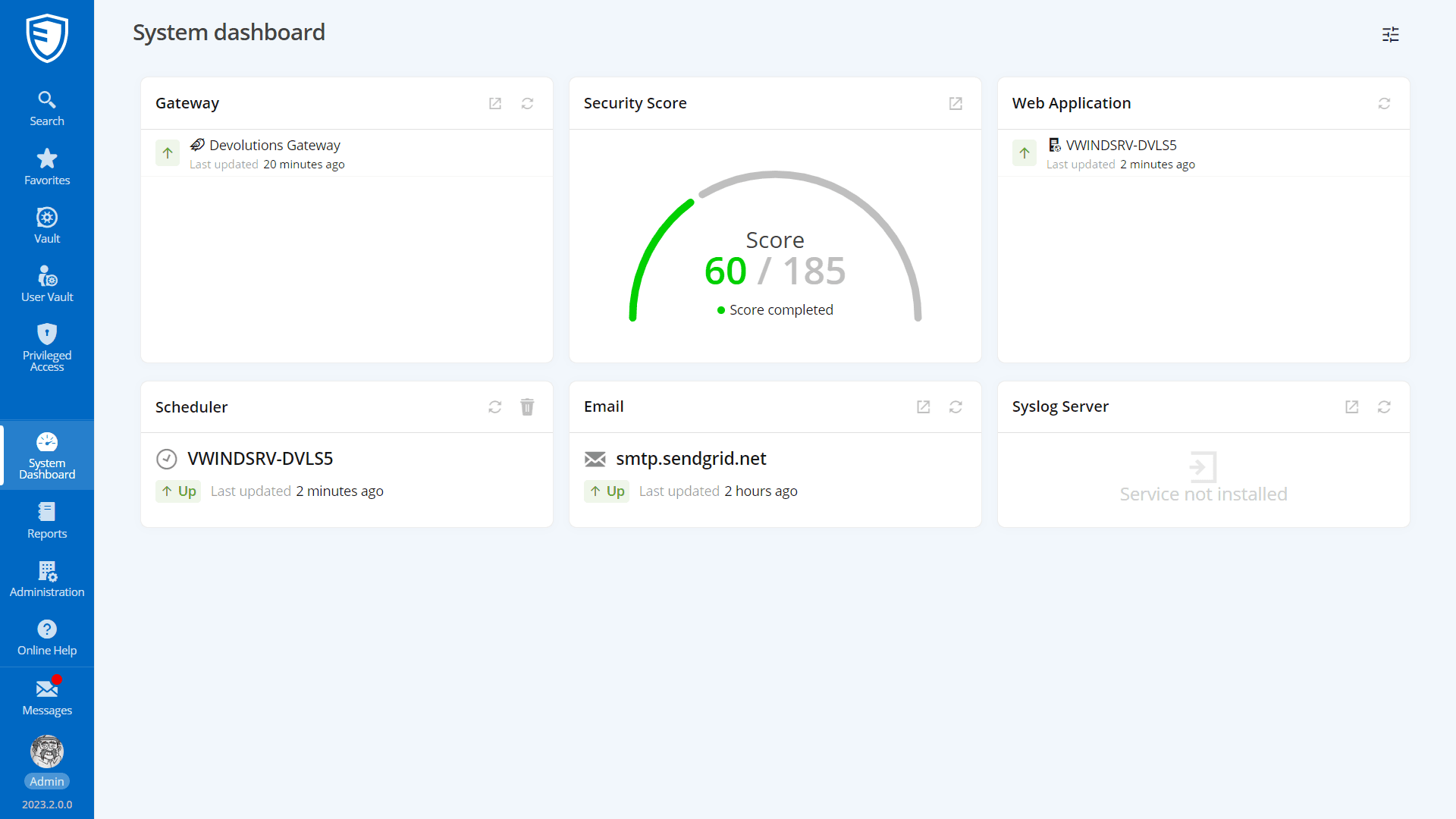 NEW: Grant Temporary Access Functionality for Administrators
We have also added the ability for Administrators to proactively grant temporary access instantly or at a future date. This is ideal for Administrators who need to pre-authorize access for users to be able to perform specific actions when they may not be around to approve a request.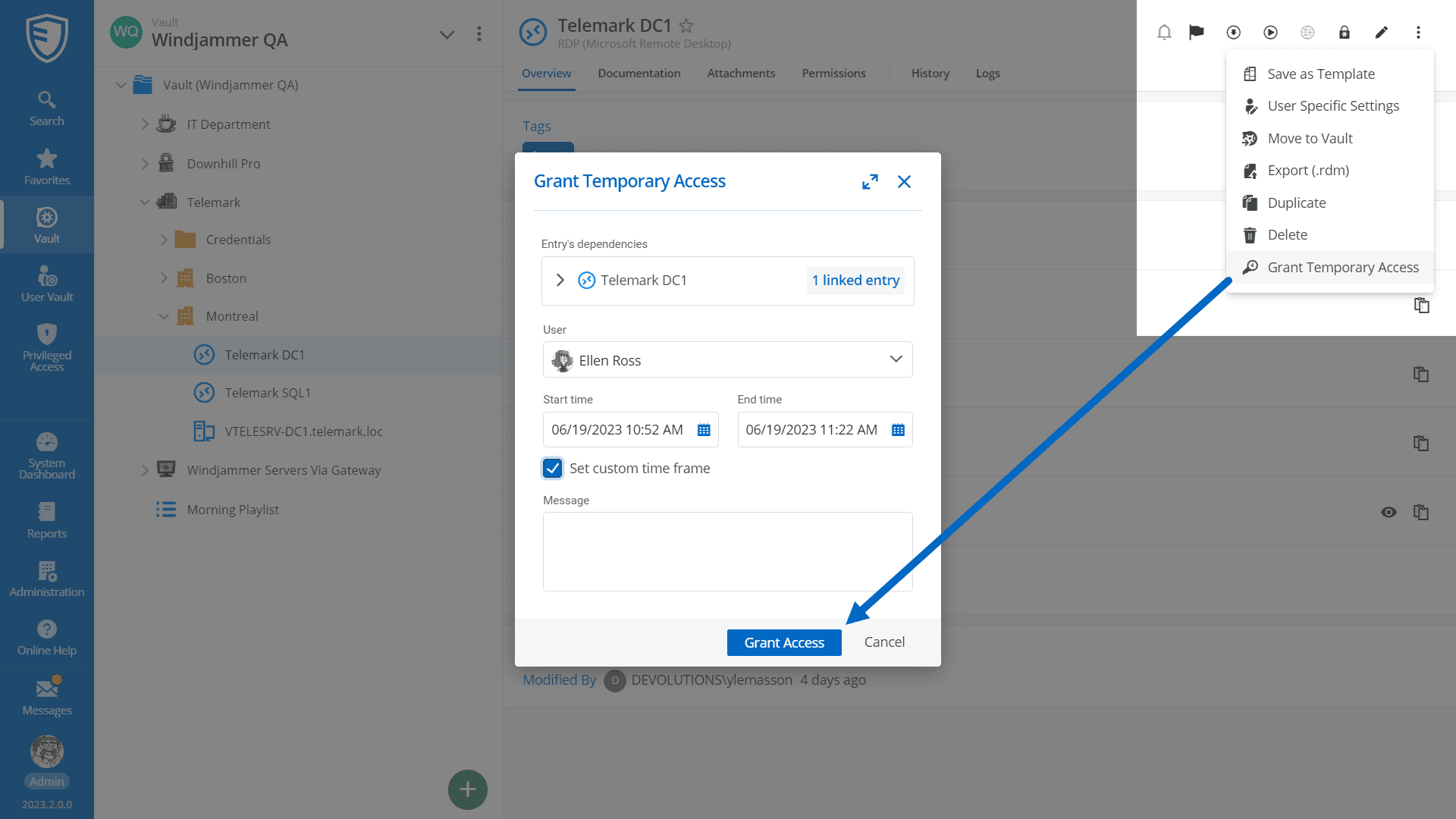 NEW: PowerShell Terminal Remoting Directly in the Web Interface
After recently adding the ability to launch RDP sessions via the DVLS web portal using the Devolutions Gateway, our Development Team has now added a PowerShell Terminal directly in the web browser.
Plus, the new PowerShell Terminal passes through the Devolutions Gateway, which not only makes things faster, but also enhances security.
Please note that this new feature is still in Preview Mode, and we can't wait for you to let us know what you think. Check out the animation below: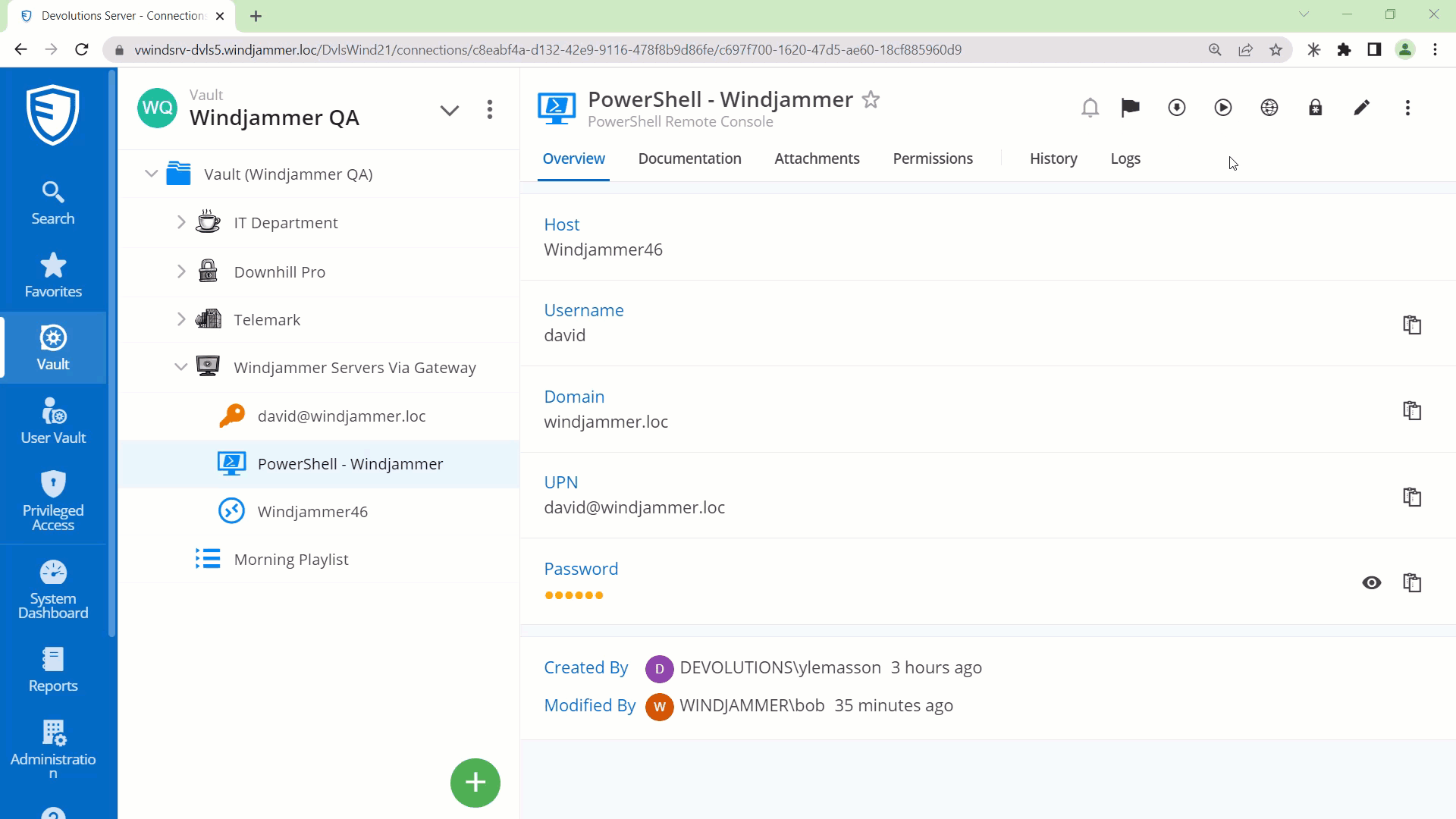 NEW: Request Access to Other Vaults
Users can now request access to a publicly shared vault (see note below), or even a Privileged Access Management (PAM) vault.
Note: By default, vaults are set to private in the System Settings. To enable visibility, the setting must be toggled to public (either systemwide or individually on a vault). Please be assured that toggling vault visibility from private to public will NOT grant access. Rather, it only means that users will see the vault in their dropdown list and still need to request access. If a Vault Owner is specified, then they will receive the request, if not, the Administrator will. We will talk more about Vault Owners in just a moment!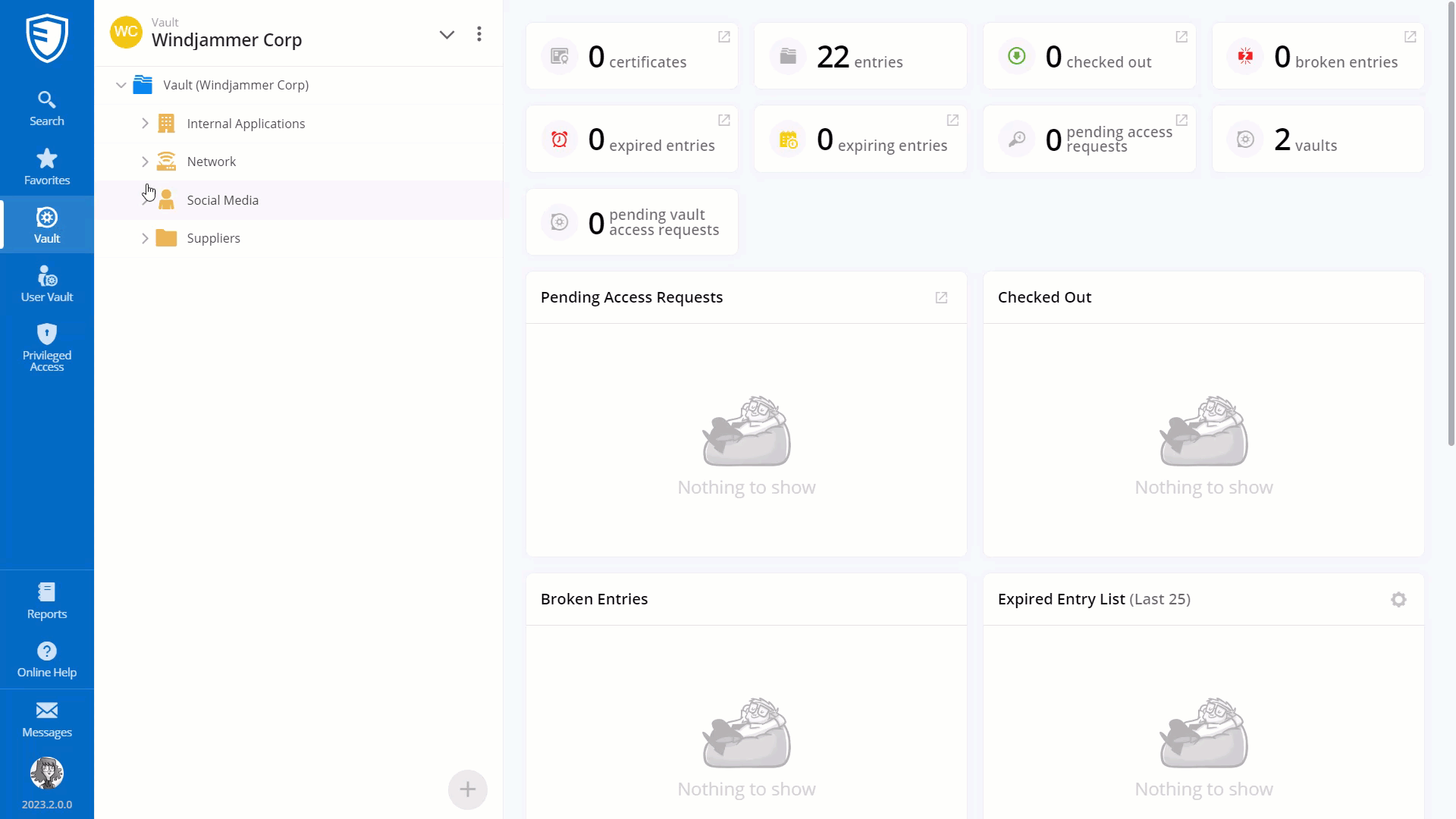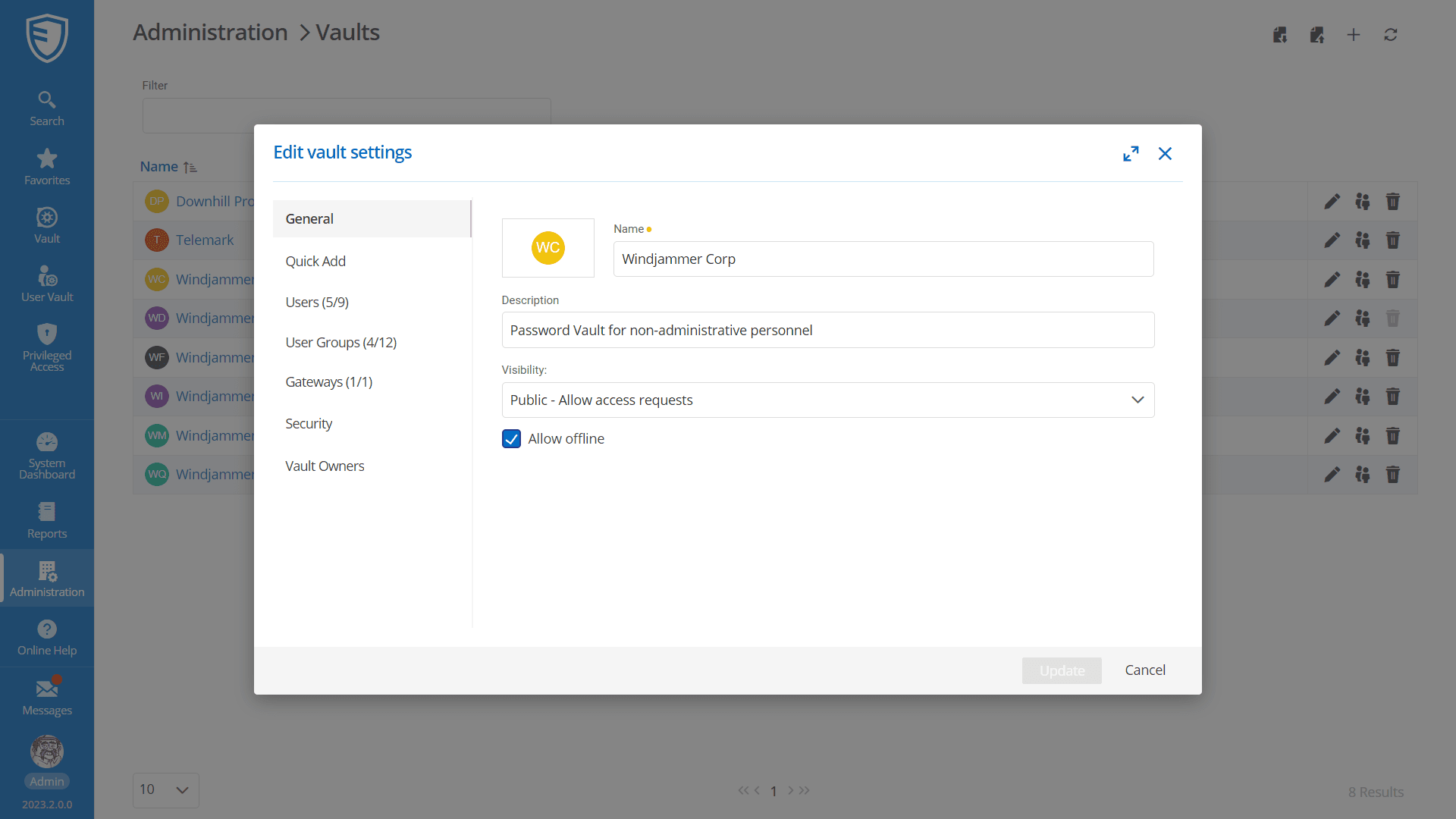 NEW: Assign a Vault Owner
Vault Owners can now be assigned to each vault via the Vault Management section. Vault Owners have special administrative privileges within that vault, and as discussed a moment ago, they also can grant or deny vault access requests.
NEW: Link Two User Accounts to a Single License
We have addressed a common scenario in which some users have created two separate accounts to operate within their vaults: a standard account for daily tasks and a "super user" account with elevated permissions. Previously, it was necessary to obtain two separate licenses (one for each account type). Now in version 2023.2, these two accounts can be linked together. It's Lord of the Rings with a twist: one license to rule them all!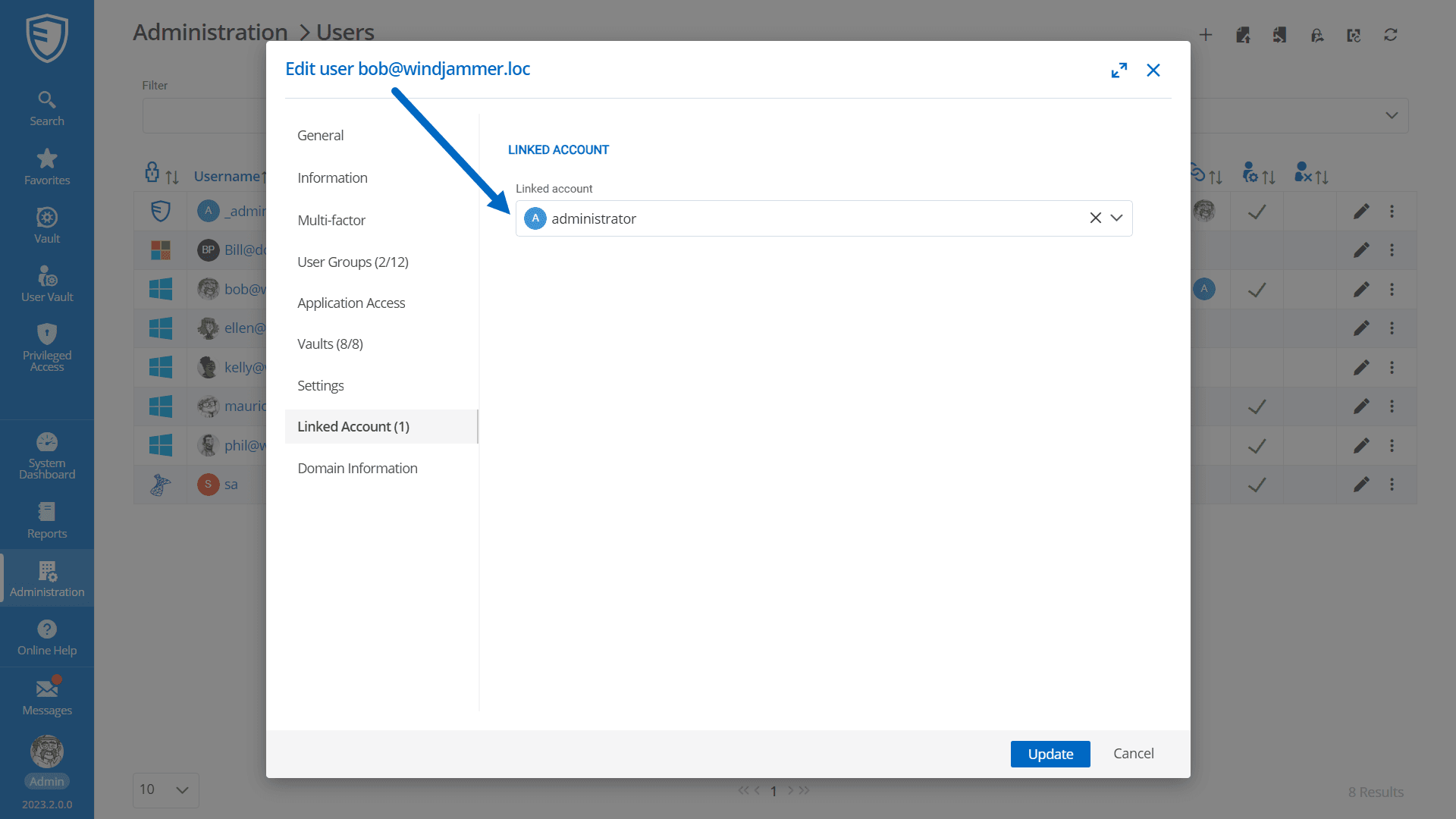 NEW: System Vault for Centralized Resources
To centralize globally used resources (macros, VPNs, and contacts), we have introduced a new vault called the System Vault. In the past, these resources had to be added to each shared/individual vault and permissions to access them had to be assigned as well. They can now be accessed easily by related entries throughout the entire system!
New & Improved Features in the Privileged Access Management Module
IMPROVED: Temporary Just-In-Time Elevation at Checkout
This new feature allows specific users to temporarily request elevated permissions on privileged accounts. The available accounts must first be configured in the PAM Provider settings, where specific Active Directory accounts are selected for elevation. These temporary groups are dynamically generated with a limited lifespan. Upon check-in, the temporary dynamic group is deleted, and the user's standard permissions are restored.
IMPROVED: Proactively Request Checkout for a Privileged Account
Earlier, we looked at significant improvements to the Temporary Access function in the Devolutions Server core product. Well, we have some more good news: these enhancements have also been added for privileged accounts!
Now, users can proactively request access to a privileged account by specifying a date and time range. This functionality is particularly beneficial when users anticipate needing privileged accounts during maintenance activities outside regular office hours, when Approvers may be less accessible. Please refer to the animation above associated with the Temporary Just-In-Time Elevation at Checkout for a look at this improved feature!
IMPROVED: Expanded Privileged Account Availability with PAM Usage Policies
We have extended which entries can access privileged accounts within the Devolutions Server ecosystem. Along with RDP and SSH sessions, websites can now utilize privileged account credentials from a PAM vault. Administrators can also define which entry types and applications can access them in the new Usage Policies configuration page.
NEW: Propagate PAM Passwords After Rotation
The new password propagation functionality enables templates that can be customized with specific properties. These templates can generate tailored PowerShell scripts that seamlessly distribute passwords to designated endpoints. This unlocks an array of opportunities to securely push passwords across various services. Check out GitHub Propagation template section for more information and examples.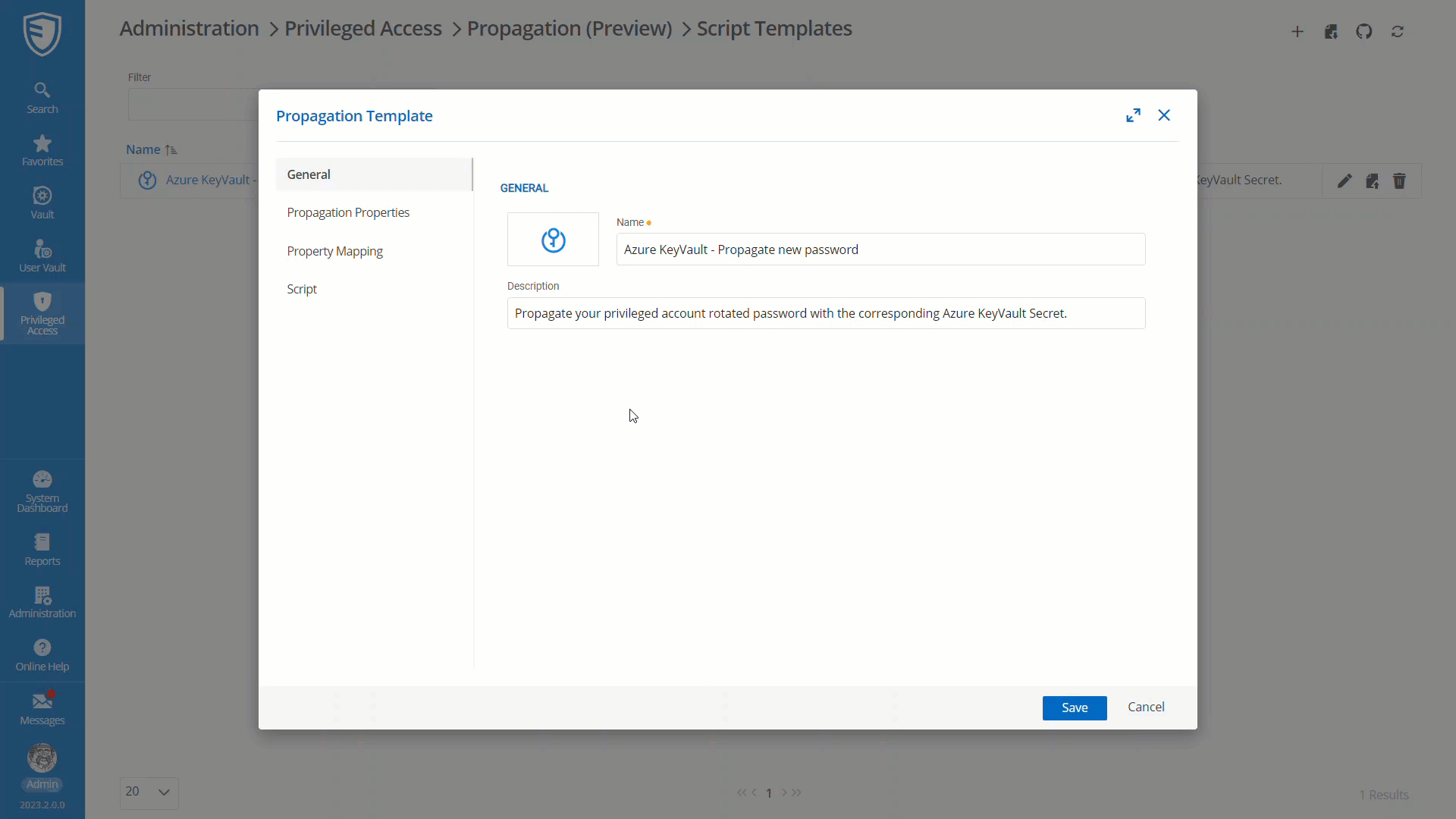 New & Improved Features Related to Tools & Services
IMPROVED: Load Balancing in Devolutions Gateway
We have added load-balancing functionality to the Devolutions Gateway service for better scalability and reliability. After configuring additional Gateways, add them to Devolutions Gateway Farm to take advantage of better performance, and a fail-safe in case one of your Gateways goes down.
IMPROVED: Recording Capabilities in Devolutions Gateway
As we optimize our session recording functionality, we are moving away from using the Session Recording module in the Devolutions Console to allow recording directly via the Devolutions Gateway. Once the feature is enabled in the System Settings and on the entry itself, the session will be recorded, and the playback file can be viewed in the Activity Logs.
NEW: SQL Server to Devolutions Server Migration Tool
More users are realizing the benefits of enhanced security and scalability that come from switching from a SQL Server data source to Devolutions Server. In response to this trend, our Development Team has created a new migration wizard to streamline the process. This wizard removes the burden of exporting/importing data from SQL Server to Devolutions Server, while maintaining all users, groups, permissions, and data. The wizard is available in the Devolutions Console, and we look forward to learning what you think of it!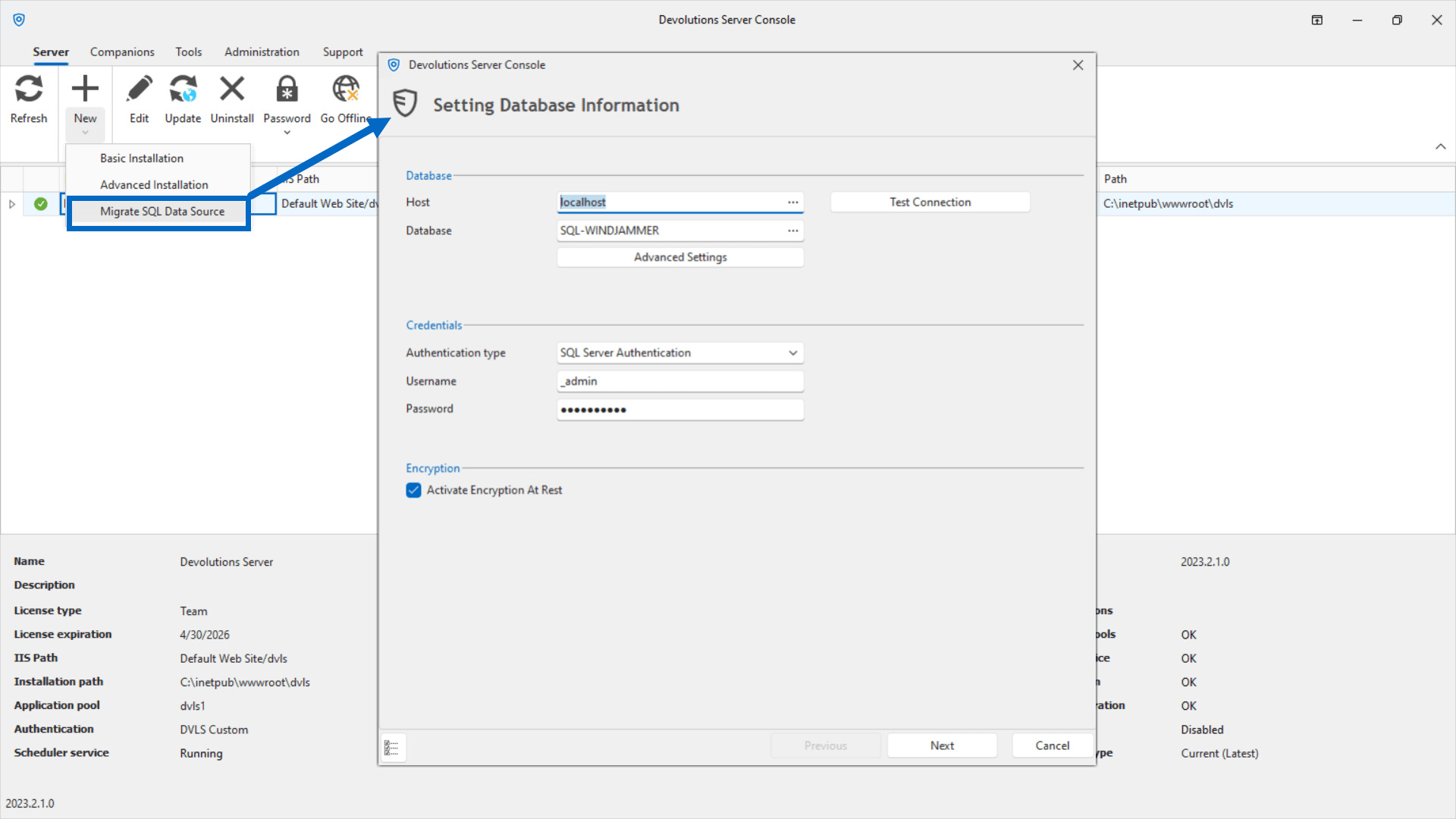 Tell Us What You Think
If you're a long-time member of our community, then you know that we are interested — no, that's not the right word, we are OBSESSED — with listening to our users.
Truly, this is not just about being friendly (although we are a pretty nice and polite bunch … unless we're playing foosball, and then it's survival of the fittest!). By listening to you and taking action based on your advice, we ensure that our products — and their associated enhancements — are relevant and valuable to you.
Because it doesn't matter how much WE like things around here. What matters is how much YOU like them. And if you even LOVE them, ah, what more could we possibly ask for?
And so, please let us know what you think of the latest version of Devolutions Server. Whether you have compliments or criticisms, we want to know! Get in touch by commenting below, contacting our Support Team, or posting in our forum.
Or hey, if you're in our part of the world, then you can always stop by for a visit — and some foosball!