An easy and effective way to keep hackers — or just nosy colleagues, family members, and friends — from snooping on your surfing history, cookies, site data, and form information is by activating "incognito mode" on your Chrome browser.
However, if you use Devolutions Web Login, then you may occasionally run into some issues. Why? Because Chrome's incognito mode disables extensions by default. But don't worry, fixing this is as easy as 1,2,3…seriously, there are only 3 steps!
What Is Devolutions Web Login?
Before we dive into the steps, here's a quick overview of Devolutions Web Login: it is our free, secure, simple-to-use and easy-to-install browser plugin that is used in conjunction with Remote Desktop Manager, Devolutions Server, and Devolutions Password Hub. It enables users to automatically log into an unlimited number of websites without having to remember or look up passwords. At the same time, SysAdmins maintain full control over password management, yet in a manner that does not negatively impact user productivity.
Setup Steps
Step 1: Click on the extension icon in the context menu, and then click Manage Extensions. Or if you wish, you can paste this URL into your Chrome address bar: chrome://extensions/?id=neimonjjffhehnojilepgfejkneaidmo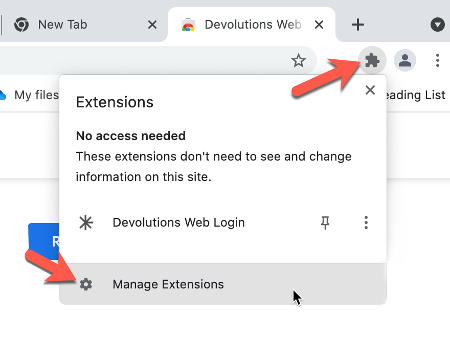 Step 2: Click on Details in the Devolutions Web Login box.

Step 3: Scroll down and toggle the Allow in Incognito button.
And that's it! You're all set to privately surf the web while enjoying all the benefits of Devolutions Web Login.