Password Hub Business is our secure and cloud-based password manager for teams. It empowers organizations to vault and manage business-user passwords and other sensitive information, through a user-friendly web interface that can be quickly, easily, and securely accessed via any browser. Simply put, Password Hub Business is the perfect balance of security and usability! To learn more, please download the datasheet [PDF] and download the technical specifications [PDF].
To help your organization discover, implement or optimize Password Hub Business in your environment, please find the following answers to the most frequently asked questions:
QUESTION: What happened to Devolutions Password Hub?
ANSWER: Nothing! In 2020, we simply renamed Devolutions Password Hub as Password Hub Business, in order to better indicate that it is designed for team and organizational use.
QUESTION: How do we integrate RDM with Password Hub Business?
ANSWER: Integrating RDM with Password Hub Business is fast and easy. For instructions, please follow the steps in this video tutorial. You can also follow the steps right here.
QUESTION: Is it possible to access the vault of a user who has left our company?
ANSWER: Yes! You can access the vault of an ex-user without needing to connect to their account. If you wish, you can also restore it as a shared vault. Simply follow these steps:
In Devolutions Password Hub, go in Administration - Users.
Find and Delete the user by clicking on the trash bin next to his vault.
Click on Administration - Vaults.
In the dropdown menus, select User vault and Deleted.
Find the deleted user vault and click the Restore as a Shared Vault button.
Click Vault in the upper left side menu.
You can now view the restored vault in the vault selector in the upper middle of Devolutions Password Hub.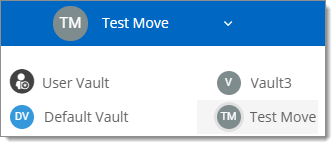 QUESTION: How do I retrieve my credentials to a website when using Password Hub Business as a password manager?
ANSWER: You can easily do this with Devolutions Web Login, which is our free browser password plugin for use with Password Hub Business (along with Remote Desktop Manager and Devolutions Server, if you have either/both of these products). For instructions, please follow the steps in this article.
QUESTION: Is Password Hub Business secure?
ANSWER: Yes indeed! We know that security is of utmost importance these days. Password Hub Business is built to comply with the latest 256-bit encryption standards and data security best practices. Key security features include role-based access control, private infrastructure (each customer has its very own cloud-hosted database), and a centralized password vault. In addition, we have successfully completed SOC 2 compliance testing — learn more here.
Additional Questions
Do you need additional information that hasn't been covered here? If so, please contact our Support Team by live chat, email, phone, or by posting in our forum. Please click here for all support options. We are always happy to help!