Updated April 2, 2020
In recognition of World Password Day which falls on the first Thursday in May, we have updated our comparison of the most popular password managers by adding Devolutions Password Hub and NordPass
LastPass vs KeePass vs 1Password vs Dashlane vs Passwordstate vs Keeper vs Sticky Password vs Devolutions Password Hub vs RoboForm vs NordPass
There are a lot of options out there for password manager software, but finding the one that will fulfill your needs can sometimes feel overwhelming and a tad like trying to find a needle in a haystack. To help you find the one that will fit you like a glove, we've gathered some of the most popular ones and broken down their features.
A great password manager software should help in your everyday routine by generating, managing and storing all of your passwords for you. It should be able to generate secure passwords rapidly and save them automatically in an encrypted database.
Some of the features we look for in a great password manager are security assessments, random-character generation, and automatic login on your favorite websites.
Now let's start doing some digging and take a closer look at the most popular password manager applications. As you all know, there are password management software that are more enterprise driven and made for larger teams like Secret Server, AuthAnvil, Lieberman, CyberArk and ManageEngine. However, we have opted for the most popular ones according to our RDMers: LastPass, KeePass, 1Password, Dashlane, Passwordstate, Keeper, Sticky Password, Devolutions Password Hub, RoboForm and NordPass.
---

LastPass is one of the most widely known and widely used password managers.
---

KeePass is incredibly powerful and well supported. It is a free open source password manager, which helps you to manage your passwords in a secure way.
---

1Password is the best-looking software of them all. It has a Windows app as well as iOS and Android.
---

Dashlane is a beautifully designed and very helpful password manager that is available on multiple devices.
---

Passwordstate is a web-based solution for secure password management, and it is designed for both individuals and teams.
---

Keeper is one of the most downloaded password managers and secure digital vaults. It protects and manages your passwords on smartphones, tablets and computers.
---

Sticky Password is a great and easy way to securely manage all your passwords, making it easy to store them for multiple sites.
---

Devolutions Password Hub is a highly secure and easy-to-use cloud-based password management solution for team environments.
---

RoboForm is an inexpensive password manager that has been on the market for the last 16 years and offers a ton of options.
---

NordPass, which is better known for its VPN solution, recently introduced a password manager that has some impressive features and functions
---
Here is a table for a quick overview of some advanced options supported by the different password manager applications.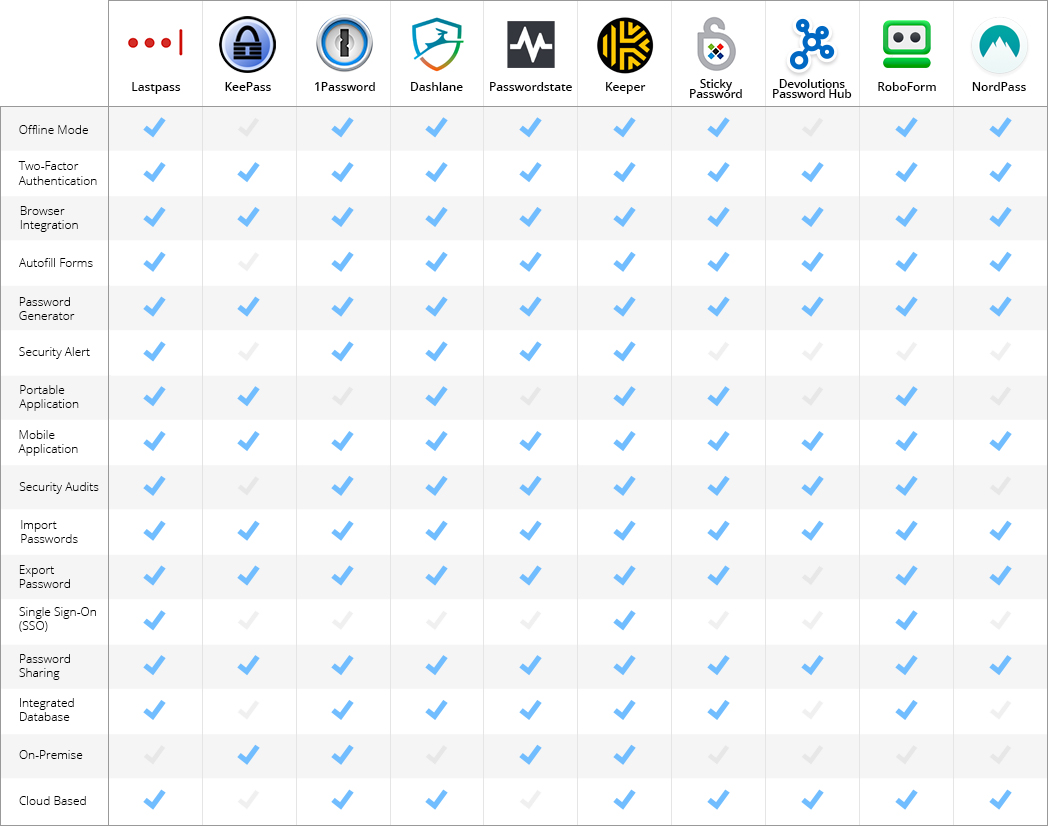 ---
A little side note, Remote Desktop Manager actually integrates all of the above-mentioned password manager solutions for the exception of Keeper and NordPass.
After taking your time in choosing and doing some careful comparison-shopping, all there is left to do, is to pick out the right password manager for you! In the end, what is important once you have chosen one is to stick with that one only as it is the best way to ensure that you are always selecting long, strong, and unique passwords to keep all your data safe.
Have fun shopping!