If you monitor several Microsoft Windows Servers and workstations via Remote Desktop Manager, then you know that switching between consoles is time-consuming and tedious. Well my dear friends, I have some wonderful news for you today. Drumroll please… Allow me to introduce Live Thumbnail!
About Live Thumbnail
Live Thumbnail displays an overview of all running sessions — but with a special enhancement: the thumbnails aren't static snapshots. They're live and interactive clickable RDP sessions. For example, if you need to launch commands or update multiple servers simultaneously, you can do so directly from your Live Thumbnail tab without ever changing windows. This feature is available when launching an Intel AMT, Apple Remote Desktop, VNC (default engine only) or Microsoft RDP session.
Using Live Thumbnail
Simply launch your sessions directly from Remote Desktop Manager, and then click on the Overview-Thumbnails tab. You'll notice a small Play icon on the bottom right of your thumbnail. Click it to activate or deactivate the Live Thumbnail feature.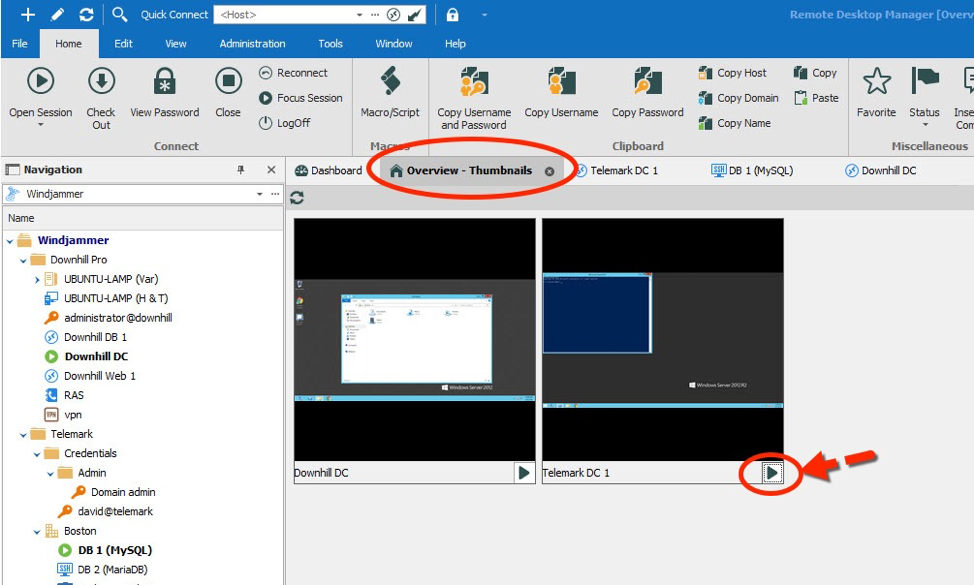 In addition, you can click on any session while it's active in the Overview-Thumbnailtab to toggle the Connectionmenu. You can then choose to stop the live display, view the live display in thumbnail, or close the session.
We hope this new feature will help save you some time and effort. Our Development team is totally in love with it already!