SAAS vs Entrust IdentityGuard vs Microsoft Azure Multi-Factor Authentication
Last week we did an updated review of 2FA solutions that was targeted toward single users, but what about company-wide solutions? With businesses falling victim to brute-force attacks targeting physical and logical infrastructures, mobile platforms and user identities, an extra layer of security is integral to protect from all of those threats. To help you choose 2FA solutions for your enterprise we've compared three popular solutions: SAAS, Entrust IdentityGuard and Microsoft Azure Multi-Factor Authentication.

SAASPASS is known for its high level of security and multi-factor authentication. It easily replaces the use of passwords across the board.

Entrust IdentityGuard is a 2FA application, server, smartcard manager, biometrics server and a versatile authentication platform that enables organizations to deploy strong authentication throughout an enterprise.

Azure Multi-Factor Authentication reduces organizational risk and helps safeguard access to data and applications by providing an extra level of authentication. It offers a strong authentication through a wide range of verification methods.
Conclusion
And there you go folks! We know we have only taken a look at the tip of the iceberg when it comes to 2FA enterprise-wide solution, but don't worry eventually we will include even more solutions. Let's not forget that the implementation of an extra layer of security, like multifactor authentication, is a must for your company and is something that should never be taken lightly! We hope this will help you choose the right solution for you and your company!
Here is a table for a quick overview of some advanced options supported by the different 2 Factor Authentication applications.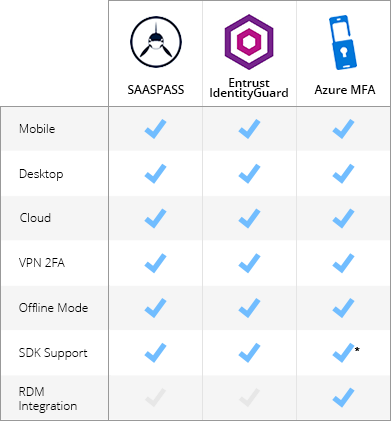 Share with us which solution you are using by participating in our poll and have a chance to win a 25$ Amazon gift certificate.