Recently, we took a look at the new Devolutions Web Login, which is a handy browser extension for Remote Desktop Manager.
Installing Devolutions Web Login on Firefox, Chrome, Opera and IE is simple and takes a few seconds. However, if you're using Microsoft Edge, there are a few more steps since Microsoft doesn't support the extension (but don't worry, it's still pretty simple!). Here's what to do:
Download the Edge extension using the Extension Manager. You'll notice that compared to other browsers, Edge downloads a zip file. Unzip the file in a folder (and remember where it is because you'll need it in a few seconds).
Open a CMD or a PowerShell window, and enter the following command to disable the loopback: CheckNetIsolation.exe LoopbackExempt –a –n=Microsoft.MicrosoftEdge_8wekyb3d8bbwe
Launch Edge and type about:flags in the address bar to access the Developer Settings. Check the option Enable extension developer features.

Click on the ellipsis (…) and select Extension. Click Load extension and select the folder where you unzipped the extension (from step 1).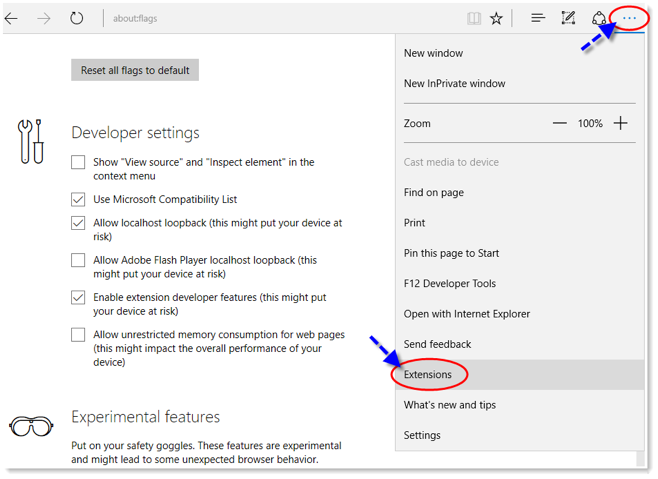 And that's it! You're all set, and can start enjoying the many advantages of Devolutions Web Login!
As always, please let us know your thoughts by using the comment feature of the blog. You can also visit our forums to get help and submit feature requests, you can find them here.