Hi everyone!
Since 2012, we've enjoyed a very successful partnership with Awake Coding, the creator of open source project FreeRDP: a free cross-platform implementation of RDP used in Remote Desktop Manager for Mac and other applications in the industry.
Today, the Devolutions team is thrilled to announce that we've taken our partnership to a higher level by acquiring a major stake in Awake Coding!
Thanks to this acquisition, within the next few weeks Marc-André and his team of experts will be relocating here to our head office. Together, we'll take what is already a robust remote connection protocol and add even MORE features and functions in the months and years to come. [caption id="attachment_47131" align="aligncenter" width="300"]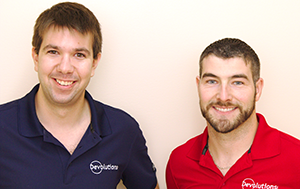 Marc-André Moreau and David hervieux[/caption]
**Here's what our CEO and Founder David had to say: **
"I've believed in Marc-André and FreeRDP since the first day we met. I'm pleased to welcome Marc-André and his team in our organisation, and bring our partnership to a whole new level. Devolutions has always been a proud sponsor of open source projects, and this acquisition is part of our commitment to consistently offer our community the best technologies in the remote desktop management industry. FreeRDP is an amazing protocol, and thanks to the synergies between Devolutions and Awake Coding, the possibilities are endless!"
**Here's what Awake Coding's CEO and Founder Marc-André Moreau had to say: **
"I feel thrilled and privileged to become part of the Devolutions family, and consider this to be an incredible opportunity. Prior to the acquisition, Awake Coding was already working very closely with the Devolutions team. But now we can intensify our efforts and really achieve amazing synergies, as we work together as a unified group. On a personal level, this is a very important step in my career and life. However, I have no hesitation because I know first-hand that the amazing people at Devolutions are among the industry's best!"
Looking Ahead
As mentioned, we'll be welcoming the Awake Coding team over the next few weeks, and putting together exciting new plans, strategies and systems that are all about serving YOU, our remarkable community of IT pros.
The bottom-line for now is that if you love FreeRDP, then thanks to this acquisition, be assured that the BEST IS YET TO COME!