Hey everyone, Today, we'd like to share with you all of the reasons why it's so much fun to work at Devolutions, and what we do to keep our spirits up and our stress levels low: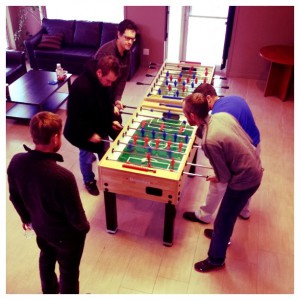 Foosball: If you follow us on Facebook, you're aware that we like to play foosball while taking a break from work. In fact, we like playing foosball so much that we actually have TWO tables, so that everyone has a chance to play. Last October, we even organized a foosball championship and it was awesome! Team lunch: Here at Devolutions, we're not only co-workers, but we're friends who really like spending time with each other. For several months, we've made sure to take time from our busy schedules to have a team lunch every Wednesday, which is paid for by our generous boss J Thanks David!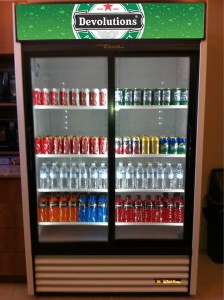 A fridge full of beer: Yup -- you read that right! Devolutions new head office has a fridge full of beer. But don't worry! We don't drink beer while we're working. But sometimes at the end of the day, some of us enjoy a cold one as we hang out and unwind. Ok we admit it, there is not only beer in our fridge. We also have the chance to have powerade, water bottles, yogurt, fruit and snacks. Max's singing: You may not know this, but our marketing director Maxime (Max) is the lead singer of the punk band "4 the Bros"! For Max, singing is second nature and he does it all the time at the office. He sings A LOT and really LOUD! But, thankfully, we love it because Max is a great singer, and helps keep our stress levels low. Keep it up Max! Gym: In our new head office, we have a great gym that we can go to anytime to burn some extra calories, or remove stress. It's a nice break from staring at a computer and talking on the phone!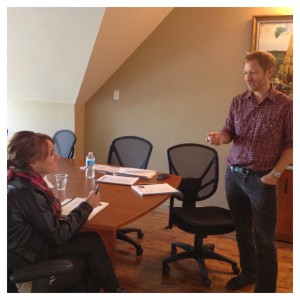 English classes: Devolutions is based in Canada and in the Province of Quebec, and so our first language is French. Since we want to serve our customers in the best way possible, we have weekly private English classes here that are really fun and useful. Grandma Anne-Marie: Even though she's a young woman and a fitness freak, Devolutions' marketing coordinator Anne-Marie is a bit like Devolutions' grandma J That's because she brings in candies and cookies for all of us to share. While we love this about her, our waistlines aren't so thrilled. Fortunately, we have the gym! Anki Drive: For a few weeks now we've been playing Anki Drive -- and we're addicted!! Anki Drive brings video games into the real world by letting you control real racing cars using your iOS device as the main controller. Admittedly, our foosball tables lost some of their attraction when Anki Drive arrived in our office.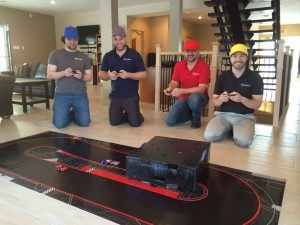 Team Spirit: We have the chance to have a pretty pleasant working atmosphere. Here at Devolutions, we work all together and really enjoy it. Oddly but fortunately, everyone always seems cheerful. These are just some of the reasons why this is a great place to work. What about your workplace? What's great about it? Please share by commenting below. Cheers,