Table of Contents
IT professionals are giving us great feedback on the latest updates we've introduced to Remote Desktop Manager for Windows, Mac, and Linux in version 2023.2. If you're interested in finding out more about what we released, check out our blog article here: A Look at the New Integrated Features in the 2023.2 Release.
Along with updating our core products, we have also thoroughly revamped the UI in our latest version of the Remote Desktop Manager Mobile App for iOS and Android. You can grab your copy of the mobile app on our Remote Desktop Manager Download Page.
So, let's dive right into the details.
Updated User Interface
One of the most noticeable changes in the latest update is its refreshing design. This update boasts a sleeker look while also improving the overall user experience. We placed commonly used resources at your fingertips so that finding the features you use the most is much more intuitive. Our team also made sure to add subtitles and labels throughout the app to provide clarity and improve the placement of icons and buttons for quick access.
Check out the "before" and "after" screenshots below, showing the Dashboard view.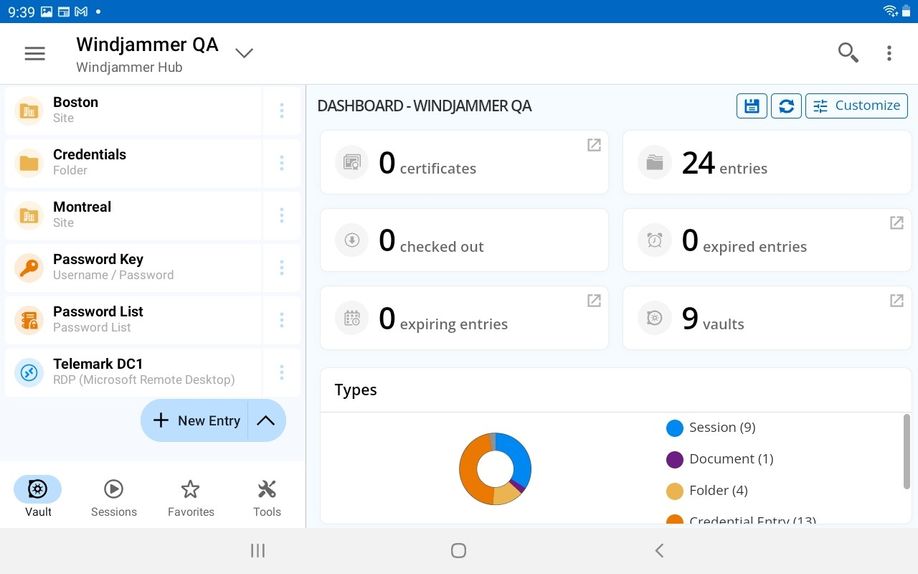 Better Functionality for Remote Sessions
Based on user feedback, running remote sessions on the go is the primary reason people have downloaded our app. It's the go-to resource when you're away from your workstation and need to take care of an emergency. That's why we worked on making launching Remote Sessions and related functionalities even more seamless and user-friendly. Whether you work full-screen or in a side window, we think you'll agree that the app looks and feels even better than before.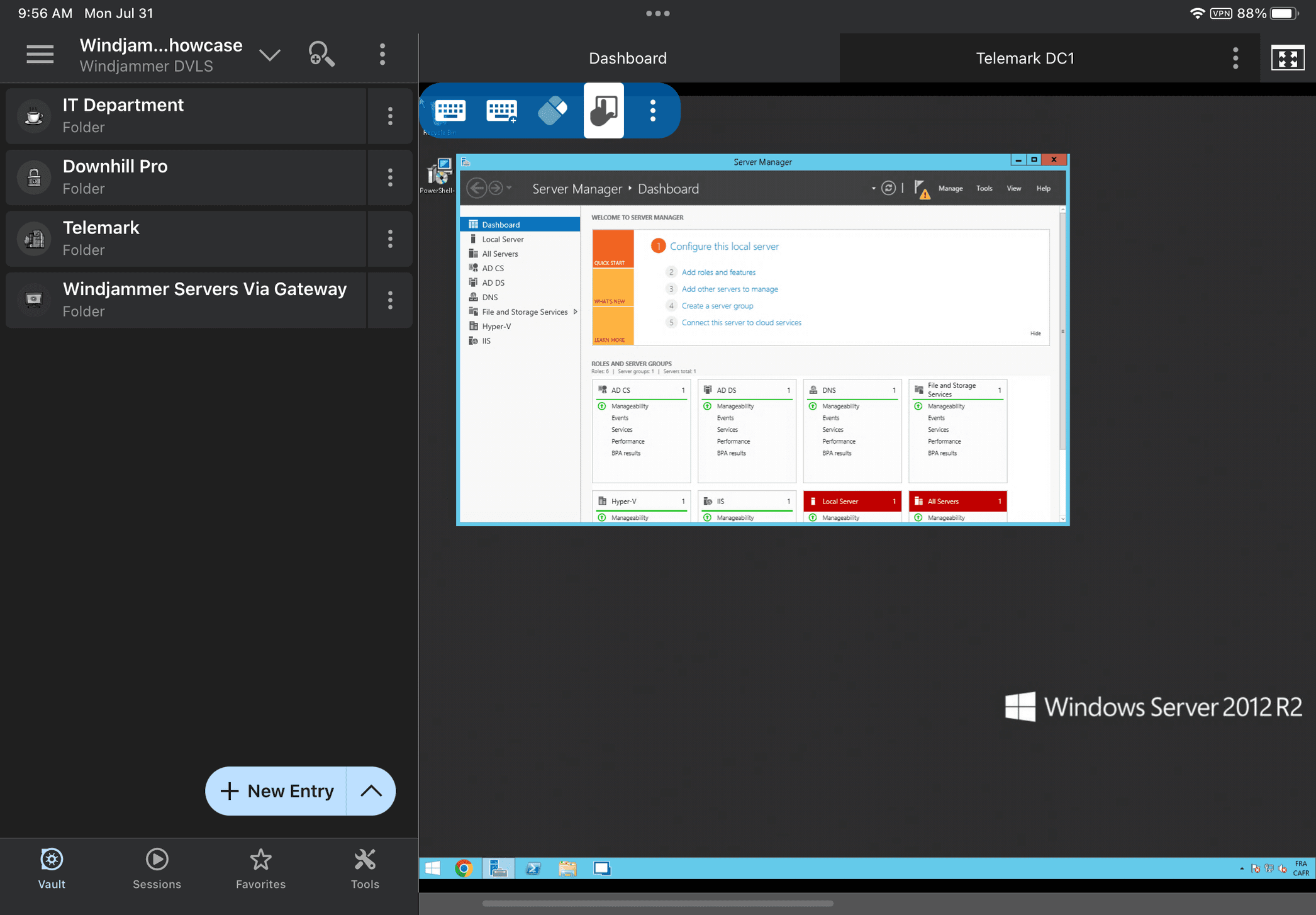 Improved Unified Experience
One of the big improvements our team focused on tackling was to ensure that your experience as an end user is similar whether you're working on iOS or on Android.
Now, both platforms have a similar feel and look to them, and also markedly resemble our Web-Based Interfaces of Hub Business and Devolutions Server.
Here you can see the Android version on the left and the iOS interface on the right. Although we are sometimes limited by OS constraints, we did our best to make them equivalent.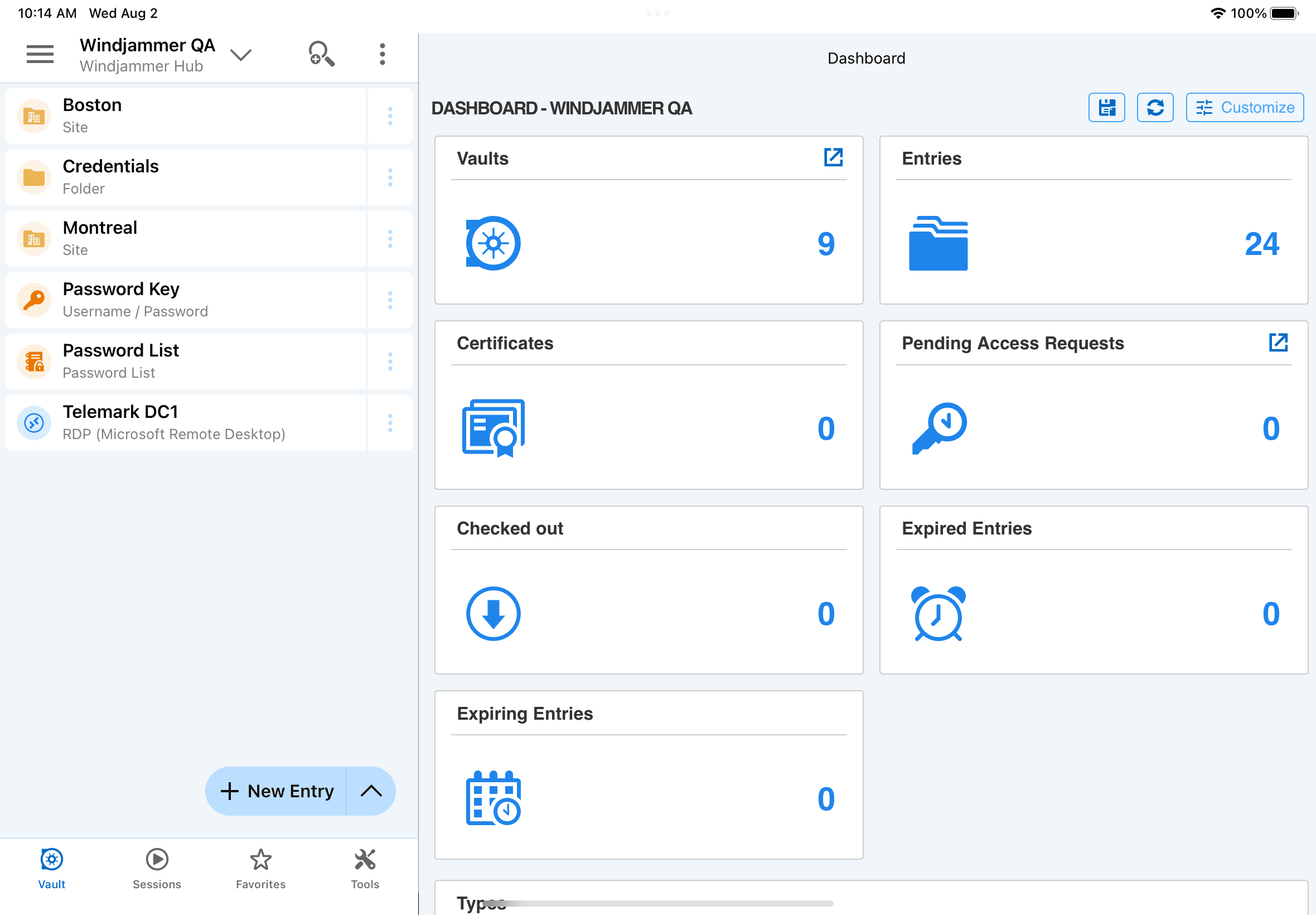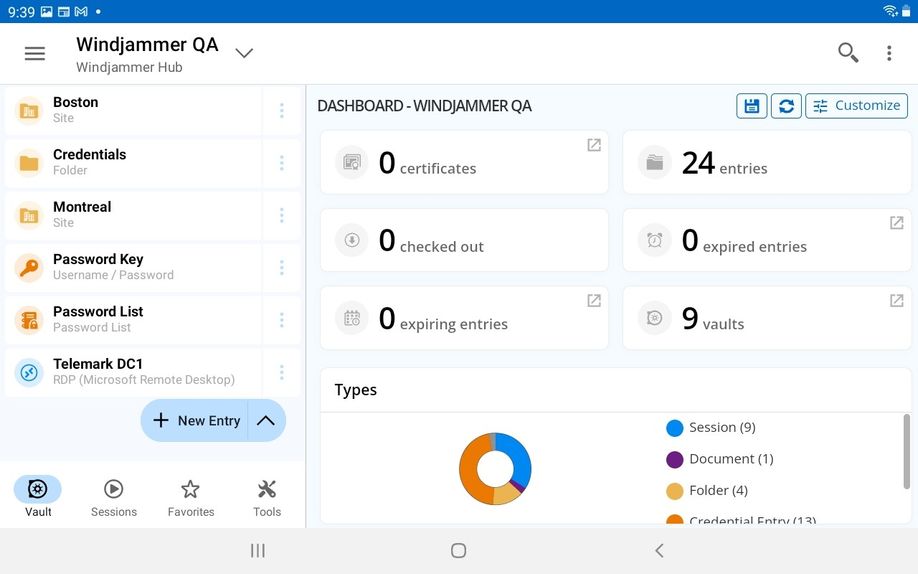 Updated Menu
Another function that we made some major improvements to was the newly updated "hamburger" dropdown menu. This menu is the central place for you to access all your data sources, user info, vaults, tools, and application settings.
It just makes more sense to have all these options in one place as opposed to having them scattered all throughout the app.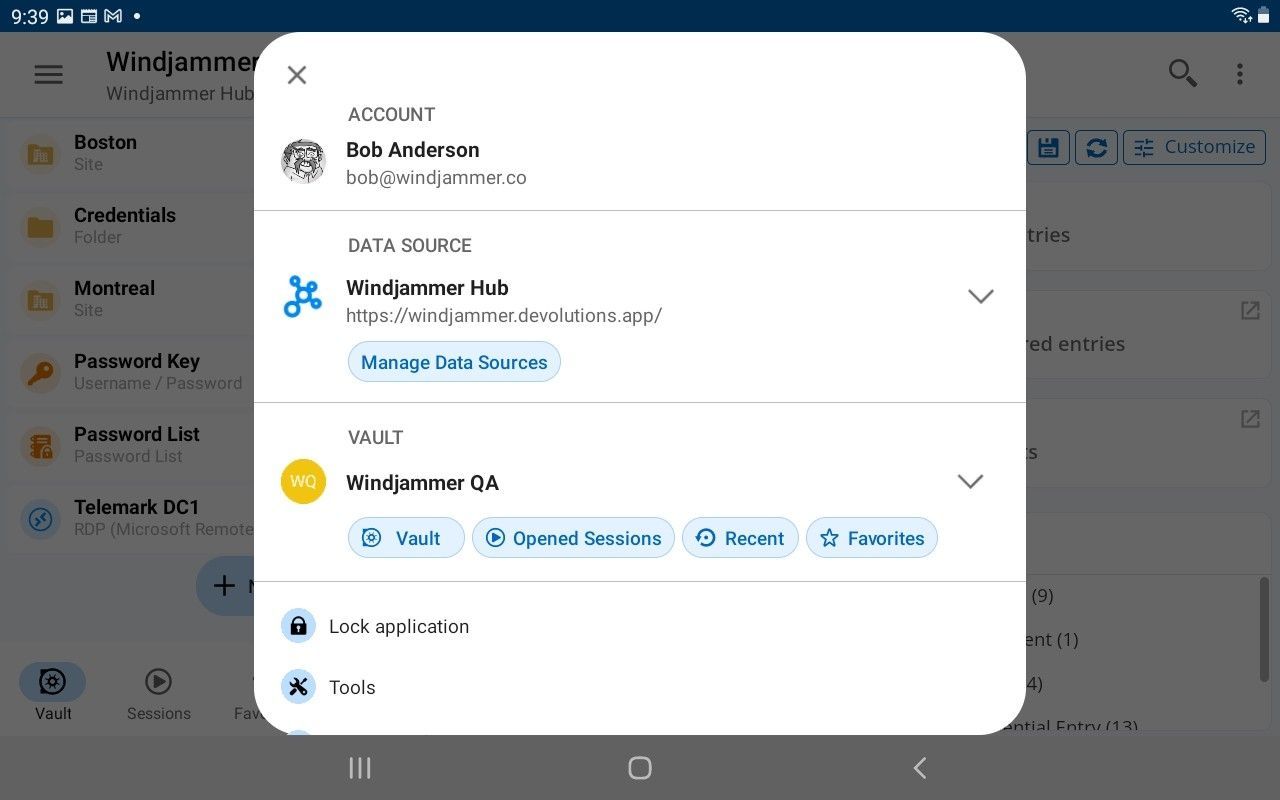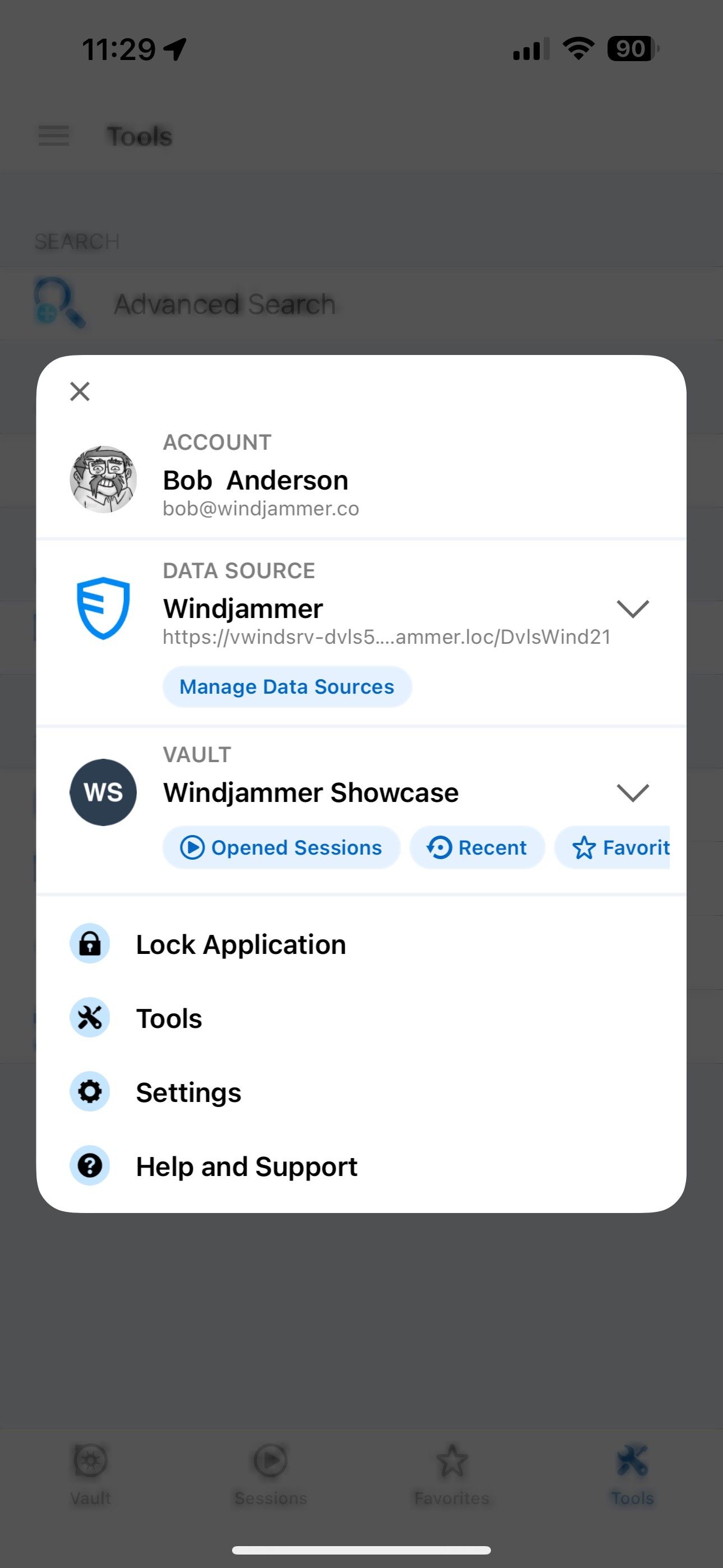 Don't forget to go dark!
Also, it deserves an honorable mention that the app is available in Dark Mode for those who prefer this darker, more Bruce Waynish look to their software. Surprisingly, we have also read that Dark Mode is easier on the eyes and more energy-efficient for devices with OLED displays. Some have also mentioned that the dark mode option is a welcome addition, particularly for late-night work sessions.
Conclusion
The latest update to the Remote Desktop Manager mobile application includes several new features and improvements that make it more user-friendly, and that increase efficiency!
If you're an IT professional or a business that needs to manage multiple remote connections, Remote Desktop Manager for Mobile is a solution worth your consideration.
Download the iOS Version of our App here: Remote Desktop Manager
Download the Android version of our App Here: Remote Desktop Manager - Apps on Google Play