SUMMARY

We've made some major additions and improvements in Devolutions Hub Business 2023.2. In this article, we look closer at these enhancements, plus we look at updates to companion tools.
Table of Contents
Hello, Devolutions community! Please join me on a tour of some of the great new and improved features in Devolutions Hub Business 2023.2. We'll dive into the enhancements in just a moment. First, let's recap the solution for those who are new here.
About Devolutions Hub Business
Devolutions Hub Business is our secure cloud-based password manager built for teams. It empowers organizations to easily and securely vault and manage business-user passwords — as well as other sensitive information such as building alarm codes, software license keys, corporate credit card numbers, etc. — through a user-friendly web interface that can be quickly, easily, and securely accessed via any browser. Plus, unlike many other enterprise-grade password management solutions, Hub Business is very affordable for small and mid-sized businesses (SMBs).
In addition, Devolutions Hub Business is a cloud data source in Remote Desktop Manager. This means users don't have to launch both solutions. They can pull everything they need — remote connections, machine information, credentials, and other data — from within Remote Desktop Manager.
Simply put, Devolutions Hub Business is the perfect balance of security and usability. A free 30-day trial is available.
Now, let's turn our attention to what's new and exciting in version 2023.2!
New User Interface Profiles
To make things even more user-centric, we have created two new user interface profiles in Devolutions Hub Business: IT Professional and Business User.
IT Professional: This is the default profile for administrators, and can be attributed to any user. It includes everything in Devolutions Hub Business, including advanced options, entries, and information. However, users must first have the necessary permissions to access them.
Business User: This profile is more suitable for users who need a more streamlined interface, and who may find that the IT Professional profile is a bit overwhelming for them. They will not see remote connection entries, administrative options, or advanced properties.
The profile type can be changed by the user, set up in User Management, or set as the default system setting.
Note: After the 2023.2 update, the system settings in existing Hub accounts will default to the IT Professional profile; however, the system settings of Hub accounts created after the update will default to the Business User profile.
New System Vault
A new System Vault option is now available. The System Vault functions like a global vault where you can assign entries so that multiple users can access them as needed from a centralized place. The only entries you can add to a system vault are contacts, VPNs (only with RDM), and Macros (only with RDM).
For example, in the system vault, you can create contacts that can be assigned to a credit card entry in another vault. You'll need to create the contact in the system vault, create the credit card entry in another vault (for example, the marketing vault), and assign the contact entry from the system vault as the card owner.
For another example, you can create a VPN entry in the system vault so that the entry is accessible to everyone who needs this VPN in a RDP session.
New Option to Request Access to Shared Vaults
Users can now request access to a shared vault that appears in their list of public vaults (see note below).
When users request access to a shared vault, they can also provide a comment to justify their request and indicate what kind of permission they need (e.g., "I need to view the entries only.") The administrator or owner who receives the requests can then decide to grant or deny them.
Note: Vaults toggled as private will not show up on the list of public vaults. By default, all shared vaults are set to private in the system settings. Visibility can be changed in the system settings to change all vaults at once, or can be changed within each vault.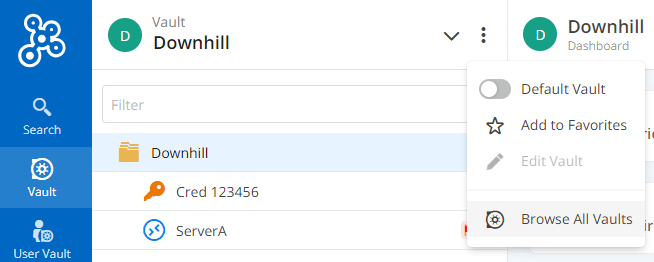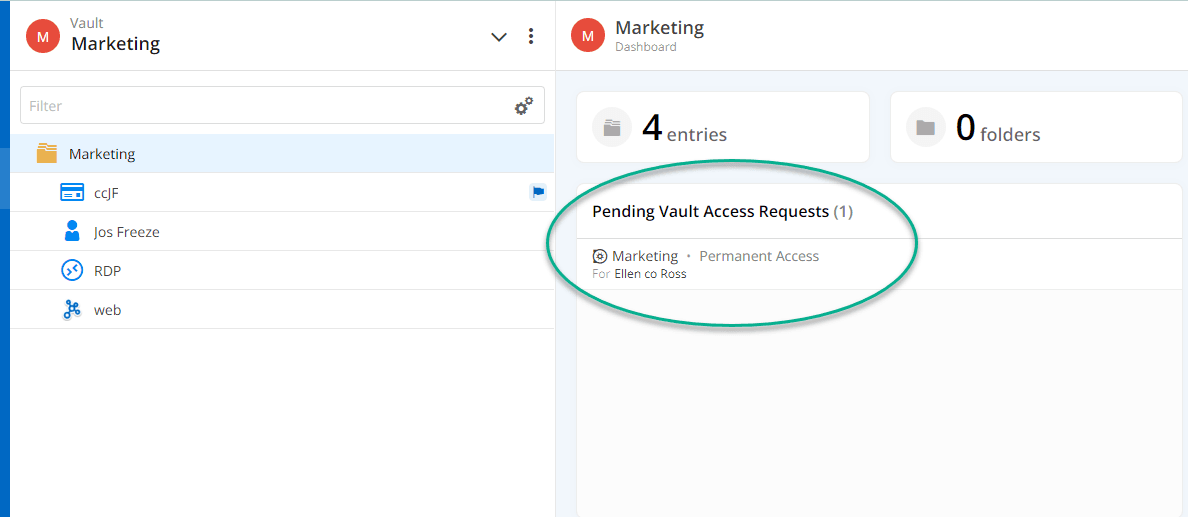 New Support for SSO with Okta
SSO support for Azure AD is very popular, and many of you have asked when we will support Okta. Well, your wish is our command! We are pleased to announce that SSO with Okta is now available in version 2023.2.
If you're interested in this feature, please contact our support team at service@devolutions.net for assistance with the configuration.
Note: Provisioning from Okta to Hub Business (SCIM) is not available at this time. However, we are working on it for the next release.
Request Temporary Access for a Specific Date/Time
Now in version 2023.2, users can request temporary access ahead of time by specifying a time frame (e.g., from June 28, 2023, 2:00 p.m. to June 30th, 3:00 p.m.).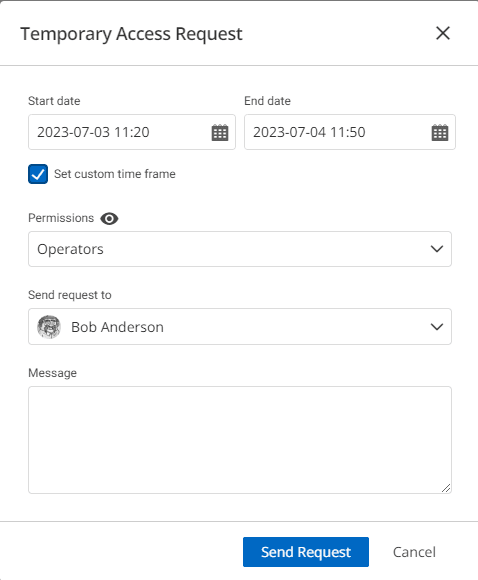 Grant Temporary Access to a User
Administrators and vault managers now have the option to grant a user temporary access to a folder or entry for a specific duration (e.g., 30 minutes) or for a specific time frame without the user needing to request access beforehand.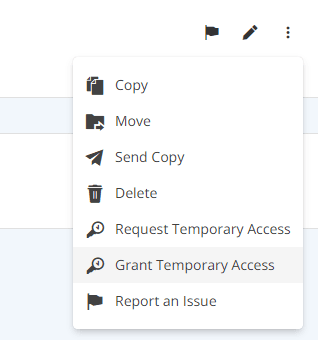 Updates to Companion Tools
We have also made some significant updates to the companion tools for Devolutions Hub Business:
Devolutions Workspace Mobile & Desktop App
Good news! New and core features from Devolutions Hub Business are now available in Devolutions Workspace! Here's the list:
Added "Force Prompt Login" and "Inactivity Logout Time" functionality.
Added "Report an Issue on an Entry" functionality.
Added "Grant Temporary Access" functionality (as discussed above).
Added "Grant Temporary Access for a Specific Date/Time" functionality (as discussed above).
Added the ability to view and send secure messages in the Workspace desktop app.
Devolutions Web Login (DWL)
To make things simpler and more streamlined, we have improved the process of adding other types of entries using the DWL browser extension. Now when you launch this command, a web interface will open and you can easily add the necessary details.
Tell Us What You Think
Please tell us what you think of these additions and improvements. We are ALWAYS listening to you and rely on your input to make things better.
And speaking of better: our Development Team is already hard at work on version 2023.3, which should be available towards the end of the year.