Right on schedule per the Devolutions 2023 Roadmap, we're pleased to announce that Remote Desktop Manager 2023.1 is now available!
In this blog, we'll take a closer look at some of the most significant additions and improvements, including many that were suggested by our global user community. First, let's summarize Remote Desktop Manager for those who are new.
About Remote Desktop Manager
Trusted by nearly a million IT pros around the world, Remote Desktop Manager centralizes remote connections on a single platform, which is securely shared between users and across the entire team.
Remote Desktop Manager also supports hundreds of integrated technologies including multiple protocols and VPNs, and offers built-in enterprise-grade password management tools, global and granular-level access controls, and robust mobile apps to complement desktop clients for Windows and Mac. Because it is so versatile, functional, and useful, Remote Desktop Manager is a "Swiss Army knife" for remote access.
Plus, Remote Desktop Manager integrates with Devolutions Server, our self-hosted Privileged Account Management (PAM) platform featuring robust role-based access control for all administrative users; and Devolutions Hub Business, our cloud-based, enterprise password management solution, which works as a data source within RDM so that users don't have to launch both solutions. What's more, Remote Desktop Manager can be enhanced by our companion tool Devolutions Web Login, which securely inject passwords into website forms.
A 30-day free trial of Remote Desktop Manager Enterprise is available: please click here.
And now, please join me on a tour of what's new in Remote Desktop Manager 2023.1!
User Experience Improvements
New Onboarding Wizard
Users who install Remote Desktop Manager for the first time will find a new onboarding wizard, which guides them through the process of selecting a data source. This makes it quick and easy to get up and running with RDM, whether working independently or as part of a team.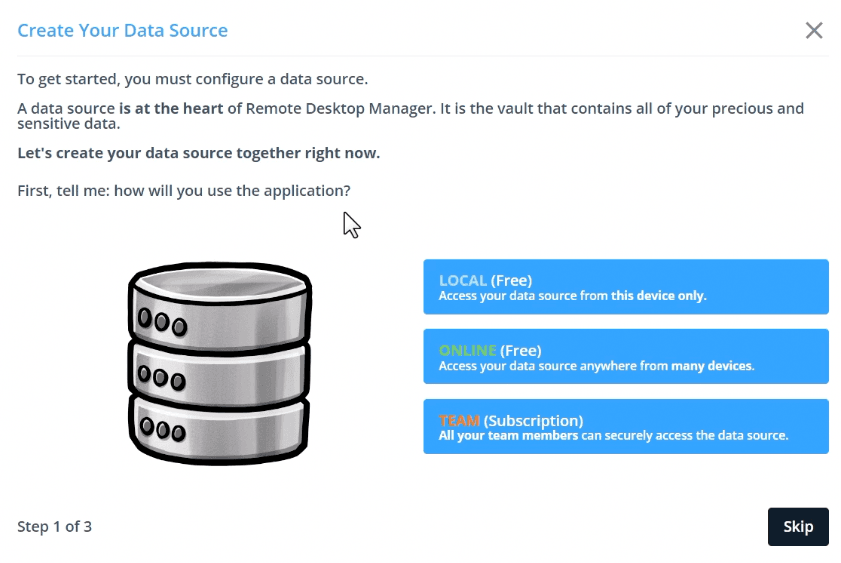 New "Flag Connections as Broken"
Admins have told us that there has to be a better and more standardized way for users to report broken links. Well, as we like to say around here: your wish is our command!
Version 2023.1 allows users to report issues with entries directly to Admins. Users can also leave a comment to help Admins quickly understand the problem, and they can also flag the entry itself as "broken."
Once users submit a report, Admins get an e-mail notification, and the entry is added to a new widget on their dashboard. Once the problem has been solved and the status is changed to "normal," users can carry on with their tasks.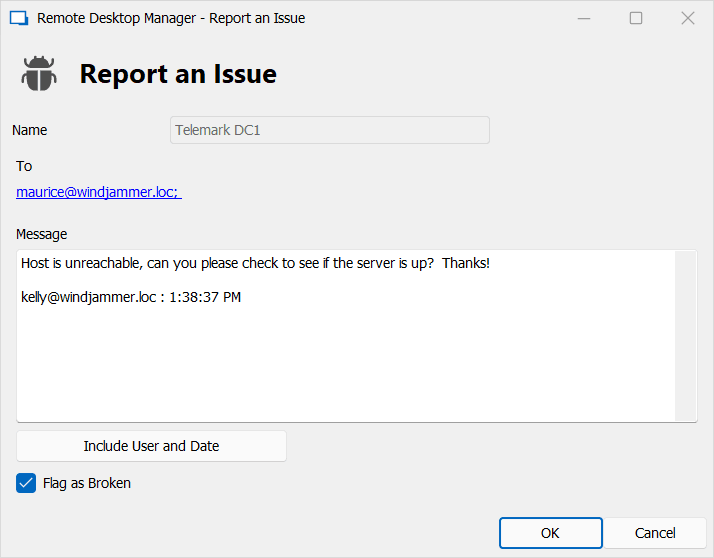 Customizable Dashboards
We have added customizable widgets, so that you can specify what kind of information you want to see on your dashboard. Simply click the widgets icon, and then check/uncheck the widgets that you want displayed.
In the past, data entered into custom fields was visible to all users. This was fine for general information, but was an issue for privileged data. Now in version 2023.1, you have the option to mark the data as sensitive, which encrypts it. A new "CanViewSensitive" permission has been added for all users to access this entry field.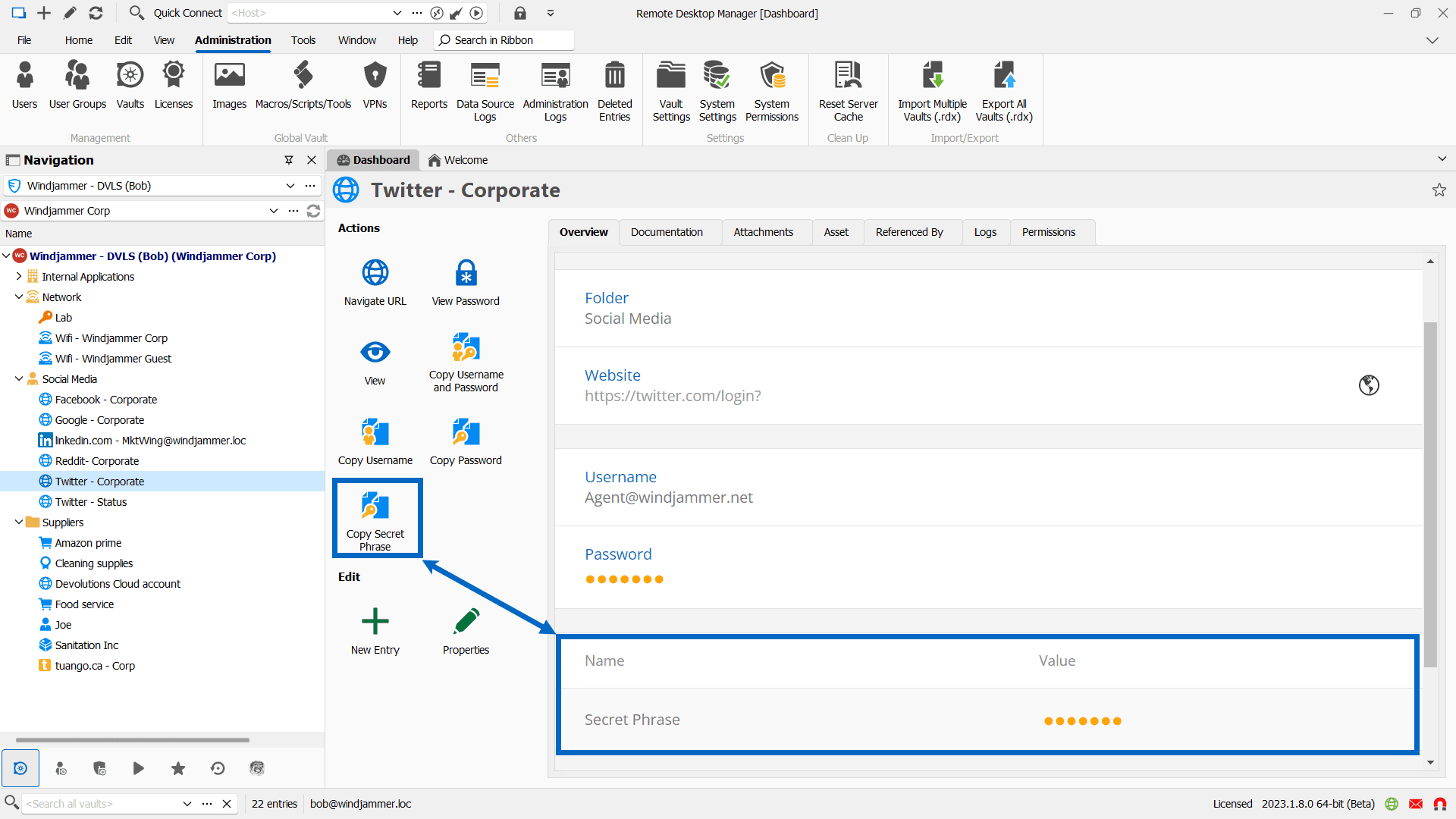 Feature Improvements
Global Macro Script Tools/VPNs
In the past, scripting tools and VPNs were stored individually in vaults. This made things predictable, but also inefficient. We fixed that!
Now in version 2023.1, all of your favorite scripting tools and VPNs are available globally in ANY vault in RDM. These updated global tools can be customized like the editable Shared Templates.

Global Image List Management
In the past, custom entry images were stored in the entries themselves. Now in version 2023.1, they are stored globally in the data source. This should reduce vault size and improve data source performance, especially if you have many entries. This also makes it easier to use custom images throughout RDM.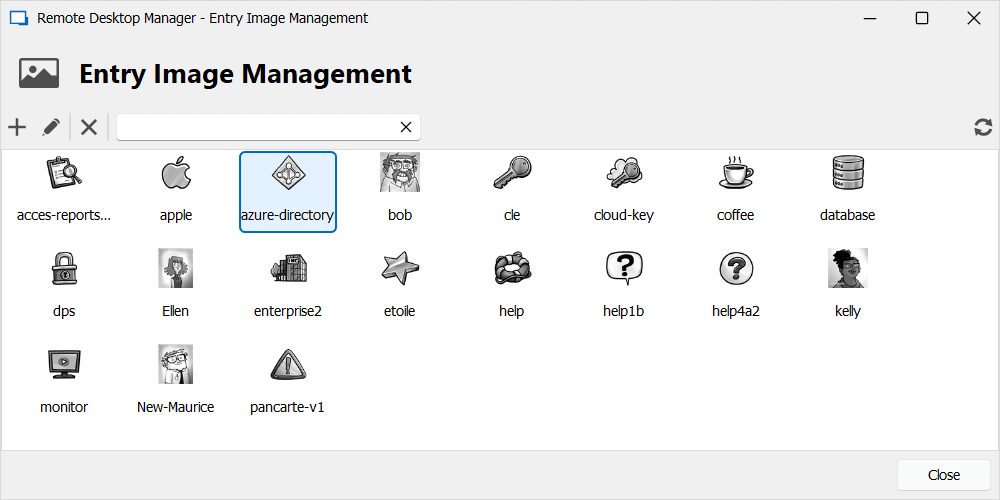 Improved IT Asset Management
Asset management entries now include owner history and additional fields for asset tracking.
Other Enhancements
Windows Terminal Integration
You can now choose an alternative to the classic "console host," which includes Windows Terminal profiles, better resizing, and more customization parameters.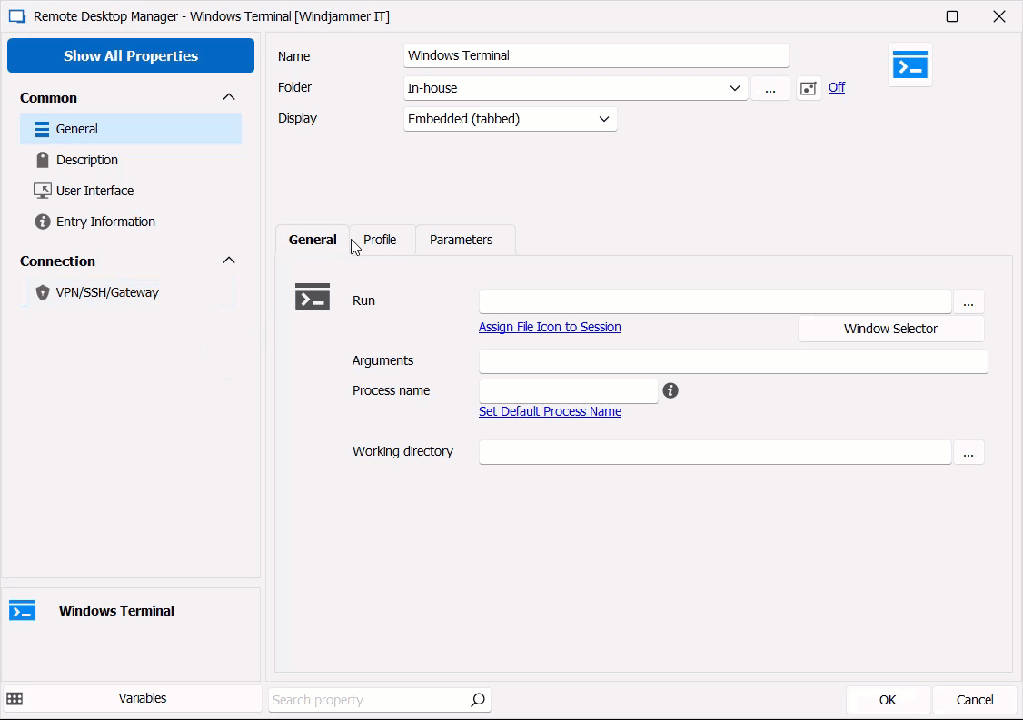 Azure Bastion Integration
RDM now integrates with Azure Bastion, in order to provide more secure RDP and SSH connectivity to all of your VMs in your virtual network.
CyberArk SAML Integration
RDM now supports SAML authentication to log in to CyberArk.
New History for User-Specific Settings
You can now track user-specific settings to see what changed and when.
Send Us Your Feedback
As mentioned, many of the additions and improvements in version 2023.1 are the result of user input. We are always listening to you and always focusing on ways to help you drive productivity and security in your company.
By commenting below, let us know what you think about this latest update. We also invite you to post in our forum, or contact our support team directly. We are already working hard on version 2023.2, and your input will guide us in the right direction.