SUMMARY

Devolutions Server 2023.1 features several significant improvements, including the ability to flag broken connections, customizable dashboards, encryption for sensitive data in custom fields, improved AzureAD performance, and more. There are also several UX enhancements and new integrations. Many of these upgrades are the result of feedback from our global user community. We are always listening to you, and making Devolutions Server better.
Table of Contents
It's my pleasure to announce that per the Devolutions 2023 Roadmap, Devolutions Server 2023.1 is now available!
In just a moment, we'll go on a tour of some of the most important additions and improvements. First, let's recap Devolutions Server for those who are new.
About Devolutions Server
Devolutions Server is our full-featured account and password management platform with customizable Privileged Access Management (PAM) components. It deploys rapidly, implements easily, and delivers the core features of a comprehensive and scalable PAM solution — but at a price that is sensible and affordable for SMBs.
Devolutions Server serves as a feature-rich, on-premise data source for our centralized remote connection management solution Remote Desktop Manager. Once paired, Devolutions Server + Remote Desktop Manager establish a robust all-in-one privileged account and session management platform that supports more than 200 tools and technologies. Request a free trial here.
And now, please join me on a tour of what's new in Devolutions Server 2023.1!
USER EXPERIENCE IMPROVEMENTS
New "Flag Connections as Broken"
Now in v2023.1, users who come across issues related to entries can report them directly to Administrators. Users simply right-click any entry and select "Report an Issue." They can also leave a comment and flag the entry as "Broken," which changes the status of the entry.
Once a report is made, Admins receive an email notification, as well as see the flagged entry in a new widget on their dashboard. When the problem is solved, they can toggle the status back to "Normal," allowing the user to carry out his task.
Customizable Dashboards
Now in v2023.1, you can choose the widgets that you want to see on your dashboard, so that you have quick, clear access to all of the pertinent information you need. Simply click the widgets icon, check/uncheck the individual widgets accordingly, then click save. It's so easy, that even Boss from Sysadminotaur could do it (probably).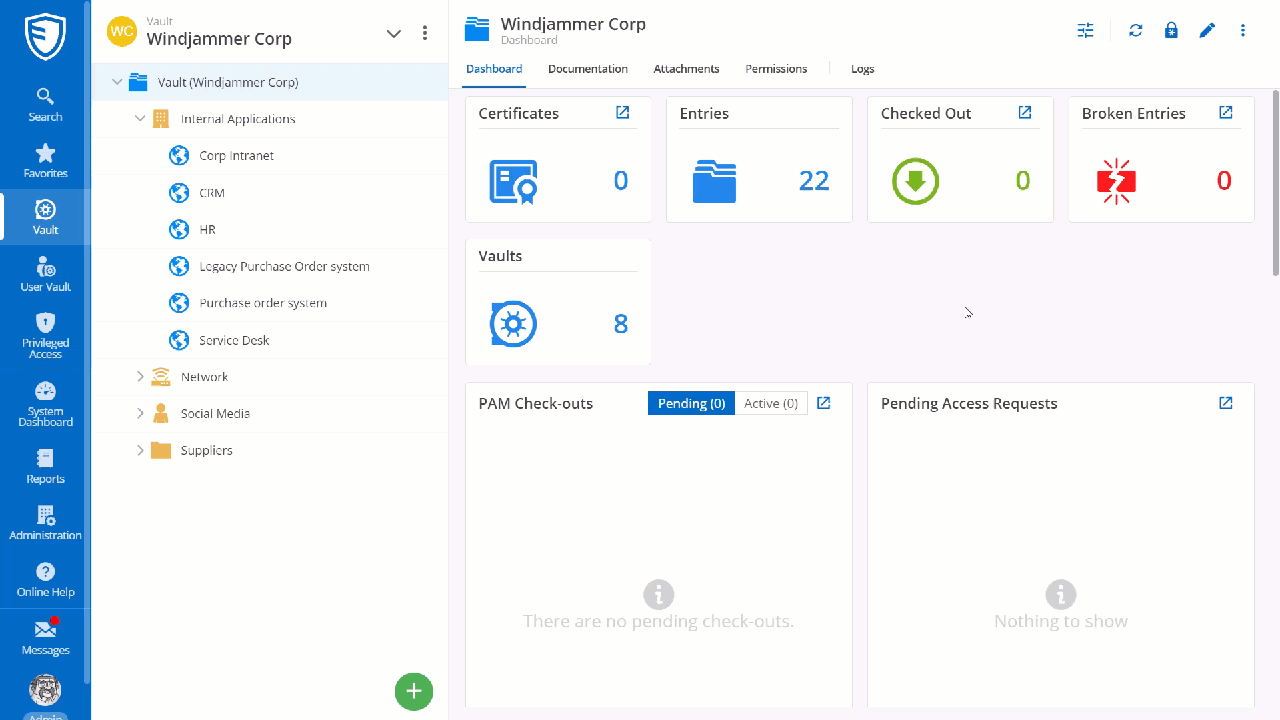 Treat "Hidden" Custom Fields as Sensitive Data
You now have the option to mark Custom Fields in entries as "sensitive," which encrypts the data. We have also added a new "CanViewSensitive" permission for designated users to see this field.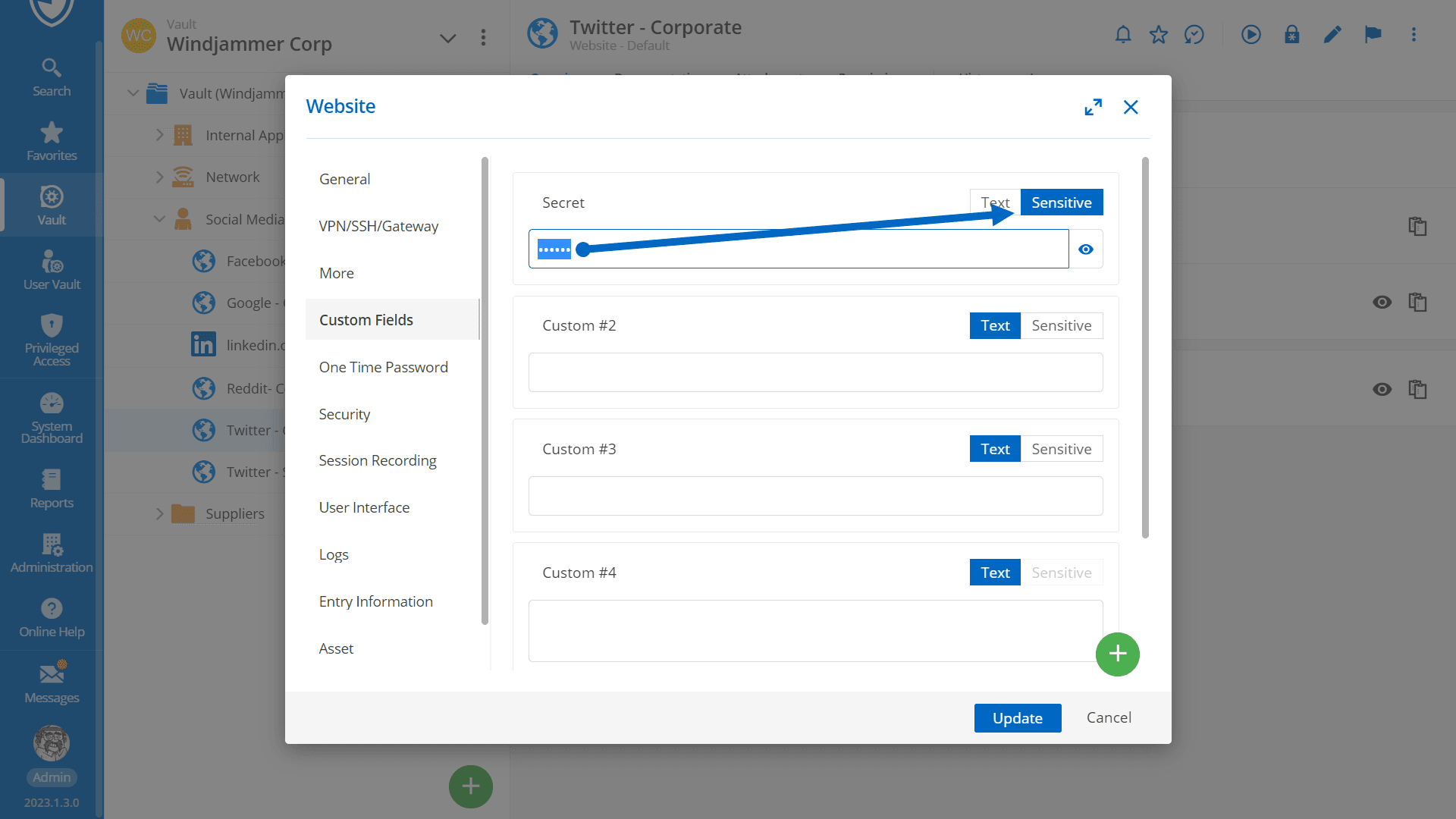 FEATURE IMPROVEMENTS
Better Console Installation Process
We all know how complex things in the IT world can be. Well, we've made things easier by simplifying and streamlining the initial installation of the Devolutions Console, which is used to set up and manage Devolutions Server instances and Gateways.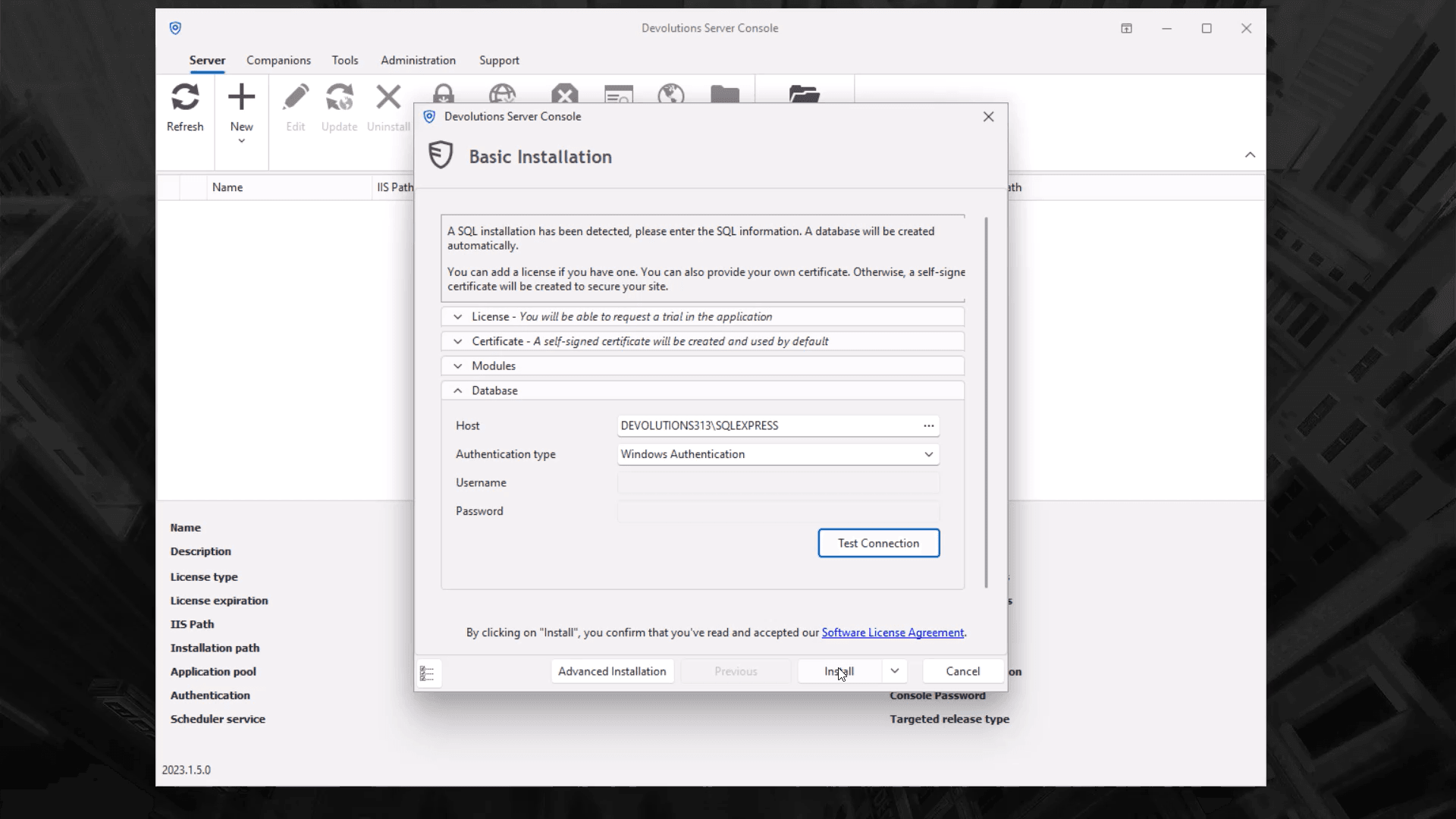 More Customizations for PAM AnyIdentity Providers
The updated PAM AnyIdentity Provider tool (formerly the Custom/Generic Provider) delivers enhanced flexibility and customization options, which enable you to create tailored Identity Providers with ease. AnyIdentity Providers interact securely using various credential accounts across the network by leveraging a more comprehensive range of settings and scripting tools.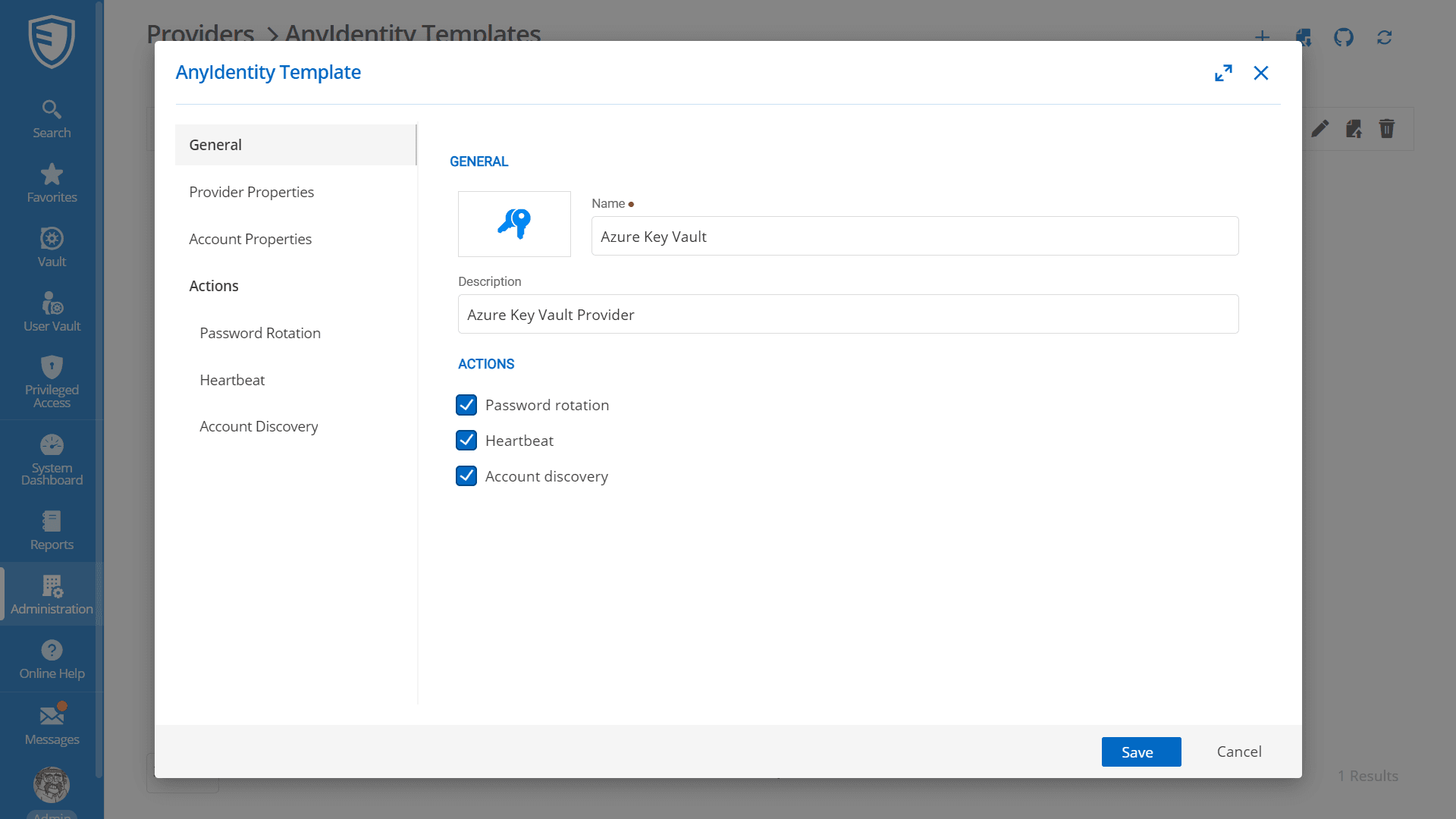 Improved AzureAD Performance
If you are in a quiet environment, then you may want to step outside so that you can cheer loudly for a moment, because this is an improvement that many of you have asked for!
Now in v2023.1, caching users will no longer be mandatory for Azure AD accounts. This significantly enhances performance for accounts with large ADs, and provides up-to-date data without having to refresh. Let's all sing together: CELEBRATE GOOD TIMES, COME ON!
OTHER ENHANCEMENTS
Added Web-Based RDP Client
We have added a web-based RDP client in the Devolutions Server web app. This feature (which is currently in preview) allows you to launch RDP sessions directly in a browser tab. Connections are secured via the Devolutions Gateway, which provides authorized just-in-time access to resources in segmented networks.
Please note: to use this new function you will need the Devolutions Gateway, and a valid connection launching license (Remote Desktop Manager or Devolutions Launcher).
Currently, you can interact with the display through mouse, keyboard, and basic Windows commands.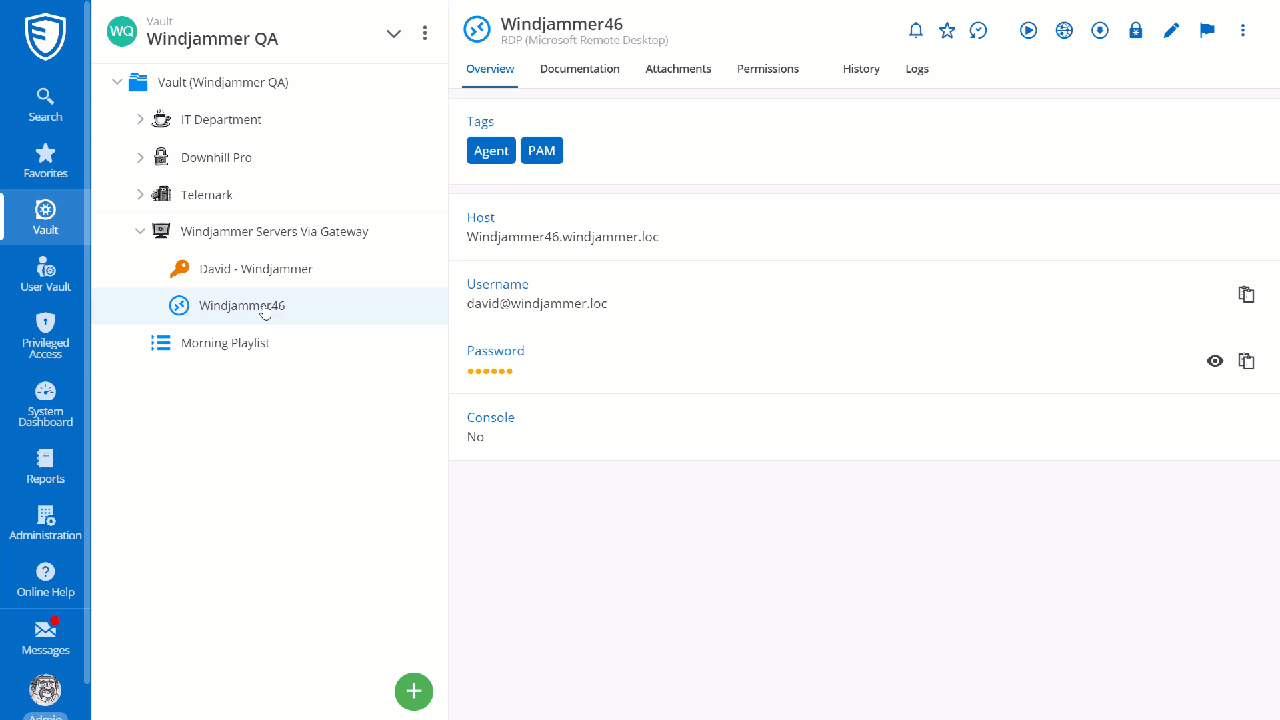 Push Notifications with the Devolutions Workspace App
Now when an end user submits a checkout request, the Admin (or other designated approver) will get a push notification on his mobile device, which will direct him to the approval section in the Devolutions Workspace app.
Additional Recovery Kit Storage Option
You can now export your Devolutions Server Recovery Kit into an Azure Key Vault. Later this year, we will introduce Devolutions Hub as another backup storage location.
System Dashboard
The new System Dashboard in v2023.1 provides an overview of currently running system integrations, such as Devolutions Gateway status, Web Applications, and Scheduler.
Send Us Your Feedback
While there is a great deal of uncertainty in the world, there are still a few things we can always count on. First, Sysadminotaur comics will always make us laugh. Second, end users with IT problems who passionately claim that they "didn't touch anything" and "rebooted already" have likely touched a bunch of stuff and not rebooted. And third, we are ALWAYS listening to you!
With this latter truth in mind, please send us your feedback. Tell us what you want us to add, change, improve, and fix in Devolutions Server. You can comment below, post in our forum, or get in touch with us directly.
As you would expect, the Development Team is already working hard on v2023.2. Your advice will point us in the right direction.