Recently, we took a tour of the latest versions of Remote Desktop Manager, Devolutions Server, and the unified improvements across all solutions (integrations). Now, let's dive into Devolutions Hub Business 2023.1. First, here's an overview for those who are new to the community.
About Devolutions Hub Business
Password Hub Business is our secure cloud-based password manager for teams. It empowers organizations to easily and securely vault and manage business-user passwords — along with other sensitive information, like building alarm codes, software license keys, corporate credit card numbers, etc. — through a user-friendly web interface that can be quickly, easily, and securely accessed via any browser. Unlike many other enterprise-grade password management solutions, Password Hub Business is very affordable for small and mid-sized businesses (SMBs).
In addition, Devolutions Hub Business is a cloud data source in Remote Desktop Manager. This means users do not have to launch both solutions. They can pull everything they need — remote connections, machine information, credentials, and other data — from Remote Desktop Manager.
Simply put, Devolutions Hub Business is the perfect balance of security and usability. A free 30-day trial is available.
Now, let's look at what's new and improved in version 2023.1.
User Experience Improvements
Customizable Dashboards
To help get rid of clutter and stay organized, you can now choose what kind of information you want to see on your dashboard. Just click the customize icon, and then check/uncheck the widgets that you want displayed.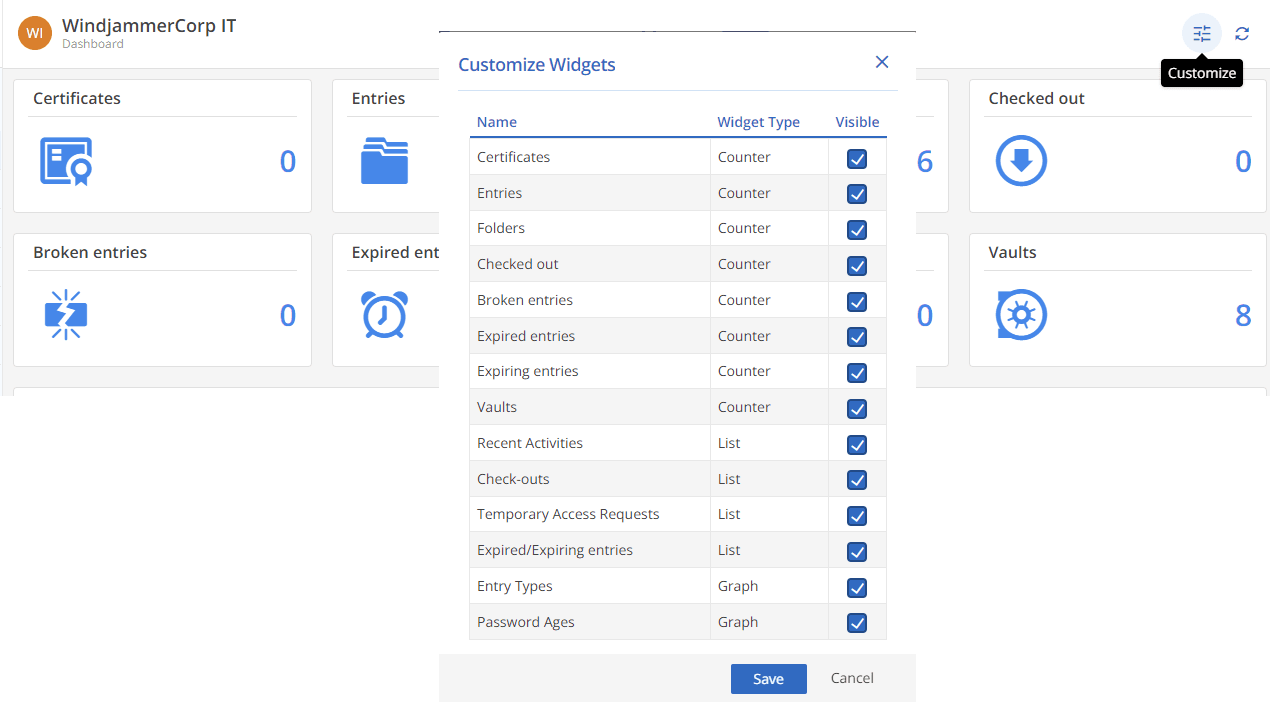 New Flag a Status on an Entry
Now in v2023.1, you can flag an entry with a specific status (such as "Locked" or "Archived"). If desired, you can also include a message. This will be visible to all users in the overview of the entry, and a flag icon will be added to the tree view.

Report an Issue on an Entry
Now in v2023.1, users can easily escalate a concern by selecting the "Report an Issue" option. They can also provide comments and (if applicable) flag an entry as broken.
When a user submits a report, the Admin gets an e-mail notification and the entry is added to a new widget on their dashboard. Then when the Admin fixes the issue, the status flag can be removed accordingly.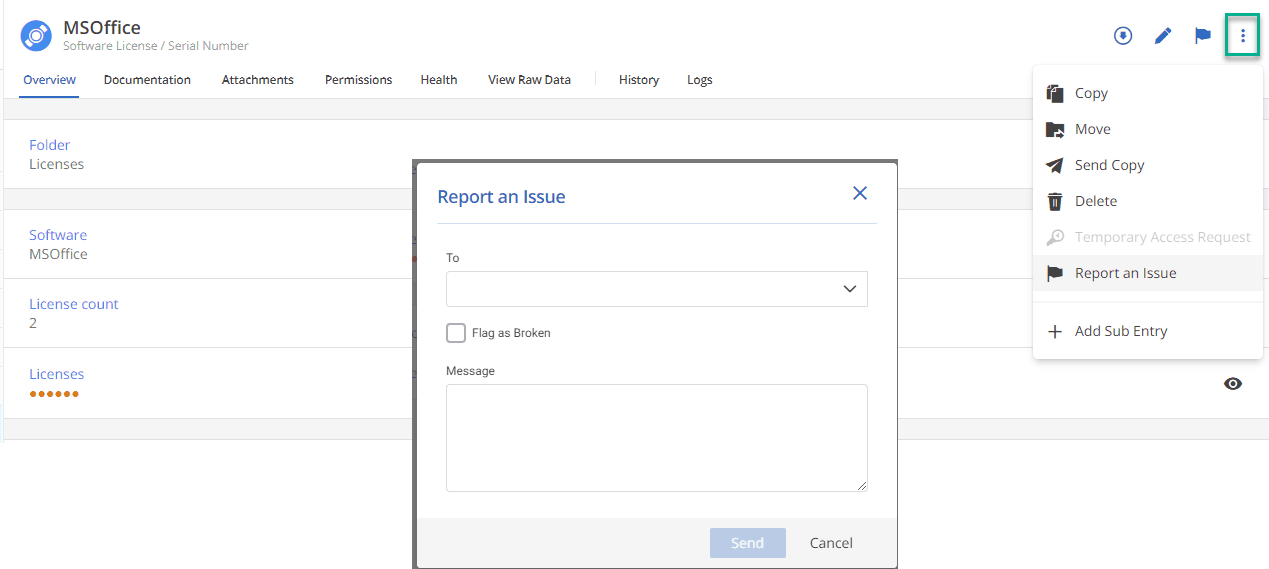 "h2 id="feature-improvements">Feature Improvements
Reorganized SSO Configuration
We have improved the configuration workflow of single sign-on (SSO) providers. Now, you can configure SSO directly in your Devolutions Hub Business instance, instead of having to go through the Devolutions Portal.
In addition, we have changed the SSO configuration location to make it easier for find. Now, you will find it in Administration > Authentication Settings, instead of Devolutions Portal > Organization.
Please note: if you previously configured Azure AD as your OpenID Connect provider in the Devolutions Portal, you will now find the configuration in Administration → Authentication → Single Sign On (SSO).
If you wish to implement SSO using Azure AD, then please see this article.
Previously, data entered into custom fields was visible to all users. This was not an issue for general information, but did pose a risk for privileged information.
Now in v2023.1, you can mark custom fields as sensitive, which will encrypt the data.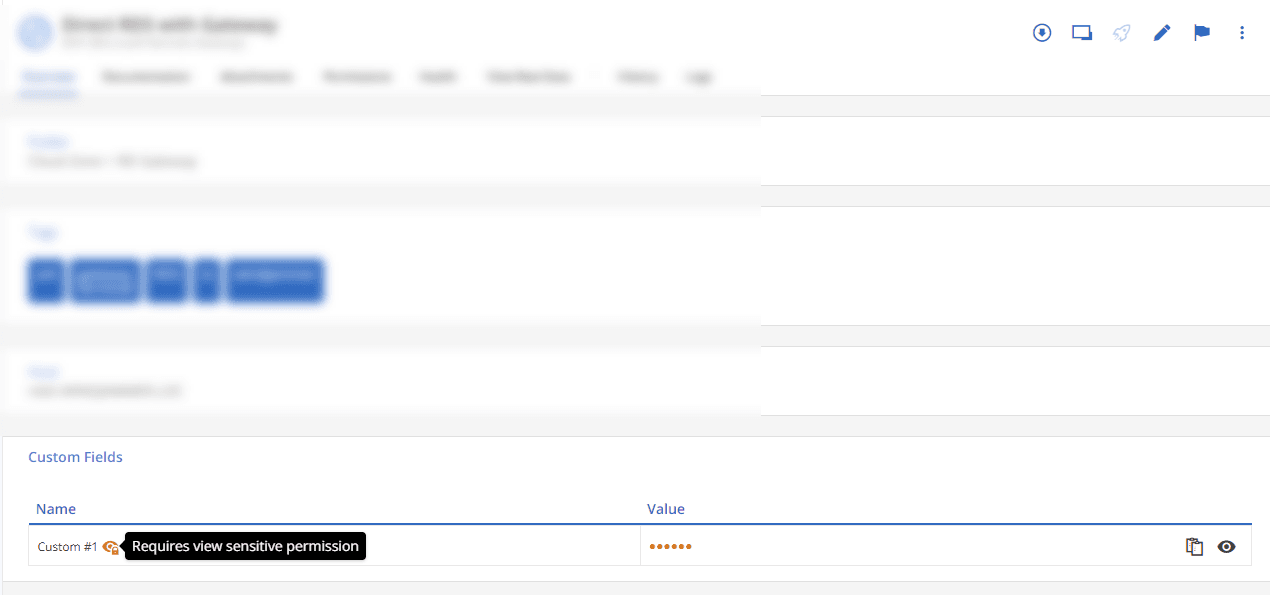 The "View Sensitive" permission is necessary for users to see a custom field that has been marked as sensitive. These users must be assigned a "Readers" role at minimum. For a table that summarizes the various permissions/roles that are available, please click here.
Email Notification with Secure Messages
You can now send/receive secure messages from within Devolutions Hub Business, and determine when they expires. Simply click the "Messages" icon above your avatar. If you wish, you can also send a copy of an entry along with a secure message. Please see this article for a walkthrough and screenshots.
Other Enhancements
Added Web-Based Entry Import/Export
This feature allows you to more easily import/export data from the web in a JSON file, to/from other Devolutions solutions, such as Remote Desktop Manager, Devolutions Server, and Devolutions Hub Personal. We will be adding more solutions later this year. Stay tuned!
Disable Hub Access from Companion Tools
We have added a new user management option in Devolutions Password Hub which allows you to disable access from a Devolutions companion tool, such as our browser plug-in Devolutions Web Login (DWL), and our desktop and mobile app Devolutions Workspace. Simply check/uncheck the corresponding box to provide/remove access.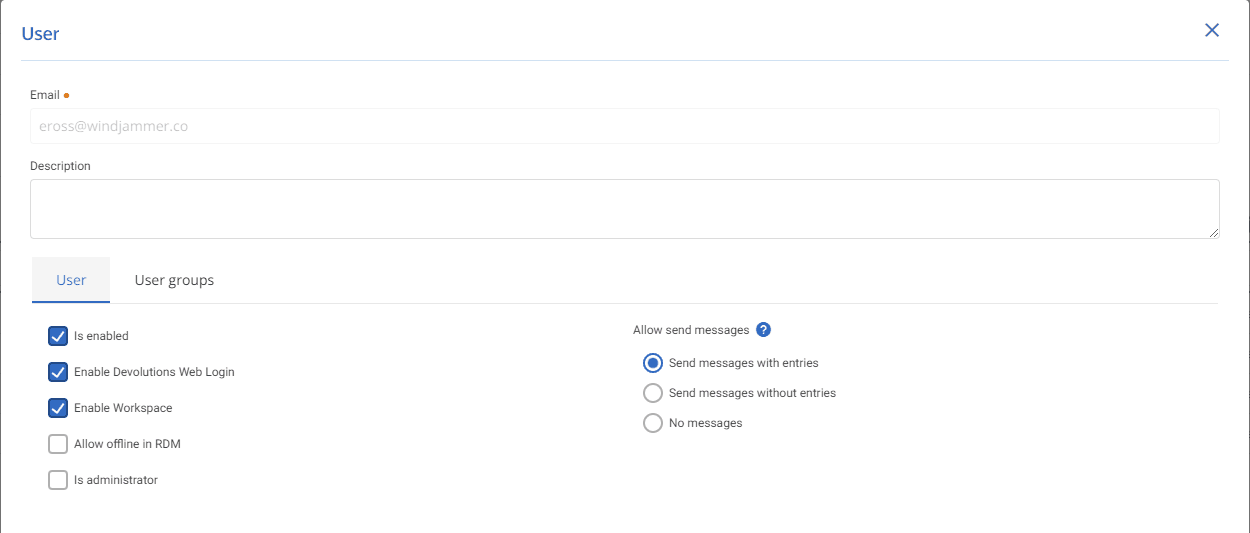 Send Us Your Feedback
Many of the improvements in Devolutions Hub Business are the result of reports and advice from our global user community. Please continue telling us what you like, as well as what you want us to change, fix, remove, or re-invent. You can comment below, post in our forum, or get in touch with our Support Team directly.
We are always listening to you, and will rely on your feedback to continuously improve. We are already working hard on v2023.2!