As many of you know by now, the two latest versions of Devolutions Server introduced some licensing changes. To provide additional clarity, we thought it would be helpful to take a closer look at the four subscription models: Free, Team, Enterprise, and Platinum. We will also look at options for adding companion tools and modules.
About Devolutions Server
For those who are new to this solution, Devolutions Server is our full-featured shared account and password management solution, with add-on privileged access management (PAM) functionality. Devolutions Server can be rapidly deployed and implemented, and it is offered at a price position that is affordable for SMBs. A free 30-day trial is available here.
A Note on Licensing Options
In the section above, we highlighted that Devolutions Server is "offered at a price position that is affordable for SMBs." This is very important to us. For many years, SMBs have been priced out of the enterprise-grade password management and PAM solution marketplace. We are committed to changing this.
The reason we bring this up is not to pat ourselves on the back. It is to provide the background for why Devolutions Server is offered with four annual subscription options, instead of just one. This gives our customers the flexibility to choose the best subscription that meets their needs and budget. And if their needs and budget change in the years ahead, so can their subscription.
The Subscription Options
All Devolutions Server subscriptions offer core features that include:
Self-hosted shared password vault
Active Directory integration
Two-factor authentication, and single sign-on (OAuth)
Role-based access control
Syslog integration, logs, and scheduled reports
Email notifications
Event subscription
Secure messaging
Privileged Access Management features and Devolutions Gateway can also be added.
Free, Team, Enterprise, and Platinum Editions
The table below summarizes the four annual subscription options: Free (which we introduced in version 2021.2), Team, Enterprise, and Platinum.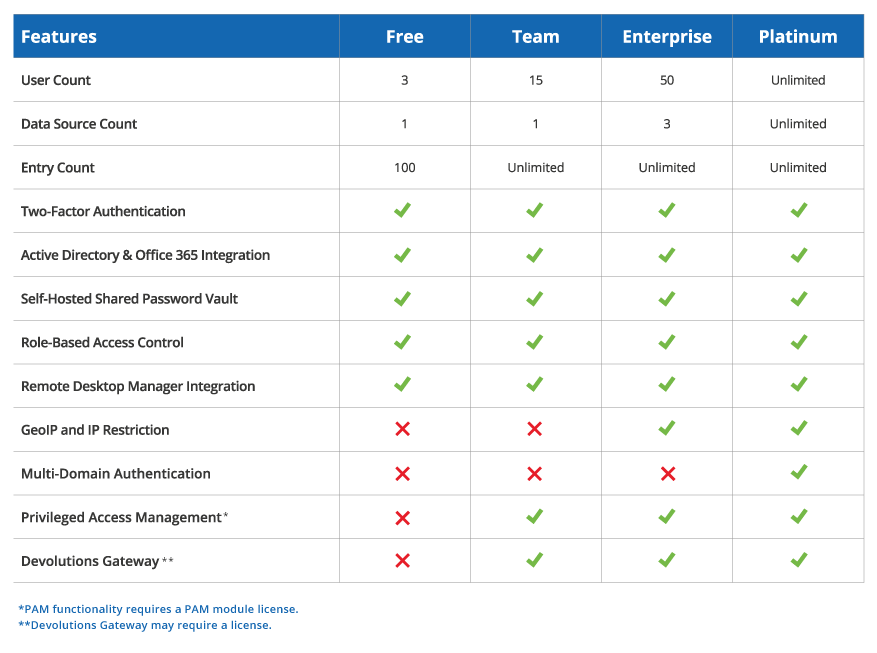 For the full list of features, please refer to our Compare Editions table here.
Devolutions Server Free
As the name indicates, there is no cost to using Devolutions Server Free. However, customers who choose this option will need to have an active Remote Desktop Enterprise license.
User CALs
Customers who want to access Devolutions Server via the web application or Devolutions Web Login need to purchase a Client Access License (CAL). At least one CAL is required. Please note that CALs are assigned to a unique user, and therefore cannot be shared. For example, a customer who purchases Devolutions Server Enterprise and has 38 users will need to purchase 38 CALs.
Additional Options
Customers can enhance Devolutions Server by adding any of the following options:
Devolutions Launcher
Privileged Access Management Module
Devolutions Gateway Module
Devolutions Launcher
Devolutions Launcher lets users quickly and easily launch remote sessions from the Devolutions Server web interface. At the same time, it gives sysadmins full control of whether passwords and sensitive information are shared or kept secret. All privileged account information is transmitted directly from the password vault into the remote session via Launcher's secure API. Please note that Devolutions Launcher also works with our secure cloud-based password manager for teams, Password Hub Business.
A Devolutions Launcher license includes one Launcher license AND one user CAL.
Privileged Access Management Module
Devolutions Server customers also have the option of adding the Privileged Access Management module. This unlocks functions such as:
Privileged session management
Privileged account discovery
Secure credential injection
Automatic password rotation
Privileged session recording
Checkout request approval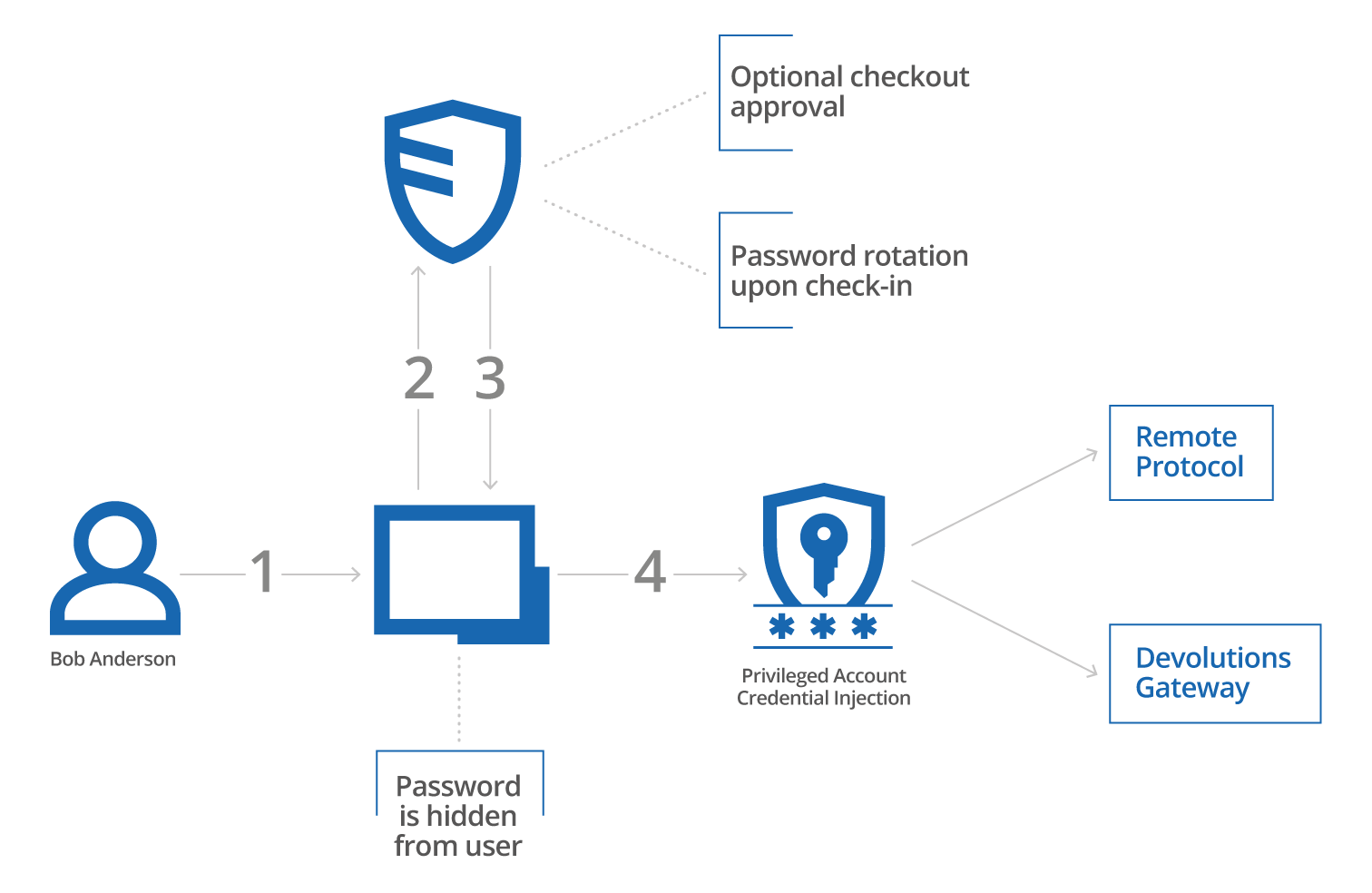 PAM Workflow
Devolutions Gateway Module
Devolutions Gateway provides authorized just-in-time access to resources in segmented networks. It supports RDP and SSH connections. Please note that Devolutions Server and Remote Desktop Manager are required to use Devolutions Gateway.
Customers with an active Devolutions Server subscription, and who choose to install Devolutions Gateway with Devolutions Server (i.e., "side-by-side installation"), may launch up to 5 concurrent sessions without purchasing a Devolutions Gateway license. Please refer to the diagram below:
Customers with an active Devolutions Server license who either want to install more than one Devolutions Gateway instance, or who want to launch 6 or more concurrent sessions, are required to purchase a license. Please refer to the diagram below: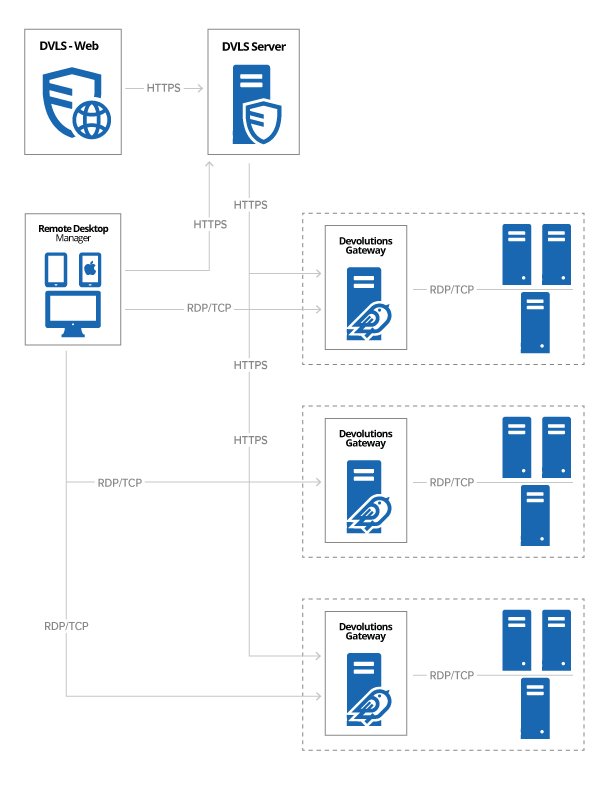 Please note: Our analysis has found that one Devolutions Gateway instance can generally handle up to 75 concurrent connections with good performance. Users who require more than 75 concurrent connections should consider using multiple Devolutions Gateway instances to distribute the load.
Buy Online or Get a Custom Quote
For pricing information on Devolutions Server subscription options, please visit our online store. As for our Privileged Access Management and Gateway modules, please contact our sales team and refer to the Devolutions Server's licensing model.
We also invite you to contact our sales team for a custom quote, or for guidance on which options are best for your business based on your unique challenges and goals.