Hi everyone! We have some great news for
Ericom
Blaze Client users! We've listened to your requests, and are thrilled to announce that Ericom Blaze technology is now fully integrated with Remote Desktop Manager (RDM).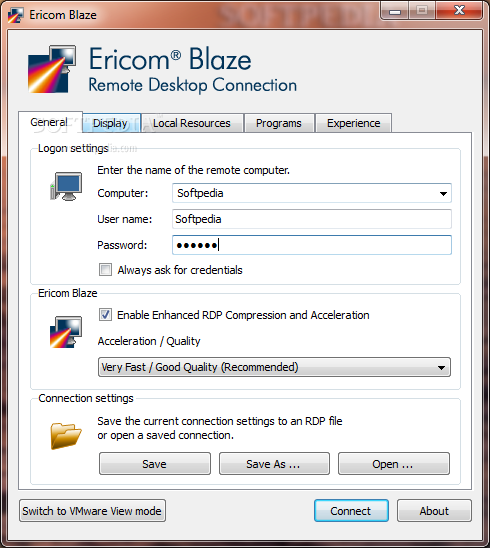 Ericom Blaze RDP is amazing compression and acceleration software that, when used in combination with RDM, lets you remotely connect faster and simpler than ever before. Thanks to the integration, you can now configure any parameter you'd like with our easy-to-use UI. Or you can configure a session that you're already using, and know that it's ready to work. You can even enable automatic launching, and let RDM securely store and manage your credentials. Plus, the add-on is compatible with any credentials repository that is already integrated in RDM. Download it now for free at:
http://remotedesktopmanager.com/Home/AddOn#ericomblazeclient
Once again, this new add-on is in response to requests from our incredible community of IT pros and other users. Thank you for telling us how we can make your life simpler, easier and more productive! For more information about Ericom Software, please visite
 http://www.ericom.com/
Do you have a suggestion on what we can improve or enhance? Or perhaps you'd like to create your own add-on to make RDM better? If so, please leave a comment below or contact me via email:
asanscartier@devolutions.net.
Also be sure to browse through our growing roster of free add-ons here:
http://remotedesktopmanager.com/Home/AddOn
Kind regards, André Sanscartier

Ericom Blaze RDP compression and acceleration software delivers a superior and secure local PC-like experience across the WAN / LAN, while dramatically reducing bandwidth consumption and optimizing RDP network traffic. Speed up slow remote desktop connections, PDF performance on terminal services (RDS) and more.