Recently, we looked at what's new in Devolutions Hub Business 2023.3. And some of you may have been wondering: "What about Remote Desktop Manager?" Fear not friends, because it's time for Remote Desktop Manager 2023.3 to take the stage!
This is the third and final major update for 2023. Many of the changes were inspired by feedback from our global user community. We are always listening to you!
In a moment, we will dive into some of the most exciting improvements (if you would like to see the full list, please see the release notes). First, let us quickly recap Remote Desktop Manager for those who are new.
About Remote Desktop Manager
Trusted by more than 800,000 IT pros across 140 countries, Remote Desktop Manager centralizes all remote connections on a single platform that is shared between users and across the entire team.
Remote Desktop Manager is a powerful, flexible, secure, and easy-to-use remote access toolbox with support for hundreds of integrated technologies — including multiple protocols and VPNs — along with:
Built-in enterprise-grade password management tools.
Global and granular-level access controls.
Robust mobile apps to complement desktop clients for Windows and Mac, RDM is a remote access toolbox for IT professionals.
Plus, Remote Desktop Manager integrates with Devolutions Server, which is our self-hosted Privileged Account Management (PAM) platform that supports robust role-based access control for all administrative users.
Remote Desktop Manager can be further enhanced with our free companion tool Devolutions Web Login. This is an easy-to-install browser plugin that enables users to automatically connect to websites, instead of having to remember (and constantly reset!) login credentials. Administrators maintain full control over password management, but without reducing user productivity.
A 30-day free trial of Remote Desktop Manager Enterprise is available: to request a free trial, click here.
And now, let's turn our attention to what's new and improved in Remote Desktop Manager 2023.3!
NEW: X.509 Certificates Credential Entry Type
In version 2023.3 we have introduced a new credential entry type for X.509 certificates.
Some organizations use X.509 certificates as as alternative to authenticating with user IDs and passwords. X.509 certificates leverage public-private key cryptography, and are widely seen as an enhanced safeguard against malicious network impersonators.
This new entry will facilitate RDP Smart Card authentication, and stores the full X.509 certificate (public and private portion) for insertion into an RDP virtual Smart Card.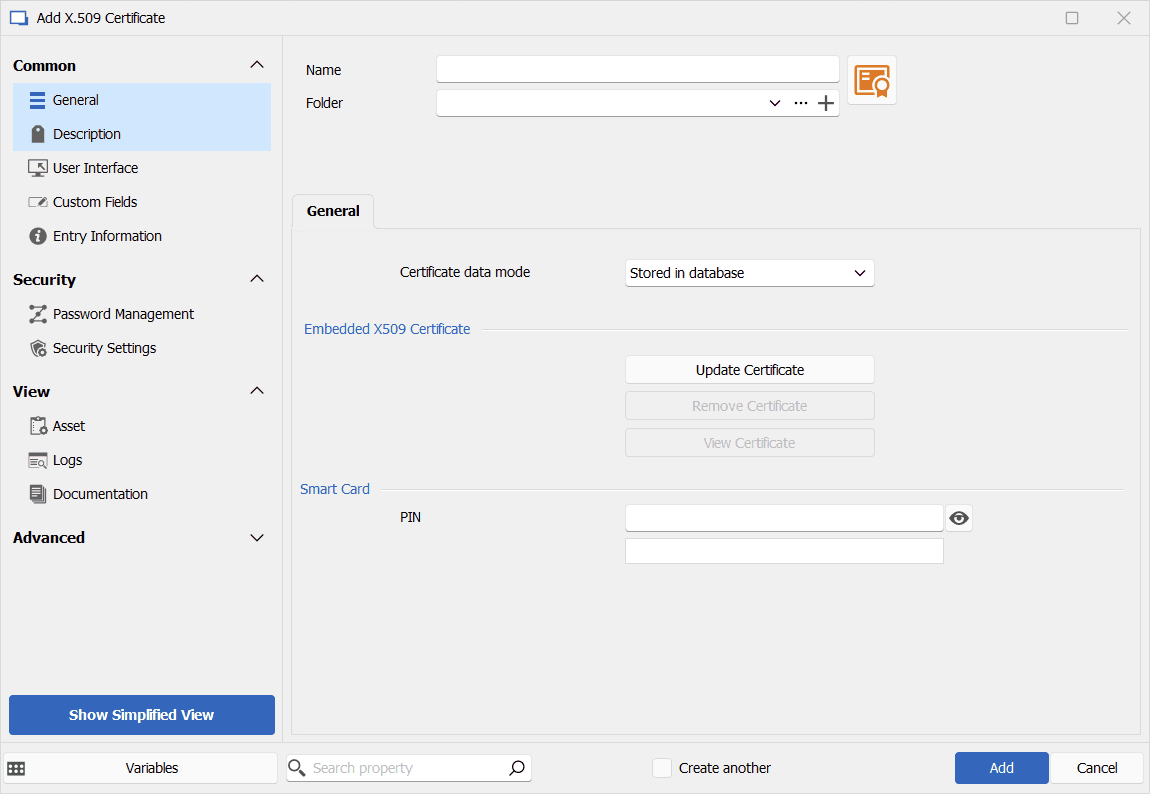 NEW: BeyondTrust Password Safe Credential Entry Type
Good news for those of you who use BeyondTrust: we have introduced a new credential type that will allow you to retrieve credentials from Password Safe, and use them to authenticate various other session types in Remote Desktop Manager. To set this up:
Go to File -> My Account Settings -> My Privileged Account → BeyondTrust Password Safe
Add your BeyondTrust account details.
Choose the option to prompt for a list of credentials or use a specific entry.
Link that privileged account, and choose the "My privileged account" option for the credential in an entry.
NEW: iDRAC Connection Entry Type
We are happy to share that version 2023.3 now supports Integrated Dell Remote Access Controller (iDRAC) as a new entry type. Many users have asked about this, and as we like to say around here: your wish is our command (or since we are geeks should that be "command line"? Sorry, we won't do that again).
With Remote Desktop Manager's new iDRAC v7-9 integration, you can quickly and easily manage your servers from startup to shutdown. You will also be pleased to note that Remote Desktop Manager supports all three iDRAC protocols:
VNC
VNC over WebSocket
Native, which leverages the reverse-engineered Avocent KVM protocol to ensure seamless management of each server directly from Remote Desktop Manager.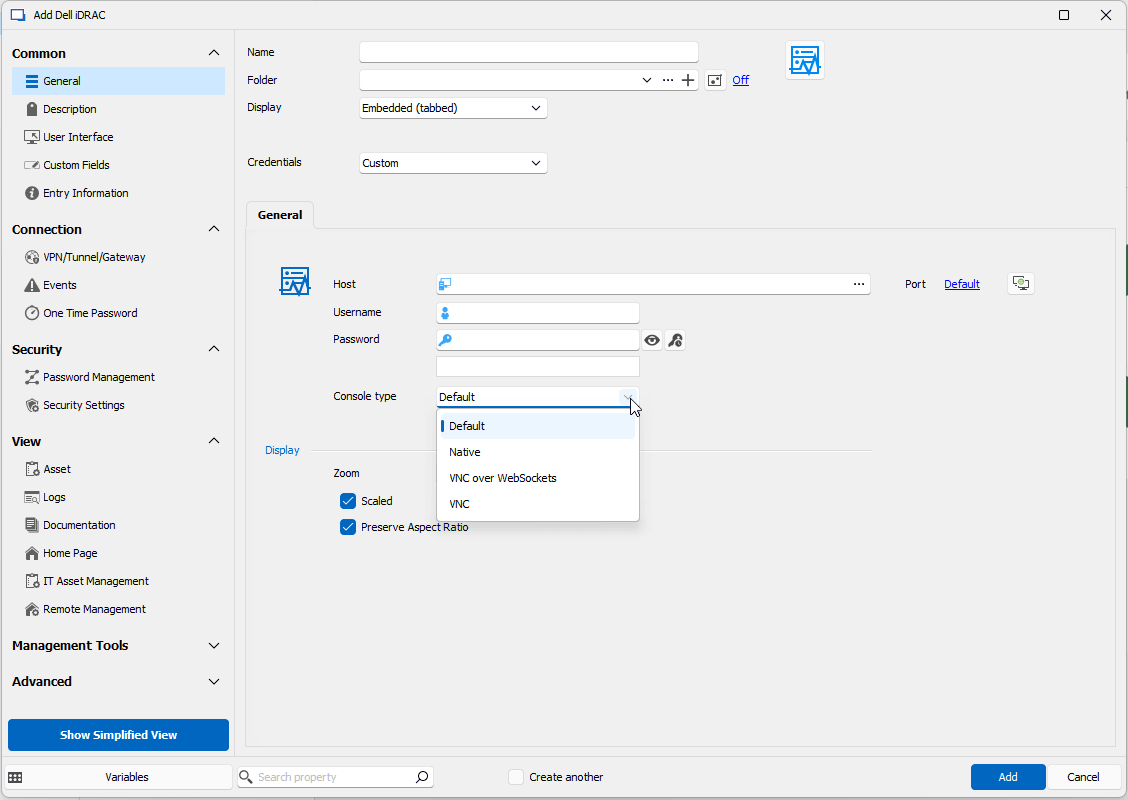 NEW: RDP Mouse Jiggler
Windows systems have various security policies to prevent malicious acts. One such policy is to lock the OS and close any live remote desktop connection after a period of inactivity. In theory, this makes sense. But in practice, it can be a REAL pain for IT pros.
Well, in version 2023.3 our Developers have added some extra-strength pain relief in the form of a brand new RDM Mouse Jiggler!
When enabled, this delightful little tool simulates user input in the RDP ActiveX itself. This prevents Windows from sounding the alarm and locking the gates.
If you wish to have your mouse get jiggy with it, navigate to the "Experiences" tab in the settings of your RDP Session and toggle the setting, as well as the interval duration.
By default, the input is a mouse movement. However, you can also simulate function key input. Simply choose your preferred method from the drop-down menu.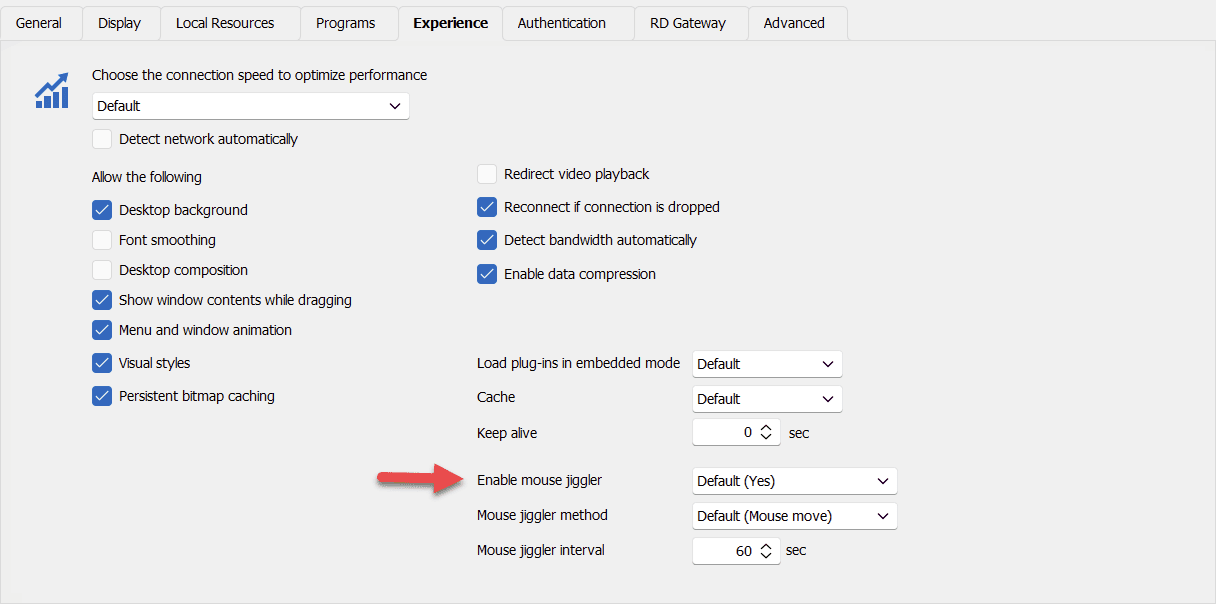 IMPROVED: Session Recording All-in-One Interface
In early 2019 we introduced session recording in Remote Desktop Manager, and it has become one of the most popular features. Today, we have some great news for the fans out there: we have made session recording even easier!
In version 2023.3, the Root Dashboard has a new dedicated tab that provides an all-in-one interface for viewing and downloading all recordings for supported sessions. Recordings can also be accessed via the right-click menu beneath the "View" sub-menu.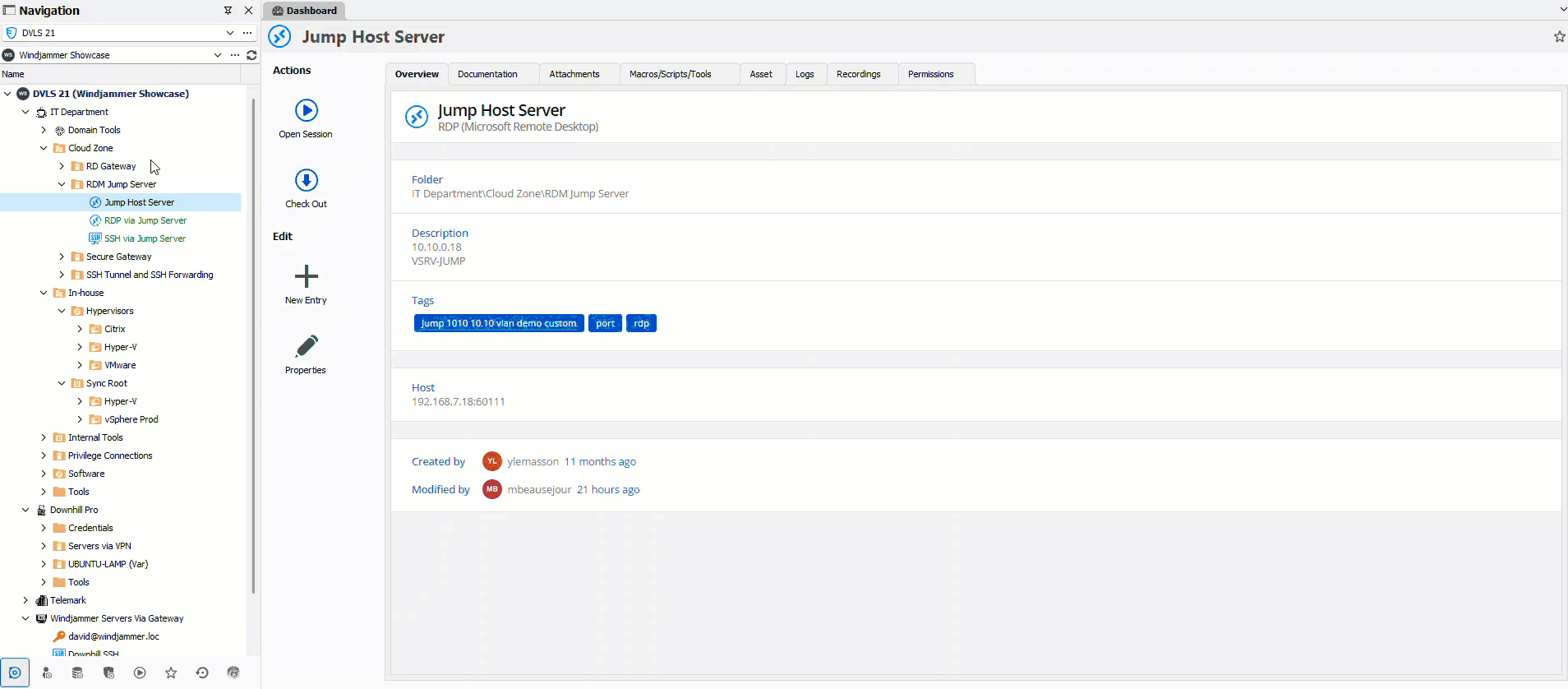 IMPROVED: Managing Unsupported Versions
To help Administrators ensure that all users have the most up-to-date version of Remote Desktop Manager, we have improved the management for unsupported (i.e., outdated) versions.
Now, users can be prompted (see screenshot below) if their Remote Desktop Manager version is lower than the minimum version required.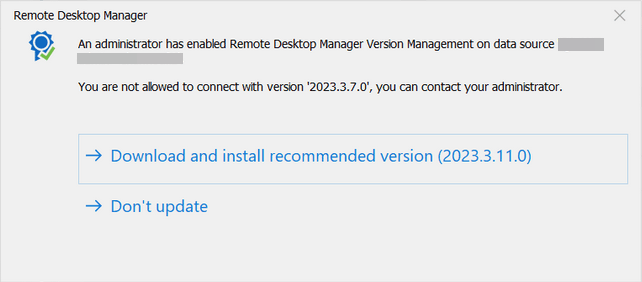 Please note: the prompt displayed above does not appear by default. In order for it to appear, it must be configured in Remote Desktop Manager. Click here to learn more about version management.
IMPROVED: Tree View Syncing Across Multiple Platforms
Remote Desktop Manager can be configured (via File → Options) to show/hide archived, disabled, and deleted entries, as well as modify various UI settings.
On the positive side, this keeps your tree view clear and uncluttered. The not-so-good news is that if you use Remote Desktop Manager on multiple platforms (Windows/MacOS/Linux), you had to reconfigure the UI and display settings on each.
Yes, we said "had to" instead of "have to," because in version 2023.3 we have eliminated this requirement! Now, your tree view settings will automatically sync to all of your Remote Desktop Manager instances across multiple platforms.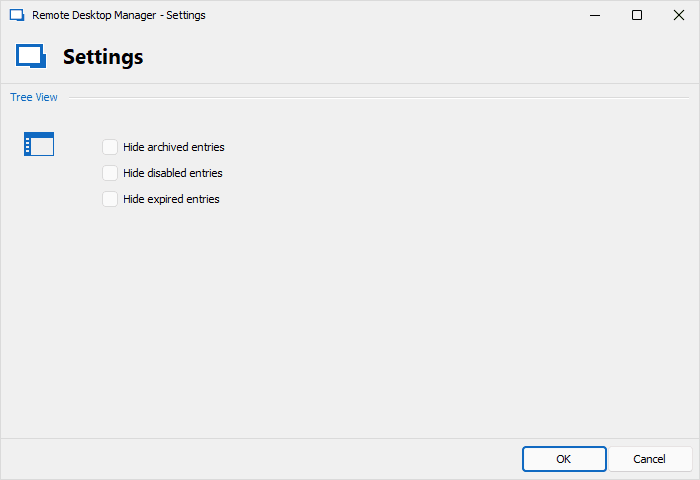 Tell Us What You Think
Please share your feedback about Remote Desktop Manager 2023.3 by commenting below, posting in our forum, or getting in touch with us directly. Let us know what you like, and just as importantly, what you want us to change, remove, fix, or improve. Whether you want us to introduce a powerful function, or want some virtual cheese for the new RDP mouse jiggler, we want to know! We are always listening to you, and rely on your advice to make Remote Desktop Manager even better.