Hi everyone,
As you hopefully know by now, after several months of research and testing, on October 2 we officially launched Remote Desktop Manager 9 :-)
What's New?
Remote Desktop Manager 9 offers many new features, including the new read/write offline mode, to-do management and the anticipated playlist feature. You can also keep a tab open during a disconnect, access Dynamic Credential Linking, or set things up so that you never need shut down a production server again.
Ultimately, all of these improvements are designed for YOU, our amazing community of IT pros and teams. Making your life simpler, smarter and more efficient is all that we care about. And we hope that you feel that we've honored this commitment in version 9.
November's Poll Question
So, based on the above, here's our poll question for the month: Did you upgrade to version 9?
If your answer is YES, please tell us what you think. What do you like? What do you love?
If your answer is NO or NOT YET, please share why – so that we can improve and wow you with Remote Desktop Manager 10!
The Winner's Circle
At the end of the month, we'll randomly select 4 lucky people who participated in the poll and send them a $25 Amazon Gift card. With the gift giving (and receiving J ) season just around the corner, this could really come in handy!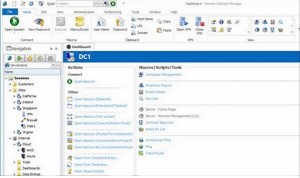 As always, you can post your answer in the comment box below, or via Facebook, Twitter or LinkedIn.
Stay tuned for the poll results and winners announcement at the end of the month!
Thanks in advance for your participation.