Hey everyone,
As you may recall, last month we asked you to tell us the main reasons to become a Sysadmin. Well, the response was so great and we had so much fun, that we decided to continue along the same lines, but with a twist:
This month, we'd like you to tell us your top 3 reasons NOT to become a Sysadmin! Your answers can be funny (e.g. you need to be a little insane to get into the IT field) or they can be more serious (e.g. the hours and pay aren't what they should be), or anything else. Plus, when you give us your answers, please feel free to tell us the reasons behind your views. We'd love to know and I'm sure the rest of the community would, too!
As usual, you can participate in the poll by commenting below, or you can get in touch via Facebook or Twitter. It only takes a minute or so, and we'll share the top results next month.
You Could Win!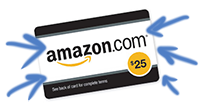 As usual, we'll be randomly selecting 3 lucky poll participants and awarding them each a $25 Amazon.com gift certificate. With Christmas coming up, what could be nicer than getting someone you love a special gift…FOR FREE (hey, don't worry: we won't tell them if you won't!)
Thanks!