Last month, we asked you to list the protocols that all SysAdmins MUST know. We're talking about the essential knowledge that separates the professionals from the pretenders.
The Champions
Looking at the results, it is not surprising that according to all of you, the most important protocols to know are DNS and TCP/IP.
The Contenders
Other essential protocols that were listed multiple times include DHCP, LDAP, ARP, and SMTP.
The Rest
And quite a few protocols were listed once: NTP, DSCP, QOS, Routing, VLANs, sub-netting/super-netting, RDP, SSH, BGP, Telnet, MS-DOS, and Bash Shell.
Your Insights
A few of you also shared something that I believe all experienced SysAdmins will agree with: while some protocols are obviously more commonly required than others, it's necessary to have a working knowledge of all protocols. Here is some of the feedback and advice you offered:
Wilfred Oskam shared: "I think you at least need to understand the basics of how the protocols work. If you use protocols daily, you maybe need to know them as deeply as your current job demands. A deeper knowledge may be good for some people, but if you do not use them daily, you can "forget" the depth of the protocols. For me this is the greatest challenge, as I am a wide knowledge SysAdmin."
Germano shared: "I think that you need to understand how the protocols interact, as deep as your current job demands. Deeper may be good for some people, but not for others. Having them work together — for me, this is the greatest challenge. Also, remember that they all have documentation, and that they don't hurt if you need to read :-)"
Dennis Robbins shared: "It's hard to list all the protocols that SysAdmins need to know, since we are expected to be experts on *Everything* ;)"
Thomas Higgins shared: "I don't know if knowing the protocols themselves is as important as knowing what they are and how they are used."
The Winners Are
You're all winners, of course, because you're keeping your companies, colleagues, and customers productive and safe. Like doctors, most people have no idea what you do, but you're the first person they call when they need help!
Now, let's reveal the two lucky participants who will each win a $25 Amazon gift card, which is more than enough to buy this awesome t-shirt: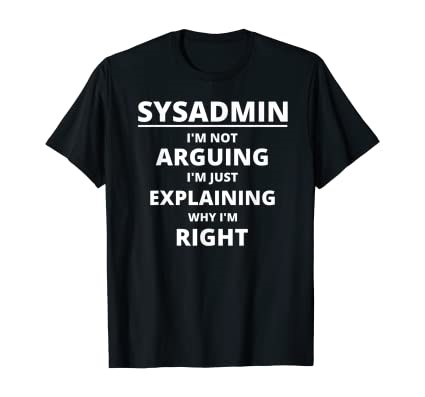 And the winners are…Wilfred Oskam and Arjan Anthonisse. Please email me to claim your prize.
Thank you to everyone who participated in the poll, and please stay tuned. The September poll will be here very soon!