Remote Desktop Manager recently hit the 400,000-user mark and we couldn't be more grateful to our global community. And to celebrate the milestone, we're pleased to introduce you to the latest and greatest version: say hello to Remote Desktop Manager Enterprise 2019.1!
What's in Store
Remote Desktop Manager Enterprise 2019.1 features some exciting new additions and improvements — many of which were recommended by our community. Here is what you can look forward to:
Complete UI relooking (SVG)
Black theme (MacOS)
Session recording – RDP, ARD, Wayk and VNC (SQL Server and mySQL) for now; coming soon for all data source types
Smart folders
2FA (Google Auth, Microsoft Auth) for 1Password Web
Multi-vault search
VPN Link option to open a VPN depending on OS
VNC vino's auth (TLS)
Many UI improvements
Important Note
If you update to version 2019.1 and some users can't copy/view usernames and passwords anymore, don't worry it's normal. If you look closely in the full release notes under improvements, you will see that we "changed the view password to be disabled by default for non-administrators." As you might expect this setting has been changed because of security purposes, but might cause and issue to some users as a default setting have been modified. In order to allow your user to use the "Copy Password" tool, you will need to grant them the "View Password" permission.
If you want to allow users or specific roles to be able to view the password from all your sessions, you must configure the View Password setting found in Root Settings => Permissions.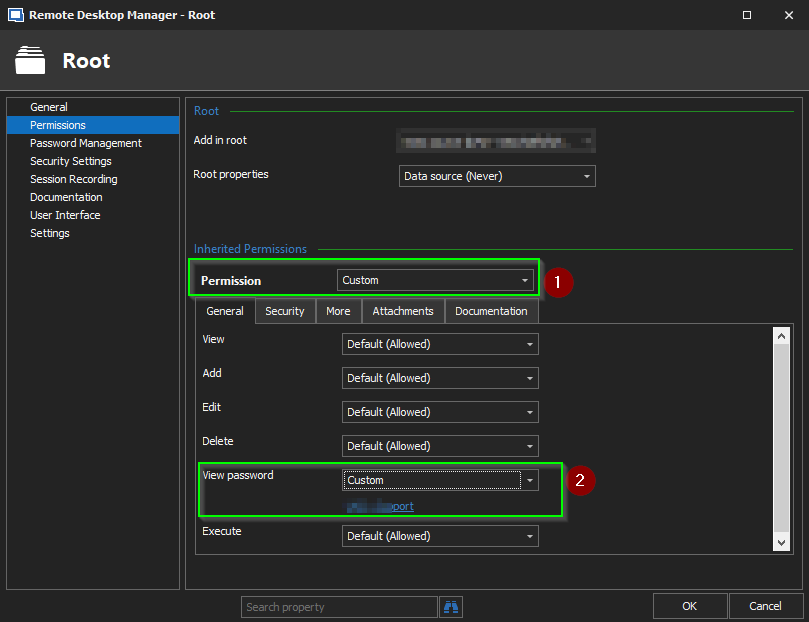 Please also note that modifying the view password permission works perfectly on any data sources except Devolutions Password Server (DPS) version 6.1.3. If you are using DPS, the Copy or View password will not be available. DPS version 2019.1.x, which is currently in beta, is required to get that functionality working. As RDM and DPS are closely related, unfortunately the only solution for now is to uninstall RDM 2019.1.20 and install RDM 14.1.3. Here is the download link for RDM 14.1.3.
How to Get It
 If you have an active RDM Enterprise license, then you'll be prompted to upgrade the next time you log in. If you want to get it right now, then simply visit: https://remotedesktopmanager.com/Home/Download
If your RDM Enterprise license has expired, then now is the ideal time to renew. Remember, you get lots of extras, including maintenance and support. You can purchase a license in our online store, or send an email to sales@devolutions.net and our sales team will take care of you.
If you're new to RDM — welcome aboard! You can try RDM Enterprise for 30 days at no cost. After that time, you can purchase a license or downgrade to RDM Free and continue using it for as long as you wish. You can request a free trial here.
Tell Us What You Think
We'd love to hear what you think of RDM 2019.1. You can share your views in our forum, comment below, or email us anytime. We're always listening, and your input could help shape future sub-updates.