Here at Devolutions, we just love adding new integrations to our ever-growing family, because the more we add, the easier it is for you to manage everything in one centralized solution. Today, I'm happy talking about a trio of integrations that are like a group of close friends you can have a drink with on the patio (yeah, OK, I miss summer a lot!).
CyberArk
Remote Desktop Manager has also been integrated into CyberArk Vault so that you can fetch credentials directly from your CyberArk safe. To create your CyberArk entry:
Create a new credential entry and select CyberArk.
Enter the Privileged Account Security URL in the web services URL field.
Enter your virtual directory (this step is optional).
Enter your username and password, which is your API access to your CyberArk account.
Link your account directly to a specific CyberArk vault by entering the name of the safe where your entries are created, or click the ellipsis (…) next to the Safe name field.
If you aren't sure of the name of the safe, you can use keywords. Simply add them to the field Keywordsand RDM will link your entry.
RoboForm
RDM integrates with a several password management tools, but RoboForm hasn't been one of them — until now. RoboForm is a multi-platform secure password manager and digital wallet that supports one-click logins on all available platforms. Integrating a RoboForm account in RDM is quick and easy:
Create a new credential entry and select RoboForm.
Enter your RoboForm account email address and password.
Next, you can either use Static Credential Linking, which will link your entry to a specific credential stored in your RoboForm account, or you can use Dynamic Credential Linking, which will prompt you with your RoboForm credential list every time you connect.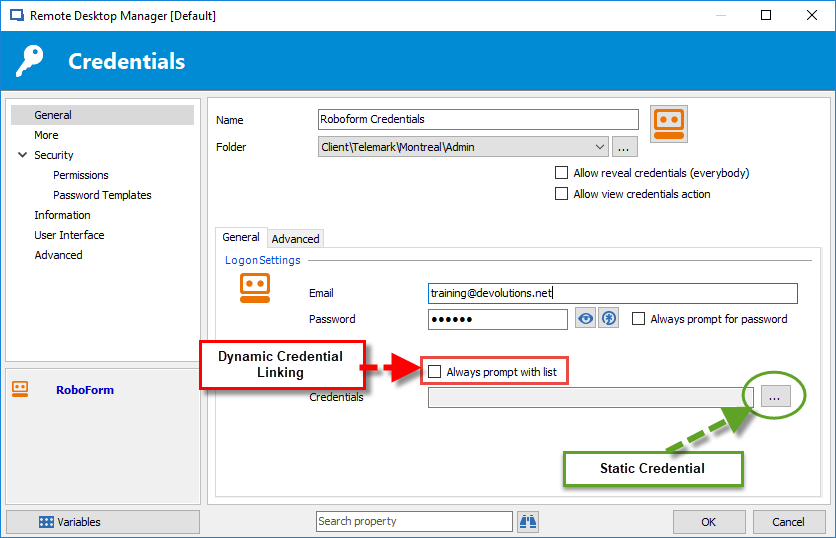 Bonus Enhanced Integration – 1Password Web
As you probably know, 1Password has been integrated in RDM for a while now — but we've added a little extra in version 13.5. Now when you create your 1Password credential entry, you can change the logon settings mode to web! Simply enter your credentials to connect to your 1Password cloud account, enter your security key, link to a credential stored in your 1Password vault, and that's it!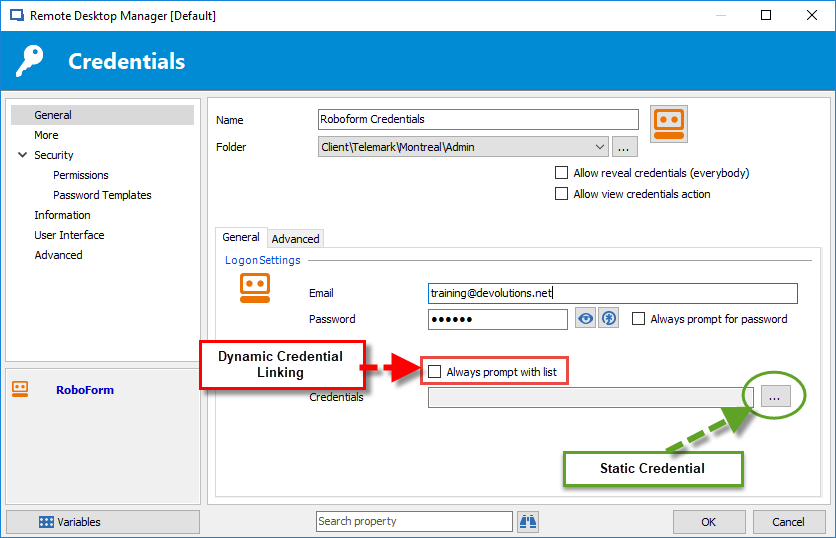 As always, please let us know your thoughts by using the comment feature of the blog. You can also visit our forums to get help and submit feature requests, you can find them here.