Last month we asked you to share what your typical day looks like so we could deepen our understanding of your experience, while evolving our products and services accordingly. I'm happy to say that we received A LOT of answers to this poll question, especially on Spiceworks (of course, we always love it when our community posts on our blog too, so please keep it up!).
The Answer Is…
If you're a Hitchhiker's Guide to the Galaxy fan – as many glorious geeks are – then you already know that the ultimate answer is 42 (which, of course, is in response to the ultimate question: what is 6 x 7.)
But what you don't yet know is the ultimate answer to our poll question. And do you know why? Because there isn't a single definitive answer!
That's because most of you highlighted what we all know to be the case: there is really no such thing as a "typical" day in the IT world. Each day has its own dynamics and variables – sometimes good, sometimes bad, but always challenging. Oh, and we also loved how many of you said that your day was a lot like the chaotic illustration we featured with the poll (maybe we can call this "IT Pro's Inferno"?).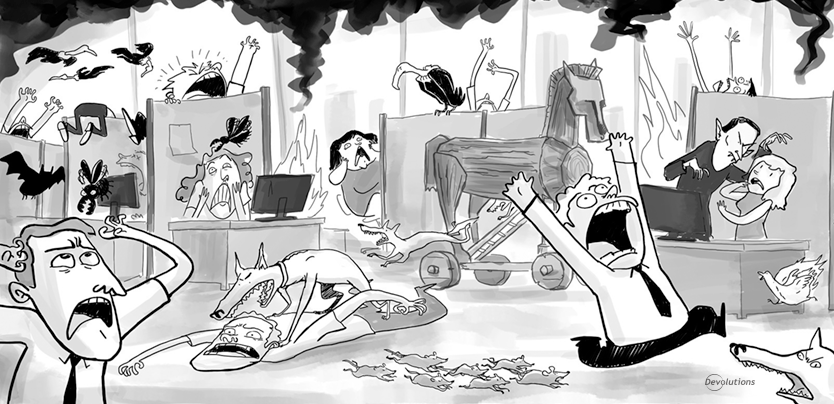 At the same time, we saw some other interesting themes that didn't come as a big surprise either, since hey, we're IT pros too. Generally speaking, you guys:
Have a GREAT sense of humor, and rely on it to stay sane on a day-to-day basis.
Are always interested in learning more stuff. Knowledge is power!
Are big fans of new technologies and innovations (speaking of which, have you tried Wayk Now yet?)
You work very hard, and (*ahem*) aren't completely against having an adult beverage after a particularly stressful day (read: just like us, you know that coffee and beer are mana for IT pros).
At the same time, we saw – again, not surprisingly – that you're all very dedicated to being professional and doing a good job. Yes, your work is tougher than most of your colleagues and clients realize. No, they don't thank you as much as they should. But trust us, we know how essential you are. If your organization is a body, then you're the veins that keep it alive and healthy. So please, take a bow and give yourself a pat on the back. You're awesome!
And the Winners Are…
OK, it's that happy time where I reach into the virtual bag and randomly select two winners. This month's lucky champions are…drumroll please…Brian Krontz and "nks". Congratulations! Simply send me an email at jdupont@devolutions.net to claim your prize.
Thank you to everyone who participated. Reading your responses was interesting and a lot of fun around here. Stay tuned for the June poll, which I'll post tomorrow.
Cheers!