Last month, we asked whether you're Windows or Mac — and why. While we hoped for some great responses, we were amazed by how many people participated. Thank you to everyone for sharing your opinions and passion.
And the Winner Is…
Before we look at the breakdown of responses, we need to offer an apology: upon reflection, we should have asked, "Are you Windows, Mac or Linux?" For good reason, many of you are Linux fans. Perhaps we'll go down that road in a future poll. But for now, here's a pie chart of your responses: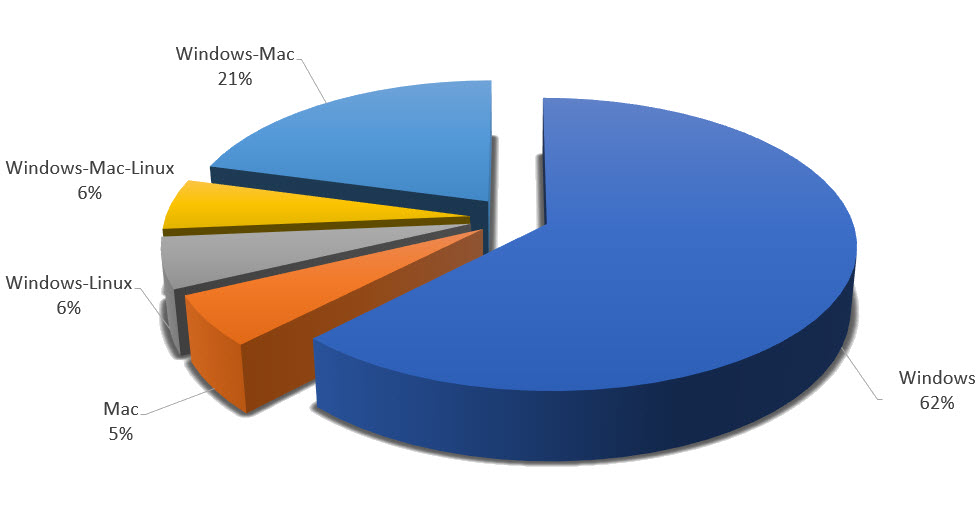 As you can see — and sadly for the Apple fans out there — Windows (62%) is the winner. But it was also revealing and interesting to see that many of you (21%) are using both Windows and Mac.
A Brief Note About Devolutions Licenses
This isn't an advertisement or anything, but just a public service announcement for the IT pros out there who work in dual OS environments. In case you're not already aware, Remote Desktop Manager works on Windows and Mac. You don't need two separate licenses. Just like Lord of the Rings, one license rules them all.
My Point of View
Personally, the first computer that I used was a PC, which ran Windows 98 (my system was about as impressive as Ben Liebowitz's beloved Amiga 500). After experiencing Windows 98, 2000, XP and Vista, I really had the urge to try Mac — because, well, Vista was kind of a nightmare. But I was so familiar with Windows that I didn't pack my bags and emigrate to Mac Nation. However, now that I've read all of the responses from you Mac lovers, I think I might give it a try for real this time. Apple Store Genius Bar, here I come!
And the Winners Are…
We've already declared Windows the OS champ. But what about the poll winners? Don't worry, we haven't forgotten. This month's randomly-selected lucky winners are…drum roll please…Jeff Shepherd and Nicola Farina. Congratulations! Please send me an email at jdupont@devolutions.net to claim your prize.
And once again, THANK YOU to everyone who participated. Get ready for December's poll. It's dropping soon!