Remote Desktop Manager 13 is here, and there are several new features to explore — including one of my favorites: time-based usage.
What Is Time-Based Usage?
The time-based usage feature lets you specify when users of a Microsoft SQL Server or Devolutions Server data source can access specific sessions. Please note that this feature requires an online connection and isn't supported in offline mode.
How to Setup Time-Based Usage
Edit a session.
Navigate to Security.
For the Time of week setting, select which days the resource is available.
For the Time of day setting, limit the usage of the resource to specific hours.
For example, in the following screenshot, access to the session "Downhill DC" is being restricted to Monday, Wednesday and Friday from 8:00am to 6:00pm (each day):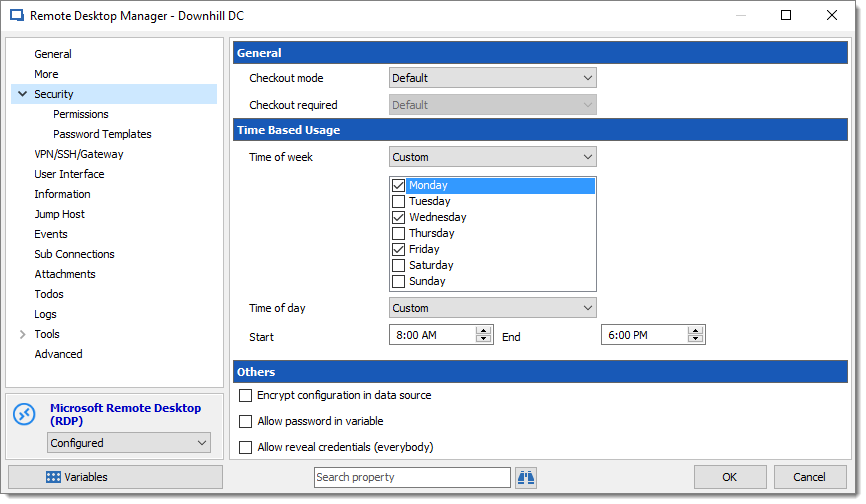 As shown below, once the time-based usage feature is set, any user who attempts to access a restricted session will get a notification informing them that it cannot be opened: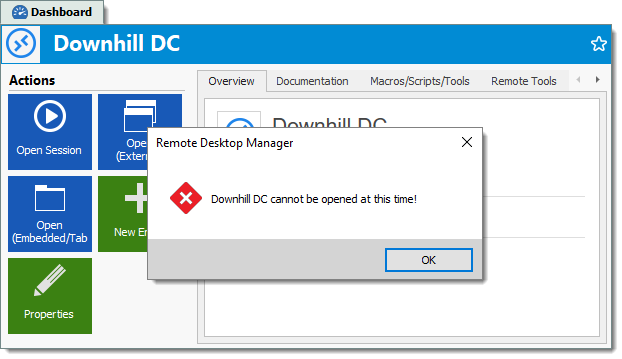 Default Settings
The time-based usage feature also supports default settings. Once set, all sessions with the time-based usage settings set to Data Source Settings will inherit the values set in the Data Source Settings.
We hope you enjoy this new feature and that it helps you save time and effort — while improving security and governance. Please share your feedback below, or email me directly with your comments and I'll make sure that our development team gets them.