As you may remember, a few months ago, we released the latest version of Remote Desktop Manager, RDM 12. While many of you were more than happy about it, some of you may still have questions about the new features and security.
Since we want every user excited as we are about this new version and to please many of you who asked for it. We'll be running a special webinar featuring guest speaker, Microsoft MVP, author & industry analyst, Timothy Warner as well as Max Trottier and Maurice Cote from Devolutions. In this webinar, we will make a quick overview of what's new in RDM 12 and answer your questions!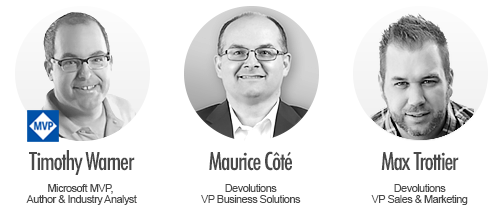 Communication is The Key
During the Webinar, you can use the chat feature to ask questions, make comments, and share your expertise with fellow IT pros from around the world.  You can also communicate with our panel during the Webinar by Tweeting us with the hashtag "#RDMwebinar". You can also join us and learn more on Remote Desktop Manager 12 by watching our experts answering questions.
Registration Instructions
The Webinar will take place on Wednesday, March 29, 2017, from 11:00 AM to 11:30 AM Eastern Daylight Time (-4 GMT). Registration is FREE and you can sign-up online. Click the button below to register:
Can't Make It? Don't Worry!
While we'd love to connect with you if you can't make it then don't worry. We recommend you to register anyway and we will send you the recording after the Webinar. We'll send all those who registered a link to watch it on-demand.
Just the Beginning
We plan on launching a series of Webinars that will help our users like you get the most out of your Remote Desktop Manager experience. We invite you to let us know what topics/themes you'd like us to cover, and we'll do our best to make it happen!