Hello RDMers,
Let's take a look at an option that could definitely help you save some time! The Batch Edit command! You can use this command to change the settings of multiple sessions in one smooth operation and become…a smooth operator!

The Batch Edit allows you to change settings on multiple sessions all at once. This command can be found in the contextual menu (right click on entries), then Edit - Batch Edit or go in your ribbon, select Edit - Batch Edit.
Here is a list of what Batch Edit can do for you:
| | |
| --- | --- |
| Change Saved Host Name | Change multiple host names at the same time. |
| Change Saved Credentials | Change the configured credentials for multiple sessions. |
| Reset all Saved Credentials | Reset the Credentials fields to Default. |
| Reset all Saved Passwords | Clear the existing passwords for the selected sessions. |
| Batch Actions | It is a predefined command that you could run or use at your convenience like convert all your Putty session to Embedded Putty session. |
| Edit Sessions (General Settings) | The common settings for all entries |
| Edit Sessions (Session Type Settings) | The ones specific to the type |
| Edit Sessions (User Specific Settings) | Advanced data sources only, you user overrides |
| Edit Sessions (Local Specific Settings) | Advanced data sources only, the local overrides |
| Edit Sessions (Security Group) | Either clear or assign another security group |
In a situation were you would like to quickly change a setting of only some of the entries, you could simply multi-select the entries in your Navigation Pane then invoking the command. The Batch Edit will only edit selected entries. The most powerful option to use in combination with the Batch Edit would definitely be the Advanced Search, remember there is always a little trick to make your life easier with RDM!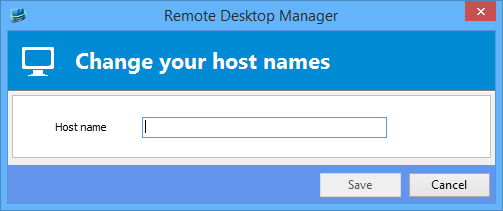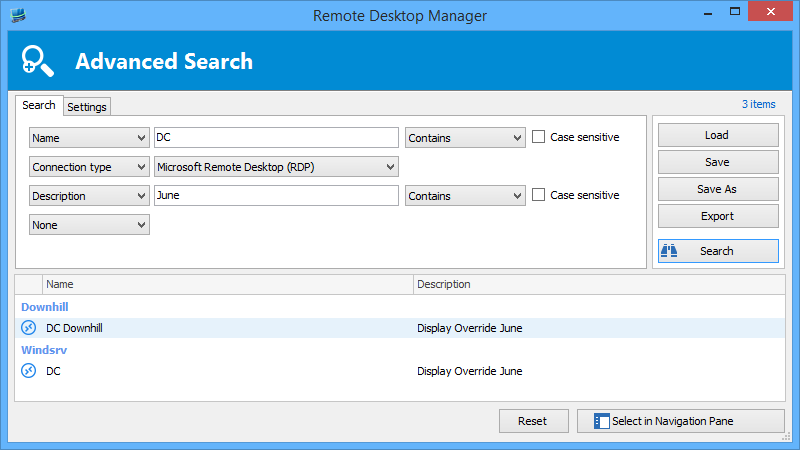 If you select View - Advanced Search, the Advanced Search dialog will give you multiple options to tweak your search and find exactly what you are looking for. It is a quick and easy tool that will also allow you to save your search and reuse them later on; it can be very useful when often searching for the same thing, like all your RDP sessions! If you wish to Edit only your RDP sessions, you could load your search, select the results in your Navigation Pane (CTRL-A), then execute a Batch Edit on your search result.
Just a friendly warning beforehand though! Be certain of your Batch Edit before proceeding with it since you wont be able to revert that action with just one command! You would have to do a revert on every entry; so if you changed settings for 20 entries, that is 20 reverts that would have to be done!  A backup may even be better when changing a greater number of entries.
As always, please let us know your thoughts by using the comment feature of the blog.  You can also visit our forums to get help and submit feature requests, you can find them
here
.