Hey everyone! One reason we like sharing pics of our office, is because we're really proud of the cool gadgets that we have around here. Stuff like our fridge (check out the logo at the top!), our dueling popcorn and candy machines, and of course, our collection of baby foot trophies.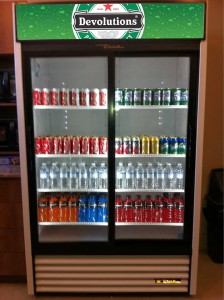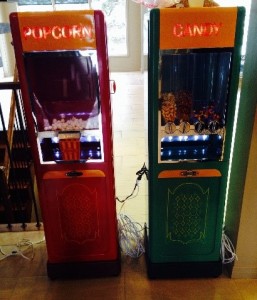 Now, while we love our gadgets, our quest to create the ultimate GEEK CAVE is not yet complete. To achieve that glorious milestone, we need to add some awe inspiringly-geeky items. The following is what we have in mind (courtesy of Thinkgeek.com). If you have any or all of these in your workplace, then from the bottom of our geeky hearts: we salute you!
 1.
Han solo in Carbonite Business Card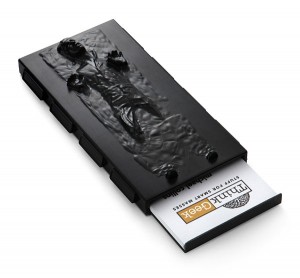 Ohhhhhh yeaahhhhhh. If you're looking to impress potential clients and colleagues from around the galaxy (or perhaps if Boba Fett drops by for tea and cookies), this business card will blow them away. And really, it's hard to fully respect either a geek or a gelatinous galactic crime lord who prints his business cards at home. Do you really think Princess Leia would be caught dead with someone like that!?
Ctrl-Alt-Delete Cup Set
Any IT pro worth his or her geekishness will admit that they've told more than a few people to just CTRL-ALT-DELETE their computer problem away. And each of us has applied this magical Microsoft solution several times, especially when we're greeted by the notorious BSOD (Blue Screen of Death). Well guess what? Now with this super awesome CTRL-ALT-DELETE cup set, you'll be able to reset yourself anytime of the day. Feel like taking an afternoon nap? Want to slip into a sensory deprivation chamber after a pointless meeting? Feel like screaming at all of your users because they keep visiting banned websites and clicking on malware laden attachments and links? Just pour yourself a cup of coffee, tea or whatever else you feel like, and let the world melt away. Ahhhh….isn't that better?
Bacon Popcorn
It's like this: you love bacon. And you love popcorn. So can you imagine how much you'd love BACON POPCORN (or if you wish: POPCORN BACON)! We love popcorn here at Devolutions, and every Thursday we stuff ourselves with it along with a few beers (after work hours, of course!). We sometimes season it with caramel, salt and vinegar, Sri Racha sauce (ohhh hurts so good!), barbecue, or the old fashioned salt and butter (my favorite). But we've NEVER tried to make Bacon popcorn! I guess we'll have to put it on our to-do list. If you've already tried this, please let us know if we're going to be happy how this turns out…
Laser Guided Scissors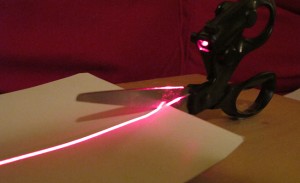 Just when you thought lasers couldn't get cooler…they get cooler! This time, some genius has added them to scissors, which makes it so much easier to make straight, precise cuts in paper, fabric, gift wrapping…you name it. And if for some reason your power goes out, you can guide your colleagues to safety by the power and precision of your laser guided scissors. You'll be a hero!
Wacky Lunch Bags
On a scale of 1-10, the geek factor of these lunch bags is a 15. Honestly, I couldn't decide which one I liked most of these two brilliant offerings: a)      Star Wars RD-D2 Lunch bag with sound ("Use the spork, Luke!") b)      Organ Transport Lunch Cooler ("Hey, this liver and onion sandwich isn't what I expected…")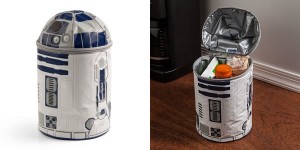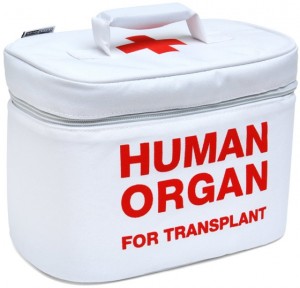 I'm going to do what I can to get our fridge full of these babies.
Marvel Rechargeable Speakers 
It's a little-known fact that when superheroes aren't fighting crime, defusing bombs or having their leotards dry cleaned, they LOVE listening to music. And when the good, geeky people at Stark Industries were working on new magically-shrinking armor, they came up with these awesome speakers. Go ahead. Grab some. You may not be able to save the world like your favorite superhero, but you can rock out just like one! (By the way, here at Devolutions our Marketing Director Max is a singer. He's our personal radio, and when he belts out "Total Eclipse of the Heart" it's something else!
https://www.youtube.com/watch?v=lcOxhH8N3Bo
)
Wiki USB Fridge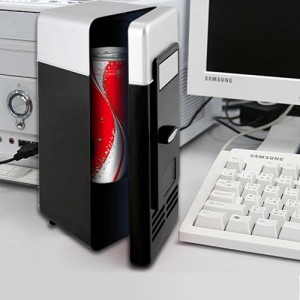 Why waste your precious USB ports powering your keyboard, mouse or other peripheries? Instead, plug in this innovative Wiki USB fridge and keep your stuff cool and within arm's reach. It's perfect for when you're working overtime!
Cable Drop
I love these! They finally put an end to chasing cable all day long! Think of the time you'll save?
Portable ice maker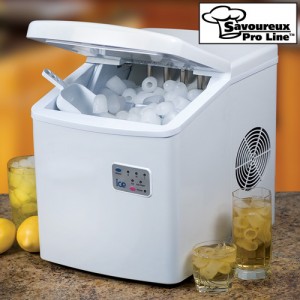 Is your workplace kitchen far away? Is it full of, well, crap? Then you need this little guy. Enjoy ice cold beverages (or just ice if that's your thing) anytime.
You Turn!
What do you think of these suggestions? Is there one or more that really stand out and are on your MUST HAVE list? Or maybe you have some cool gadgets in your workplace that you'd like to tell us about? Please share and let us know – we're always looking for more gadgets! Here's a picture of all the gadgets I found on our team's offices