Here at Devolutions, our organizational culture has always been a critical aspect of our growth and success.  That's why identifying our
6 core values
was so easy! We didn't have to spend weeks analyzing or debating. All we had to do was reflect on a typical week at Devolutions, and we could all clearly see the values that make working here so special.
So…what does this have to do with foosball? 
Quite a lot, actually! You see, a typical week here at Devolutions doesn't just involve developing new products and interacting with our amazing global community of IT pros.  It also includes lots of foosball games!
We even have an official Devolutions Foosball League, and have tournaments with other tech companies in the area 2-3 times a year.
Fostering a team culture
To us, playing foosball isn't just about having fun.
It's also an important way that we strengthen our organization culture, and foster teamwork
-- especially when we welcome a new team member. For example, we try and get new team members to the foosball table within the first couple of hours of their first day here. We usually play 2 on 2 matches, and so we team-up new employees with one of our seasoned foosball veterans.
It's a great way to build an instant connection, especially since it can be hard being the "new person" on the team.
What better way to break the ice than to laugh and have fun together? We bought our first table years ago back when we had just 6 people. Right now, there are over 35 employees working at the Devolutions head office, and about 80% are regular foosball players. We also have 4 foosball tables, so that more people can play at the same time. This is important to us, because we try to foster team-wide interaction, and not many tiny groups that are on their own disconnected islands. One of our values is
fostering a team culture
and having lots of people having fun and playing with different people is a big part of this. And while our fo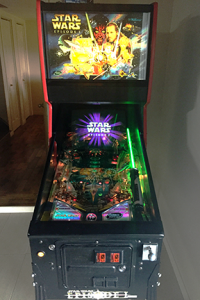 osball tables are ready for action throughout the day, those who aren't in a foosball mood can
Feel the Force at the Star Wars pinball machine
. However, I must say, since pinball isn't really a team game, it doesn't get a lot of use these days. I know I know some of you will consider it unforgivable that beautiful piece of art is gathering dust*, but it shows how important foosball is to us – not just because it's a fun game, or because it's a great way to relax and unwind, but most importantly, because it helps us strengthen our culture and bring our people together.
*If it's any consolation, we used to play Star Wars pinball all the time, and even had to repair the machine because we over-played it!