Did you know that Geek Pride Day is happening on Monday May 25? It's true! Although I'm sure I don't need to remind any of you, hard core geeks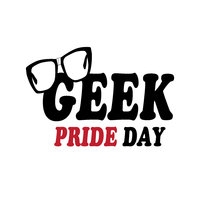 , but the reason the date was chosen is because the first Star Wars film was released on May 25, 1977. Can you imagine a world without Star Wars? No Yoda? No Force? No hating Jar Jar Binks? (well OK, that part I can imagine).
Anyway, here's a cool blog on Mashable website to give you some tips on how to celebrate Geek Pride Day : http://mashable.com/2013/05/25/geek-pride-day/ (by the way, my favorite tip is #16)
Other Geek-Friendly Holidays
The arrival of Geek Pride Day also got us thinking about other holidays that are certifiably geek-friendly, and would inspire people around the world to express their inner (or outer) geekishness. Well, we started looking around and there are LOTS of them in fact. Here's part 1 of our list:
[line]
1-      Embrace your Geekness Day – July 13
Created by Wellcat Holiday for those who are ''into dungeon games, comic books and doing vampire dress-up'' (though we're not sure if all of these are at the same time). Really, it's a celebration of geekishness and uniqueness. Here's what the CEO of ThinkGeek (a website and shop that we love), Scott Kauffman said about the holiday in a CNN article:  "People are getting in touch with their inner geekdom and that can take the form of many different kinds of passions or obsessions. It used to be a 'sports fan' or a 'sports nut,' now it's a geek."
2-      Google Commemoration Day – September 7
Just imagine: if you had a time machine, you could go back to September 16, 1997 and register "google.com" – and beat the folks at Google by a day! Well, since you don't have a time machine (yet), you can still celebrate Google Commemoration Day on September 7. Why this date? Well, as mentioned the domain was registered on September 15, 1997, and the company was incorporated September 4, 1988. For some reason, the default official Google birthday landed in the middle: September 7. Oh, and by the way – did you know that the name "Google" was chosen by accident? Here's the interesting back story.
3-      Programmer Day – September 12 or 13
Programmer Day is the 256th day of every year and started in 2007. The number 256 was chosen because it's the number of distinct values that can be represented with an eight-bit byte. 256 is also the highest power of two that is less than 365. This year, Programmer's Day will fall on the 13th, but in some other years it falls on the 12th (when there's a Leap Year). Here at Devolutions, we LOVE OUR PROGRAMMERS and appreciate all that they do. I'm sure you love your programmers, too (or if you are a programmer, I hope you feel very loved). Here's some more information on this wonderful holiday http://www.programmerday.info/
4-      Talk like a Pirate Day – September 19
Ahoy, mateys! This one is my favorite! Here's what the official website has to say about this event: ''Whether you be new to the notion, or one of the millions who've made it your own personal excuse to party like pirates every September 19th, welcome!'' There's lots of cool information available here: http://www.talklikeapirate.com/
[line]
What's your favorite holiday? Will you celebrate all of them? We definitely will, and they're already on Devolutions' calendar. We'll follow-up with part two of this list, so stay tuned!