THE KING IS DEAD, LONG LIVE THE KING! As you hopefully know by now, here at Devolutions we're obsessed with making your life easier and simpler. We know how complicated life can be in IT, and we want to be part of the solution – not the problem. So with that in mind, we've gone ahead and make an important change to our product line up  
RDM Standard
is gone as we launch
RDM Free
. Of course, we still have
RDM Enterprise
for those of you who need more features, functions and support. You can download Remote Desktop Manager Free here: 
http://remotedesktopmanager.com/Home/Download 
Why the Change?
As mentioned, we're making this change because we want to make your life simpler and easier:
 It's now easier for you to distinguish the change history between RDM Free and RDM Enterprise
RDM Free has a smaller installer (compared to RDM Enterprise)
RDM Free neatly hides all RDM Enterprise features, which simplifies the user interface (i.e. no more RDM Enterprise "noise" for RDM Free users!)
There's no more confusion about how much RDM Free costs: It's FREE!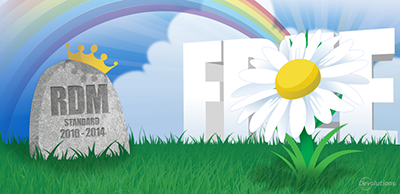 Of course, be assured that we haven't removed any features from RDM Standard. You'll find everything in RDM Free. What's more, we'll continue releasing updates and improvements. Just make sure that you register your RDM Free by creating your RDM Online account within 30 days of installing it. You can do this directly from Remote Desktop Manager and it only takes a minute.
If you have any questions about our licensing or need help determining whether RDM Free or RDM Enterprise is right for you, send me an email at
ammongeon@devolutions.net
. I'll gladly answer all of your questions. Cheers!