Hello Everyone, With the new release of Remote Desktop Manager 9.1, we are proud to announce that the Hyper-V enhanced session mode is now supported. Hyper-V enhanced session mode allows redirection of local devices and resources from computers running Virtual Machine Connection. The enhanced session mode provides tons of capabilities for your virtual machines such as:
Display Configuration Audio redirection
Full clipboaer limited prior-generation clipboard support)
Smart card support
USB Device redirection
Drive redirection
And ast is not connected to the network! In fact, it uses the VMBus directly. As you can see in this print screen, all the printers are present, but there's no network connection .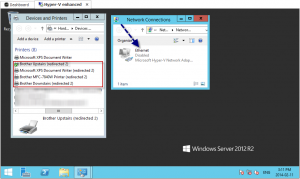 In the second print screen, all the drives are present and there's still no connectivity to the network!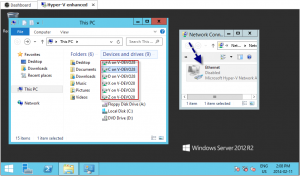 The following guest operating systems support enhanced session mode connections:
Windows Server 2012 R2
Windows 8.1
You can easily enable this feature in a RDPHyper-V session. Create a new RDP session, select Hyper-V (embedded only) in the RDP type box and check "Use enhanced session mode".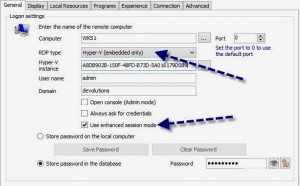 This feature will change the way you connect to your virtual machines hosted on Hyper-V, give it a test drive! The Devolutions Team