Hi everyone!
Have you heard about this amazing new** battle-racing-for-the-real-world**car game called Anki Drive? We've been playing it since the beginning of the year (yes, we're addicted!), and we're super excited and stoked to introduce it to you as a way to *ahem* have some fun during breaks and so on…
Anki Drive was launched in October 2013, and was voted as one of 2013's TOP 25 Inventions by TIME magazine. It brings video games into the real world by letting you control REAL RACING CARS using your iOS device as the main controller. And that's just the start!
While you really need to play the game to truly grasp how amazingly realistic and fun it is, this video will give you some insights: https://www.youtube.com/watch?v=Qk51skVkkyg
Top 6 Anki Drive tips to enhance your racing experience
We wanted to enhance the game with our own special features, just to add a bit more fun! ;)
Sticky pad and Swiffer Duster: Always make sure that the track and car wheels are ALWAYS clean! This is really important if you want to make smooth turns, and it also helps your car stay on the track. Anki provides a special sticky pad to clean your wheels. We do, however, also use a sticky phone holder which works great. As for the track, we use a Swiffer duster.
Team Match Play: Using 4 cars (and 4 drivers), try racing in a two-player team match. In Anki, you have attacking and defending cars. The former have more attacking power, and the latter more defensive skills (i.e. shields and extended energy levels). Pick one of each for both teams, and see who has the best strategy!
Baseball Caps: We were always trying to figure out who was driving which car during the game. So, our CEO David came up with a pretty clever idea: we ordered different baseball caps that fit with the cars' color. That way, we know exactly who we're shooting at.
The Tunnel: As you'll race with your friends or even against the CPU, you'll quickly notice that there's a hide-and-seek kind of game going on in every race, as you try to get behind your opponent and shoot him down (and vice versa). To bring this up a notch, we added a Devolutions tunnel. It's a great opportunity to hit the breaks and get behind the pack. The prey becomes the predator in no time!
**Pit Crew: **The track can become slippery and send your car flying off the track, and collisions will happen often as you upgrade your car's special powers. Since we have many players here at Devolutions, one or two extra players who work as pit crew members to get the cars back on track saves a lot of time. If you try this yourself, you can ask them to clean your wheels before a race, too. ;)
Android Phone Charger: Anki comes with 2 cars and a 3-car battery charger station. So that means with 4 cars, 1 will always be left behind. However, we discovered that an Android cell phone charger will do the trick very well! If you're looking to play 4 cars at a time, it really is a must-have.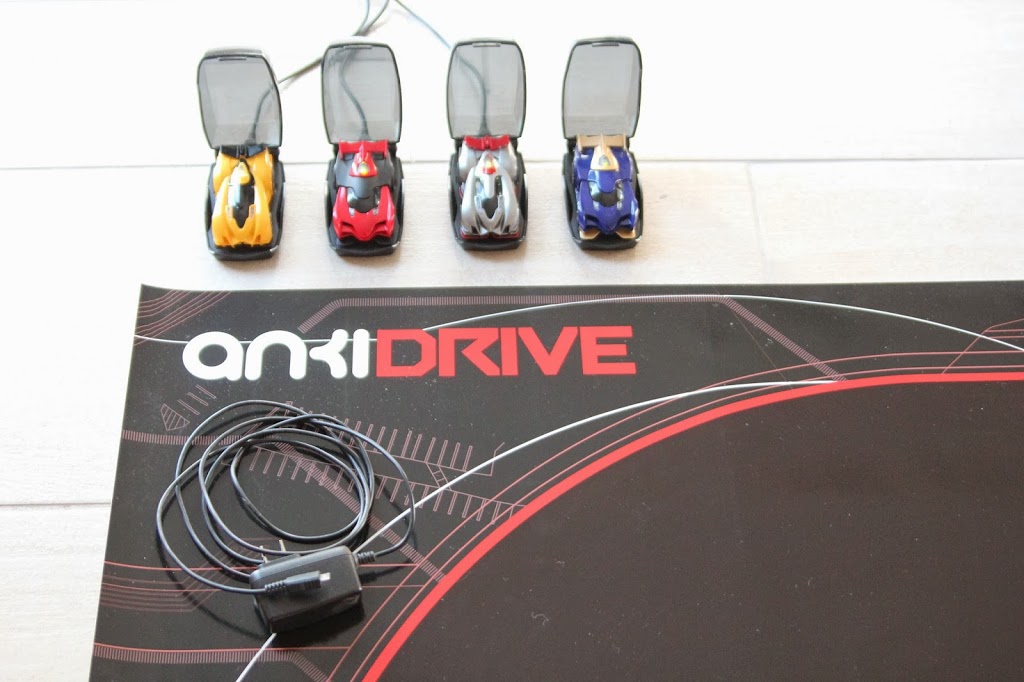 Share Your Anki Stories!
We'd love to hear your Anki stories and tips! Who knows? Maybe we'll have the first International Anki Drive Grand Prix in 2014!!! J