Hello everyone! As you know, here at Devolutions we love it when you stay in touch with us here on our blog, and our other social media platforms (including
Facebook
,
Twitter
,
LinkedIn
,
YouTube
). But we also know that you're very busy, and have a million projects on the go (including the 5 or 6 that your boss forgot to tell you about…).
So, to help make it easier for you to stay in touch with us, we're happy to announce that we're now a member of the
Spiceworks community
!
Spiceworks
 is an amazing place where you can connect with us at your convenience. Plus, you can share ideas with fellow IT professionals, and talk about various products and services, trends and ideas, and much more.You'll also find many other IT companies and vendors there, too.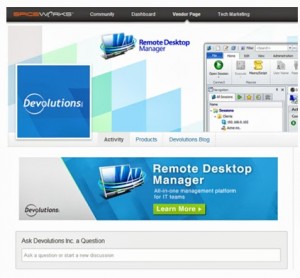 Follow Devolutions on Spiceworks We're proud to be a part of the Spiceworks community, and we plan on being very active. We invite you to do the same!  Please
visit our page
, follow Devolutions, share your comments and, if you feel like it, give us a
review
;-) And while you're there, please remember to follow us, 
Maxime
and me (
Annie
), so that you can stay up-to-date on all of the cool things that we're up to here at Devolutions. See you on Spiceworks!