Hi everyone, we're back from the Big Easy!
Trust me, the city and the people of New Orleans truly deserve their reputation as being fun, friendly and VERY focused on having a good time. We had an incredible week with lots of food, good music, great people, and yes, a little bit of alcohol…but just a little bit! ;)
We also had an amazing time meeting fellow RDMers and IT pros from all over the world. We gave away 2400 pairs of next generation earphones, and demo'd RDM to more than 500 IT pros (by the way, if you've missed TechEd and want to also have a demo of any of our products, please feel free to contact me at mtrottier@devolutions.net).
We'd like to thank everyone who visited us, including Mike Dunn who stopped by our booth to show us how much he loves using RDM on his cool new Microsoft Surface PRO, and Barry Martin for sharing his story with us!
Thanks to all of you
We'd also like to thank our friends at Thycotic Software (thanks Jordan and Nick for the party invitation!), Ben Armstrong from Microsoft, Lisa Perrone who took amazing care of all of the Exhibitors, and of course, the people of New Orleans who helped make this trip one that we'll never forget.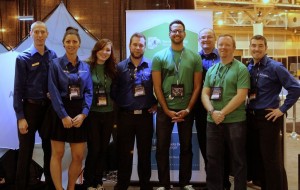 Of course, we're just as happy to be back here in Montreal. We have TONS of new ideas, and thank all of you for sharing your thoughts and opinions. If you found our response times a bit slow over the last couple of days, please accept our apologies – we had a lot of catching up to do! Everything is back to normal now, so please feel free to reach out and let us know what you think. 
See you next year in Houston everyone!
 Thanks,
 Max