While running a remote MMC Snap-In is useful, automating it is bliss! Session Macros/Scripts/Tools will do the job, configure once and run the MMC against any of your servers. Here's how you do it:
Create the session tool via: Edit -> New Entry -> Add Macro/Script/Tool

Select: "Command Line"

Name: "DHCP"

Run: "dhcpmgmt.msc /ComputerName $HOST$" (see notes below)

Note: if you only put "dhcpmgmt.msc" in the run textbox and hit "Assign file icon to session," the dhcpmgmt.msc icon will be assigned Note: Passing the host name can be tricky, as some Snap-Ins require different parameter formatting. For example: /Computer=$HOST$ or /ComputerName $HOST$
Select: "Run as Administrator"
Select: "Open embedded/tabbed" (see note below) Note: Embedding the console works with most Snap-InsNext, double-check your sessions. They must be configured to feed the proper credentials to the session tool. On the Tools tab of each session, make sure you've selected the proper credentials to be supplied: - Use default credentials = send nothing and let Windows figure things out - User session credentials = use the same credentials as the session - Use custom credentials = use specific credentials - Use credential repository = specify a set of credentials from the repository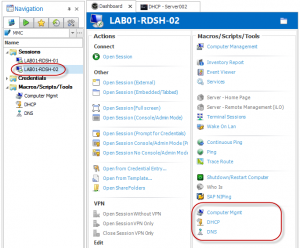 To run the Snap-In, select your session and locate the tool in the dashboard. If everything is configured properly, a simple click is all you need!
We hope this gives you a helpful new way to manage your day-to-day workload, and make your life simpler and more efficient. If you have other great tips on using session macros/scripts/tools that we can share with the community, please let us know!