Hello RDMers! We're happy to announce that the popular
Ammyy Admin
Remote Desktop Software is now part of our ever-growing add-on roster. Now, you can start an Ammyy session with a predefined host or put Ammyy in a waiting state as a client. Thanks to our add-on developer André, and a great member of our forum named Rgusnowsk, this latest add-on took less than two weeks to build. Rgusnowski requested the add-on on the forum and very helpfully provided us with the command lines we needed.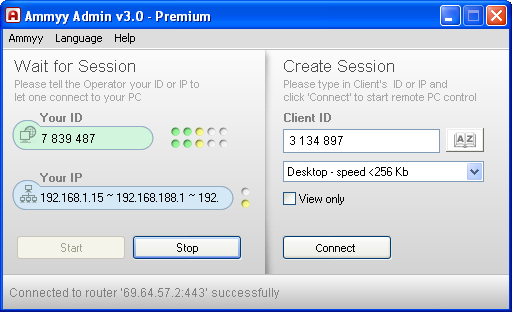 Check out the forum thread here:
http://forum.devolutions.net/topic2833-ammyy-admin-support.aspx
Download the Ammy Admin add-on free of charge from:
http://remotedesktopmanager.com/Home/AddOn#ammyyadmin
Find more add-ons!
And while you're enhancing RDM so that it works even better for you, please be sure to explore our list of more than 65 add-ons
http://remotedesktopmanager.com/Home/AddOn
. As always, they're all free and you can download anytime. Plus, if the tool you're working with isn't part of our add-on family, please feel free to send me an email and we'll see what we can do! You can reach me at
mtrottier@devolutions.net
. Thanks!

Ammyy Admin is a reliable, trustworthy and affordable software for remote assistance, administration, remote desktop sharing and distance education from any place in the world. Learn more at www.ammyy.com