Hi everyone! A few weeks ago, we've received a very positive
review
of RDM from Russell Smith, a renowned IT expert who writes for
Windows IT Pro
. Russell did a great job of explaining RDM's purpose, and how to use it to achieve measurable improvements in your everyday tasks as an IT pro. However, there in his objective and fair review, Russell pointed out two areas that he thought could be improved: Documentation could be better The UI might be too "cluttered" for some people Unlike some companies that might be reluctant to highlight areas of improvement, and prefer only to focus on the "good stuff," we do things differently at Devolutions. And that's why we are very grateful to Russell for his advice, just as we are with any of you who take time out of your busy day to help us improve. Our goal is to make your lives simpler, more productive, easier and less stressful. And we need your input to make sure we're on the right track! Now, with respect to Russell's observations, we have two words:
we agree!
For the full review, please
click here
.
Documentation
For the past few months, we've been improving
RDM's documentation
. Our product manager Maurice has invested a lot of time on this. I interviewed him, and here's what he had to say: "Up until recently, the online help was maintained in a cycle that resulted in the documentation being behind the features set. There were significant phases of development of new features before we could document them. We performed a significant push to bring the help to date with v8 of RDM and are now monitoring changes to the product in order to update the documentation as soon as a feature is implemented. An effort was made to document by feature instead of by menu organization. This will hopefully make it easier for users to find relevant information more rapidly. Also, the questions in the forums, and during the product demos we occasionally do, highlighted the fact that people have a hard time figuring out the optimal way to select the best entry for a specific scenario and how to organize their entries. This prompted us to create a QuickStart and a Best Practices section. Although we plan to enrich this new material greatly, we hope it's still useful to new and previous users alike. The plan for the future is to create much more content in the QuickStart and Best Practices section, as well as continued overall content addition. We want to not only document what a particular option does but also its impacts and the pros and the cons of each setting. The guideline is to accompany users in their day to day usage of RDM. All of the topics will be reviewed and we'll attempt to adjust the content to improve readability and, more importantly, to make it easy to understand."
User Interface
[caption id="" align="alignleft" width="320"]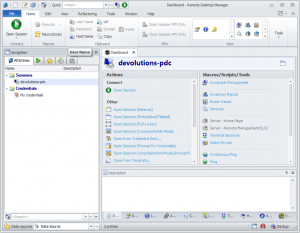 Remote Desktop Manager 8.0[/caption] We're on this, too! Russell's review was for RDM 7.6 – and not the latest version, 8.0 (this is simply because the review was done before the release). As many of you know, RDM 8.0 features a new, streamlined UI that can even be customized! So if you hate clutter, you'll love
RDM 8.0
. And if you happen to love clutter (some people do), then go ahead and make as much as you wish. Plus, we'll record a quick demo where Maurice will show the new UI customization in RDM 8.0. I'll be posting the tutorial next week – stay tuned! Feel free to leave a comment below or send me an email at
mtrottier@devolutions.net
if you have any suggestions, comments or questions. Thanks!