Hi everyone! This week's tip comes directly form our product manager Maurice. Learn how you can easily evoke a RunAs command using Remote Desktop Manager.
Description
Most of us use many different credentials.  Be it a mobile warrior, a sysadmin that follows best practices and doesn't log on to his computer using his domain admin account, or even a safety conscious parent that creates limited accounts for the kids on the family computer.  This requires the capability of starting an application under a different set of credentials while we are already logged on using our main credentials.

The problem is solved by using the Windows RunAs command.
The RunAs command has many parameters to change its behavior  we wont cover them all here, but if you have an advanced scenario we suggest you consult the Windows help.
Scenarios
There are two major scenarios when using RunAs: the authentication server is accessible directly from your machine, or you need delayed authentication.
Authentication server is locally accessible
This scenario is for when you are already authenticated on a domain/workgroup and you need to switch to another account of the same domain/workgroup.
Delayed Authentication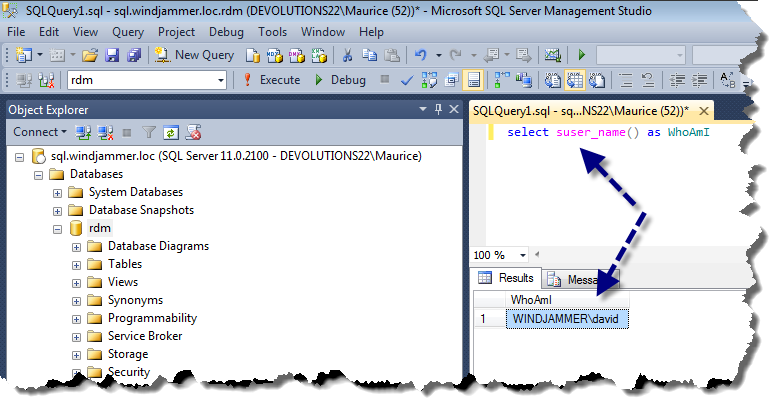 This scenario is for when it is impossible to log on your machine using the other set of credentials.  For example you need to connect to a client's domain using your laptop that is on your company's domain. This will require using the/NETONLY parameter of RunAs.
Solution
For the complete walk-through of both scenarios, I invite you to visit our online help
https://help.remotedesktopmanager.com/tipsandtricks_runas.htm
If you have any questions or comments, you can always contact me via email at
mtrottier@devolutions.net
I'll gladly answer your questions or ask Maurice to come up with a new tip for you!:) Thanks!