Hello IT pros!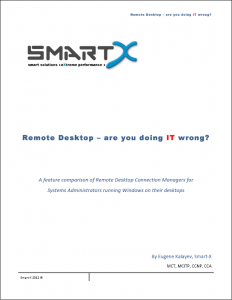 You already know that remote connections are an essential part of your day-to-day work. Indeed, whether you work exclusively with RDP, need to VPN 20 times a day, manage 50 + TeamViewer entries, or monitor and control dozens of remote servers, you know the importance and value of remote connections.
But…
What happens when you have a mix of these technologies and protocols, and use them in so many different ways? Here's what happens: you begin to forget which RDP session you've opened, you waste precious time searching for the settings of (yet another) Putty session, you have to manage a bunch of passwords and connection settings…and the list goes on. We're happy to note that the vast majority of you (thanks by the way!) are using Remote Desktop Manager to make your remote connection experience efficient, secure and productive.
Helpful Guide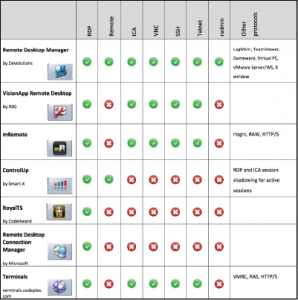 A couple of weeks ago, I came across the very interesting white paper
Remote Desktop – Are you Doing IT wrong
? by Eugene Kalayev and the team at SmartX. It's an insightful and easy-to-read remote overview of Eugene's experience working with different tools. It also features a handy "feature grid" of 7 different tools: Remote Desktop Manager, ControlUp, RDCMan, RoyalTS, Visionapp, Terminals, mRemote. It's the perfect document to compare all the tools. I invite you to download the white paper from DABCC.com at
http://www.dabcc.com/downloadfile.aspx?id=1547
, and use it to help you make the right choice. After checking out the white paper, please let us know what you think, and share your views with the community. Tell us what tools you use, and why. Thanks!