Here at Devolutions it is all about the team. Team, team, team. We work as a team so that you and your team can work more efficiently and securely as a team. Even the "centralize" part of our tagline -- Centralize It, Secure It, Simplify IT! -- is all about the team. In fact, we believe in the team so much that we're featuring this
video
from the British sitcom,
The IT Crowd
. Heck, we're even showing you a picture of the A-Team. And (Still) Speaking of Team…
Here are 5 RDM team tips
TIP 1. Security, Users & Groups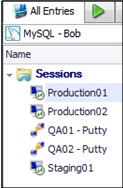 Sharing session information is great -- but controlling access is bliss.
Through RDM's Groups & Security settings, you can control access and user rights for specific sessions and actions.
Start by defining the groups, and assign users rights for each appropriate user. Keep in mind that once sessions are assigned to a security group, users must have access rights to them. Sessions without a security group are considered public.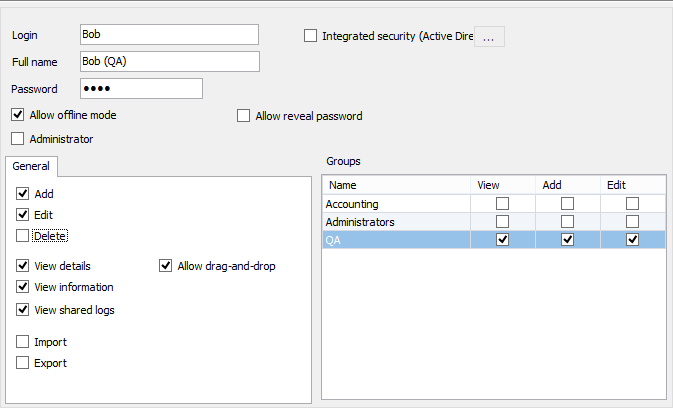 TIP 2. Custom Installer
Okay: you're ready to deploy RDM and make everyone see you as the company hero. You've manually configured your data sources, specified your site license, and defined system options. You can feel the excitement coursing through your veins. You are on a mission!
But wait – before you go live, why not have us create a Custom Installer for you? Once we do that, your grateful team will only need to install the resulting MSI file to access their ready-to-use preconfigured RDM installation. You will be loved by one and all, perhaps with a parade, a state, or an award named after you.
TIP 3. Version Management
Here's a familiar scenario: your team has been using RDM for months or even years, and all is well. Then along comes a new version full of cool new features, and you think that everyone in your company should upgrade. Is this going to cause misery and perhaps rioting? No!

We've made is extremely easy. Simply open Administration > Data Source Settings > Version Management tab. Let me explain some of the settings.
Disable auto update – This will disable the "New version" available message. (You're welcome J)
Minimal version – This specifies the minimal acceptable version. If a member of your team runs an RDM version below this level, they'll be prompted to upgrade.
Client install path/Url – This improves install speed by downloading the MSI onto your local network, and lets all of your team members easily upgrade from this path. In short, this saves time and avoids installing the wrong version.
Serial (Site/Global) – This is useful if you have a Site or Global License, and keeps you from having to manually set the key on every client.
TIP 4. Data source settings
The general tab of the Data Source Settings form allows you to easily control security aspects, such as allowing offline mode and specifying the expiration policy of offline data. A great team feature here is the System Message, which allows an administrator to inform users of upcoming system downtime, policy change, or anything else. Each user will get the message when they perform the next action (open, edit, refresh…) of the data source. Use it to display company confidentially clauses or, if you wish, create chaos with a message like the one above. A little bit of chaos is good for the soul.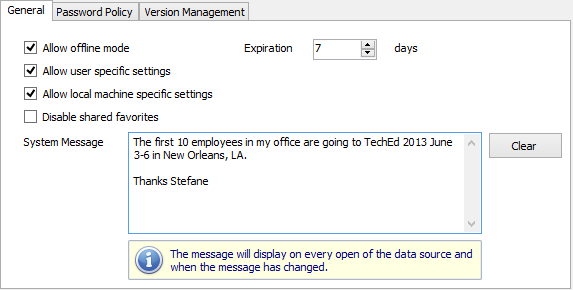 TIP 5. Remote Desktop Manager Server (RDMS)
Do you need Active Directory group or role management? Or perhaps you have offsite users who need to access the shared data source, but don't want to use a VPN connection? Maybe you want more security and caching? RDMS delivers all that and much more!
You can deploy RDMS internally or online to create an enterprise-wide high-end data store. And for crazy, super, ultra-teamwork, RDMS comes with a complete Remote Desktop Manager client Global License, which means an unlimited amount of users can use it worldwide. And as soon as our mascot Geek begins colonizing other planets, your users over there can use it, too! Find out more about RDMS at http://remotedesktopmanagerserver.com/.
Conclusion
So those are my team tips for today. Do you have tips of your own? Post them below -- we would love to hear from you! Thanks!