Hi everyone!
We're excited to announce that our popular password management solution Password Vault Manager for Mac Beta is now available to the public, and ready for you to download! Download link (no registration required): https://password.devolutions.net/Home/Download If you're a Mac user and looking for a simple, easy and powerful way to manage ALL of your passwords, then Password Vault Manager for Mac Beta is for you!
We invite you to leave your comments, suggestions and feedback. You can connect with the Devolutions team and other RDMers on our forum in the Password Vault Manager for Mac thread: https://forum.devolutions.net/
Native Mac Platform
As you may already know, we started working a year ago on the Mac versions for both Remote Desktop Manager and Password Vault Manager. Why so long? Because we didn't want to merely create a poor Windows replication (we know how much you Mac lovers hate that!). We took the time and hired the experts to build a NATIVE Mac platform from the ground up.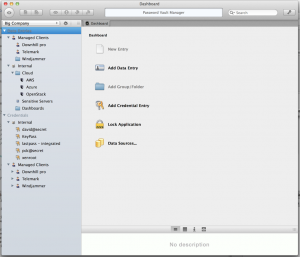 Become a Remote Desktop Manager for Mac Beta Tester
And soon, you'll be able to download Remote Desktop Manager for Mac, too. We released a version in October to our global Beta testers, and it has already been downloaded over 600 times…and counting! Plus, we just open new Beta tester seats. If you're interested in testing RDM for Mac, please register here: http://mac.remotedesktopmanager.com/Home/Download.
This latest chapter in the Devolutions and Remote Desktop Manager story is part of our commitment to being the ONLY company in the remote connection management industry that offers a true centralized database back-end, which opens up countless opportunities to store, organize and share all of the tools you use every day.
Thanks!