Hello Everyone! 2014 is almost here, and so we're taking a moment to reflect on a very eventful here at Devolutions. We started by looking at the first half of the year (
check it out here
). Now, let's focus on the latter half:
JULY
In July, just a month after releasing the Italian version of Remote Desktop Manager, we had more "Goed Nieuws!" with the release of the
Dutch version
. We also had a fun look at
Top 10 Lies in IT
. Why not take a look and let us know if you agree with our list – or would like to add some new ones?
AUGUST
After months of searching and planning, in August we fulfilled a dream and moved into our
brand new office
! Also during August, we proudly released
Remote Desktop Manager 9.0 beta
. It was our BIGGEST release in 2013, and included a number of major features that were suggested by the amazing IT pros in our community – i.e. YOU!
SEPTEMBER
In September, we happily hold a free webinar that took you "behind the scenes" of
Secret Server's integration with Remote Desktop Manager
!! Because we believe that IT is a wonderful field to work in, we also asked
What 3 tips would you give to a student or anyone else who want to launch a career in IT
? The answers we received were very interesting! Read them here in the
September Poll Results.
OCTOBER
October was another BIG month for Devolutions! We proudly launched two products: the official version of
Remote Desktop Manager 9
, and
RDM for Mac Beta
. Many of you brilliant IT Pros were (and still are) a part of our beta testing team, and we couldn't be more grateful for your expertise and help. We invite you to sign up for the Remote Desktop Manager Mac Beta!
Register here
! Join the discussion and send your feedback on our forum in the Remote Desktop Manager for Mac section: 
https://forum.devolutions.net/.
NOVEMBER
In November, we continued our commitment to create new solutions that make life easier and more efficient for IT pros and teams!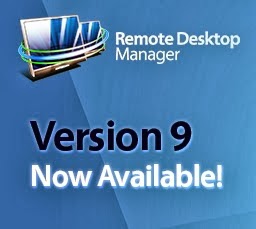 Also in November, we wrote a 
"congratulations and thank you"
blog to our long-time partner, Desktone, which was acquired by VMware (and as such now owns all of their intellectual property). As you may recall, we wrote an article in 2012 about the
Devolutions' story
, and highlighted how Desktone helped us launch our company in 2010.
DECEMBER
After some great teamwork between our software experts and their counterparts at Australia's Click Studios, we were delighted to announce that
Passwordstate is now fully integrated with RDM
!
WRAPPING IT ALL UP
So many big things happened over the last 12 months, from multiple product launches, to new language versions, to great new Add-Ons and more. However, there's clear theme that runs through all of our efforts, from the biggest news announcements to the smallest details: YOU! You helped make 2013 our best year ever, and we feel that the best way to thank you is to work even harder in 2014 to make your life easier, more efficient, more productive and more rewarding! And yes, as you can imagine, we have some REALLY EXCITING things planned for 2014…stay tuned!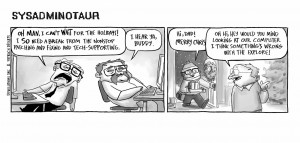 Thanks.
PS:
Oh right, how could I forget the one-and-only
Sysadminotaur
? You've worked hard all year. Take a break and end the year with a smile by enjoying all of the 
comics here
;-)