Hi everyone!
A few months ago, I had the chance to connect with a really awesome gentleman, Chris Shaw. I've introduced Chris back in October when he posted his first review of Remote Desktop Manager. Chris is a SQL Server MVP and has been speaking at different events such as SQL Connections, Pass and SSWUG Ultimate conferences. Moreover, he is the founding member of the Colorado Springs SQL Server User Group and presently resides as the Co-President.
He's been using RDM for a couple months now and has accepted my invitation to write articles on different subjects every now and then here on our blog for you guys, the RDM community.
To start it off, this month Chris is sharing with us a tip on how he managed to set up a quick and easy way to monitor his servers using Remote Desktop Manager:
https://chrisshaw.wordpress.com/2013/01/28/quick-tip/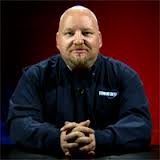 Chris Shaw, SQL Server MVP
We're glad that Chris accepted the invitation. I'm sure everyone will benefit from his extensive knowledge and experience working with SQL Server for more than 15 years now. Feel free to leave a question or comment for Chris. Thanks!