Hello fellow RDMers!
Ohhhhhhhh, I know that many of you have been waiting for this one for a while now. At last, I'm pleased to share with you that the Mac Beta version of Remote Desktop Manager will be released in October!
Plus, we're making the Beta version public, so everyone will be able to download and take it for a spin. Please be sure to follow our blog to be notified when the official Beta registration form will be released.
Cool Screenshot!
Richard our amazing Software Architect sent over a really cool screenshot of RDM for Mac running an RDP connection (FreeRDP API along with encrypted SQLite data source). Check it out: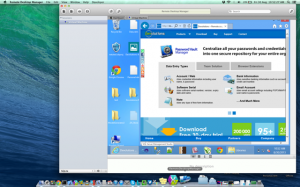 And the good news keeps on coming!
I'm also happy to share that RDM licenses will be good for BOTH the Windows and Mac versions. So you won't have to pay extra – which is great if your team uses a mix of both platforms.