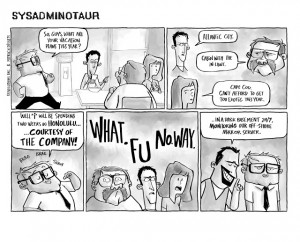 Hello RDMers!
July has officially begun, of course that means it's time for…let's say it together…summer vacations!
That's right, it's time to turn the monitor off for at least a couple of days, and go out to have some good times with family and friends. I just hope that your vacation doesn't end up like our friend here in Sysadminotaur;) ahahah!
The One
And guess what? It's also time for the new July poll! This month's question is: what's the tool, gadget or device you can't live without during your summer vacation? You know the one that your husband or wife doesn't even know that you're packing, or the one that you can ONLY bring in exchange for some concession on your part, like a romantic dinner or a massage or maybe a gift certificate.
I'm really looking forward to your answers. Who knows? Maybe we'll start a trend and nominate the "must-have tool for IT pros on vacations in 2013"?! J
Win cool prizes!
This month, two lucky winners who share their answer will win a $25 Amazon gift certificate. So hurry up and share your answer before leaving for your summer vacation. You may end up winning $25 to buy a new book for your wife or husband so you can play with your gadget! ;)
Have a great summer everyone!
Max