If you've ever worked on any of our add-ons or if you're a regular visitor to our forum, there's a good chance that you know André Sanscartier, our Software Developer and Add-on Manager. In fact, even if you've never connected directly with André, there's a good chance that your team is benefiting from one of his add-ons right now!
André is one of Devolutions' pioneer, and is known as the "gentle giant" of our team. Along with David and Matthieu, he's been here since the very beginning, before Remote Desktop Manager become so popular around the world. André is passionate about technology in every way possible (you should see his 140-inch screen 3-D home theater!), and is always in the mood for a good laugh. He's a great team player, and someone who I'm honored to work with every day.
To help all of you get to know André a little better, I interviewed him a few days ago for the blog. My questions are in bold, followed by André's answers.
---
Hi André, although it's been a year now since we started working together here at Devolutions, I know that you've been in the IT industry for a long time. What's your background in the IT world?
Well, I started a long time ago – before you were even born Max! :) I got my first job back in 1983 as an IT manager in a company called White Cross. Located in Montreal, the company was a global leader in uniform shoes and is now providing medical uniforms and apparels. Other veteran IT pros like me will certainly remember the old Northern Telecom Syscor585 machine, which was one of the first mini computers. It was running on an OS written in COBOL, which is one of the oldest programming language still used in some banking software. It was a long time ago, and was the very beginning of IT. In fact, I was the only one in charge of IT at White Cross back then!
Then, I held positions as a developer in many different organizations throughout the years, including 14 years at the Grics, a technology firm providing IT solutions to Quebec's educational organizations. Some people may remember the coding language Borland Turbo Pascal, which is still today used in some educational software.
Afterwards, I worked for almost ten years at a software company specialized in payroll solutions for bank and insurance organizations. Some of our customers included major players such as Industrial Alliance and Manulife Financial.
In 2006, I met David [our founder - Max]. We were working together at Optometric Services inc.(Canada's largest network of optometrists) and he kept telling me about the remote desktop management platform that he has been working on. In 2010, Remote Desktop Manager was officially launched and I made the switch to work full-time at Devolutions!
What was life at Devolutions like 3 years ago?
Well, at the very beginning, there was only David, Matthieu [our web developer – Max], and me. David had rented an office after signing a major contract with Desktone, and we were ready to go! My first 4-6 weeks were spent reading, reading and reading again about .NET coding. I was used to coding in Delphi, and so I had to update my skill set. Then, I started creating different add-ons. As a matter of fact, the very first add-on I created is still available on our website! It's the notepad add-on, which is now used as a tutorial to show RDM users how to create an add-on by themselves using our SDK.
What prompted you to create the Add-on Manager?
Eventually, there were so many add-ons that RDM users needed a simple way to manage them. That's when I created the Add-on Manager. It was really at that time that RDM users started to see the benefits of integrating different tools in RDM. What's more, the more add-on requests I received, the more users were willing to work with me!
Can you provide an overview of how users can request a new RDM add-on?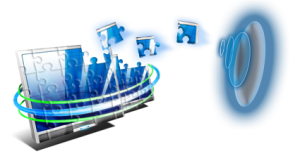 Sure. It starts when a user sends a request via our forum. Then, I look for any documentation that I can find on the product. If I think it can work with RDM, I download the tool and try it for myself. Sometimes though, I can't find the information I need.
When that happens, I ask the user if he or she can help me find the documentation, and provide any command line that will allow RDM to interact with the tool. If all goes well, then I build a minimal -- but viable -- add-on that I send to the user for feedback. He or she tries it, sends me feedback, I make final adjustments, and then ultimately it's released within the Add-on Manager and on our website.
Now, I'll ask you some quick-answer questions, just so our community can get a sense of your personality and preferences. Let's start with your interests.
What are your passions?

Audio-Video, Computers
What's your favorite movie?
Star Wars: The Empire Strikes Back
What music do you like?
Though question! I have different interests depending on my mood: Basil Poldourice, James Horner, John Williams but also Celine Dion, Cher, Rihanna and yes, Lady Gaga!
If you had one wish, what would it be?
To have created World of Warcraft
What kind of mobile phone do you use?
Android
What are your favorite tools?
Visual Studio, Turtoise svn, Refactor, SQL Server
Would you like to say anything to our community? Any advice to share?** **
I'd like to thank all of the RDMers who take their valuable time to help us create new and interesting add-ons. Without them, it wouldn't be possible for us to launch a new add-on every couple of weeks. As for advice, I'd like to encourage all IT pros out there to keep working hard, and always be curious about new technologies. Always keep on learning, learning and learning. When I started 30 years ago, I never imagined that IT would be what it is today. What will it be in 30 years?! The future will be very exciting!