Hello community!
While Russell said some really nice things about RDM, he also highlighted two areas where he thought improvements could be made:
1.Better/more documentation
2.UI might be too cluttered for some users
In a recent blog, our product manager Maurice explained how we're addressing this. For starters, we're updating our complete online help library (this is a process we started last year when we launched RDM 8.0). Plus, Maurice has created a great new Best Practice section, which includes an RDM Quick Start guide and RDM Tips & Tricks. To learn more about the documentation-related fun that Maurice has been up to, please read Windows IT Pro Review Follow-Up Part 1: Documentation.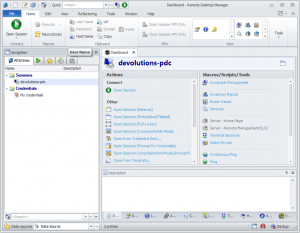 Remote Desktop Manager  8.1 User Interface
Russell reviewed RDM 7.6, and not RDM 8.0 or the even more-recent RDM 8.1. If Russell had taken RDM 8.0/8.1 for a spin, he would have seen the completely new and redesigned UI, and we humbly think that he'd be impressed. The new UI is fully customizable, which means that users can make it as cluttered or non-cluttered as they wish!
I asked Maurice if he'd put together a brief 5-minute demo on how to fully customize the RDM dashboard, and being the great team member that he is, he agreed. 
You'll learn how to hide menus, configure and resize windows, dock and undock panes…and more. Thanks Maurice!
Check out the video here: https://www.youtube.com/watch?v=RXYp1u0t9hk.